Johnny Depp's Career Shows More Signs Of Getting Back On Track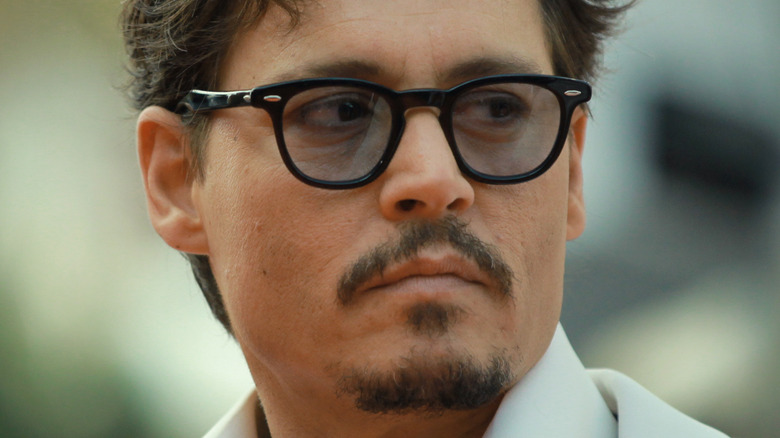 PAN Photo Agency/Shutterstock
There are moments in the Johnny Depp and Amber Heard trial that nobody will forget. Claims of bed pooping and finger amputating. Harrowing accounts of sexual and physical childhood abuse. Allegations of domestic violence. Accusations and admissions of drug and alcohol abuse. It was a grueling and publicly humiliating ordeal. Still, after six weeks, the verdict in the Depp vs. Heard trial was finally in.
Overall, it was victory for Depp. Heard was ordered to pay him $15 million over a Washington Post op-ed she wrote about being the survivor of sexual violence. However, it wasn't a complete loss for her, as Depp was ordered to pay Heard $2 million after the jury ruled in favor on one of her countersuit charges. But neither side really won. Realistically, Depp will never receive $15 million from Heard. And, after dragging each other over the coals, many predicted the actors' careers were done and dusted.
"In the industry, they've both now aired such soiled laundry that it will be difficult, for a while anyway, to place them in something that intends to invite a wide audience," a Hollywood exec told Vanity Fair. Another said the trial "just felt gross to watch," and it would take time to see if they'd be employable again and "whether or not the public will care." However, Depp reportedly hoped to get back to business as usual immediately after the trial. And, proving it's a man's man's world, Depp's career already shows signs of getting back on track.
Johnny Depp is back on prime time TV
Johnny Depp's career already shows signs of getting back on track, despite predictions otherwise. Screen Daily listed the movie "Jeanne Du Barry," in which the actor portrays King Louis XV, as one of the Cannes Film Festival's "hot European projects." And Depp has also begun creeping back onto prime-time TV in the U.S., even though the trial is still fresh in everybody's minds.
According to TMZ, Dior's advertisement for "Sauvage," which stars Depp, was broadcast on June 8. The ad played during a break in "MasterChef," which airs between 8-9 p.m. on FOX. The advertisement shows Depp strumming "Wild Thing" on his guitar in the middle of a desert surrounded by wolves. "In the wilderness, fearless and human," he says in the voiceover as he's shown walking away, followed by the wolves.
Per The Guardian, Dior previously came under fire for sticking by Depp after his (unsuccessful) libel trial against The Sun. He sued the tabloid in 2020 for branding him a "wife-beater." Despite the judge determining Depp "violently abused" his ex-wife Amber Heard, Dior aired the same ad following the trial defeat. It was broadcast during "The Great British Bake-off," which seems to indicate a surprising and strange correlation between reality TV cooking competitions and Depp fans/cologne purchasers. The advertising standards authority told The Guardian it had "received a total of 11 complaints" from viewers believing the ad was inappropriate due to Depp's recent court ruling.