Inside Christina Applegate's Sad Connection To River Phoenix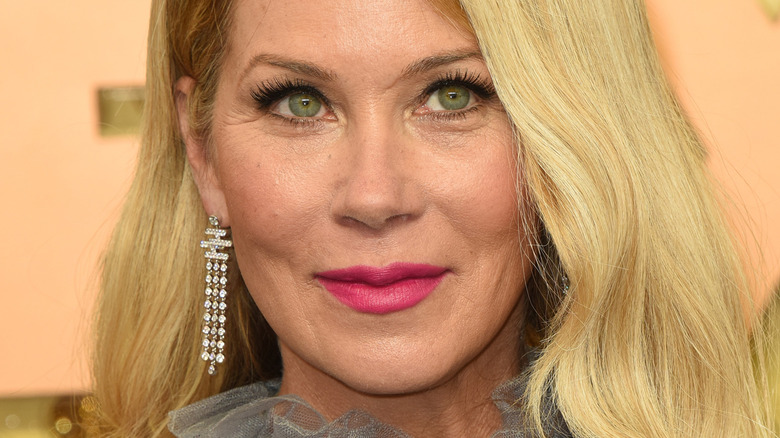 Kathy Hutchins/Shutterstock
Christina Applegate has been a mainstay in the film and television industry for decades. While Applegate is best known for her role as Kelly Bundy on the long-running sitcom "Married... with Children," she's also equally known for her personal life, too. Before she married her husband Martyn Noble, Applegate was married to Johnathon Schaech and was also connected to Brad Pitt, whom she seemingly ditched at the MTV Video Music Awards red carpet back in 1989. Because Applegate has always been in the limelight and busy with her career, she admitted that there were certain parts of her childhood that she missed while promoting her movie "Don't Tell Mom the Babysitter's Dead" back in 1991. She said, "Of course I missed out on it, but I don't regret missing out on it. I think there are a lot of experiences that I would loved to have had but this is the best thing that could happen to me." 
And while there's no doubt that Applegate has seen the good side of fame, it's safe to say that she's seen all of the bad and ugly sides, too. In fact, little do some of her fans know that Applegate actually has a sad connection to late Hollywood star, River Phoenix.
Christina Applegate's moment of shock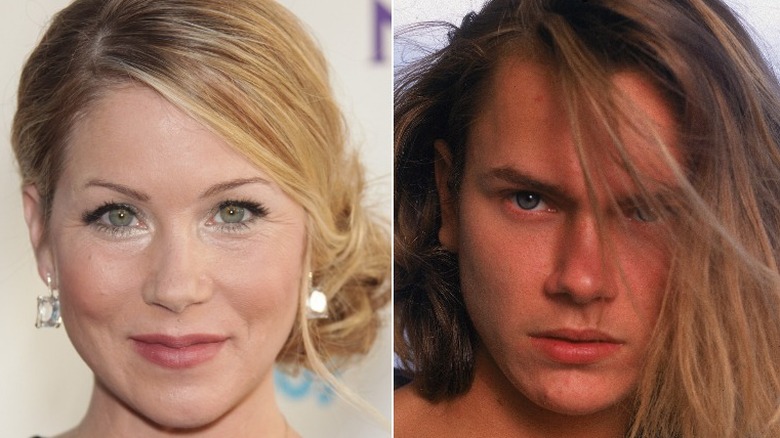 Nancy R. Schiff/Getty & DFree/Shutterstock
While Christina Applegate has name recognition in the entertainment world, few people know much of River Phoenix and his history. The actor was the late brother of Joaquin Phoenix and someone who was also a rising star in the film industry. With friends like Keanu Reeves, River had credits to his name, such as "Stand By Me," "My Private Idaho," and "The Thing Called Love," per IMDB. He also had some major goals for his future. "I want to buy a 16mm camera. I'm not committed to the idea of being a filmmaker, but I'd like to try some shorts. I really like documentaries," River told Interview in 1991. 
And while Applegate and River didn't necessarily run in the same social circle during the height of their fame in the early '90s, both were at famed Hollywood hotspot the Viper Room on the same night River died from a drug overdose in 1993 at the age of 23, according to Entertainment Weekly. River was reportedly experiencing convulsions on the sidewalk outside of the club when, according to photographer Ron Davis, Applegate "behaved like deer caught in the headlines, unsure of what to do." But Applegate wasn't the only big-name celebrity who saw River the night that he died.
River Phoenix's last moments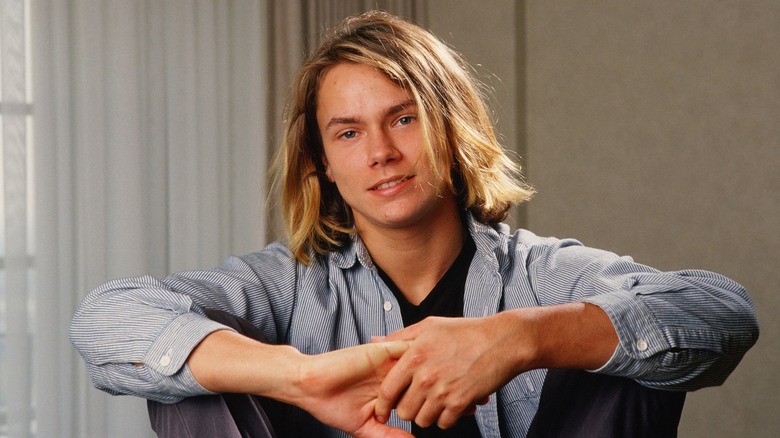 George Rose/Getty Images
According to Entertainment Weekly, the Viper Room was full of celebrities the night River Phoenix died. Along with his "The Thing Called Love" co-star Samantha Mathis, River was surrounded by a bevy of A-listers, including Johnny Depp, his brother Leaf Phoenix, Gibby Haynes from the alternative rock band the Butthole Surfers and Flea of the Red Hot Chili Peppers, who rode with River to the hospital before he died, as detailed by the New York Post. 
What's more, Leonardo DiCaprio told Esquire in 2019 he saw River that night, too. While Christina Applegate herself has never made any public comments about River's death, a book called "Last Night At The Viper Room" claims that she left the club both emotional and distraught, according to the Daily Mail — the same time his brother Joaquin Phoenix called 911 at the time of his death and said, "Please come, he's dying, please."
While no one knows what would have become of River and his career, seeing how he had a promising future ahead of him, there's a very good chance he and Applegate could have crossed personal paths again, but under much different circumstances.