How Jason Momoa Really Felt When He First Met Emilia Clarke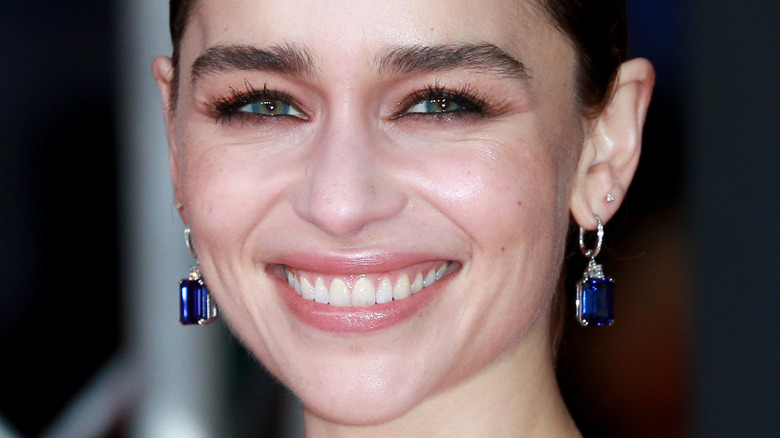 Cubankite/Shutterstock
Jason Momoa and Emilia Clarke might be one of the most beloved couples to ever hit the small screen. In 2011, the pair made their debut in "Game of Thrones" Season 1 as Khal Drogo and Daenerys Targaryen (aka "Khaleesi") respectively. Despite a rough start to their arranged marriage, they quickly won over viewers with their blossoming romance, via PopSugar. Daenerys made an effort to connect with her husband by learning his native language, and in time, Drogo came to respect his wife. He also honored her with gifts and showered her with affection. But, during its eight-season run, "GoT" made a habit of breaking viewers' hearts, establishing this precedent early on with the deaths of both Drogo and the Stark patriarch Ned Stark.
As Drogo didn't live to see the light of Season 2, fans were left reminiscing over what could have been between him and Dany. Over on Reddit, one fan shared, "I love how much their love grew" and believes that if Drogo had lived, he and Dany "would have been a strong and loving couple." Another user asserted the Reddit theory that the couple were good for each other because "[Dany] caused him to be more human and ambitious [and Drogo] caused her to be more assertive and brave." Offscreen, real life imitates art as Momoa and Clarke have maintained a close relationship, frequently paying tribute to each other on social media. In fact, Momoa set this warm tone from his very first meeting with Clarke.
Jason Momoa startled Emilia Clarke at their first meeting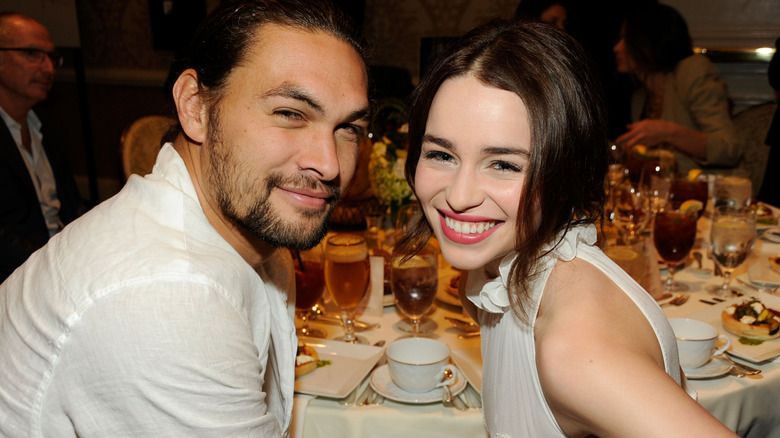 Frazer Harrison/Getty Images
In a 2017 interview with Rolling Stone, Emilia Clarke shared that she and Jason Momoa were meant to be — and it was something she realized the first time they met at a hotel in Belfast, where the entire "Game of Thrones" cast was staying. "I walked in and from the other side of this enormous lobby, I hear 'WIFEY!'" Clarke explained. "And this huge Hawaiian man comes bounding over to me, picks me up, and genuinely gets me in a rugby tackle to the floor. It was only when he picked me back up and kind of dusted me off that I was like, 'Who are you?'" Clarke's not exaggerating when she calls Momoa "huge." A quick Google search reveals that the "Me Before You" star is only 5-foot-2, while Momoa stands at 6-foot-2. In a 2019 Instagram post that showed Clarke posing with her onscreen husband, she later wrote, "With you I feel 2 feet small."
When Clarke recounted her first meeting with Momoa to "Armchair Expert," she again reiterated his size. "I mean physically bowled over," she said. "When he first met me, he [literally] wrestled me to the ground. I was so English before then, I had never been greeted [that way]. I'd never met anyone his size [before], let alone his size of personality." Despite being initially taken aback, it was the kind of greeting that would endear Momoa to Clarke for life.
Jason Momoa has always protected Emilia Clarke
Kevin Winter/Getty Images
In keeping with the warm tone of their first meeting, Jason Momoa went on to bond with Emilia Clarke. Clarke has spoken publicly about how her onscreen hubby supported her during gratuitous sex scenes, when she was just 23 years old and new to the industry. Speaking on "Armchair Expert," she recounted how terrifying it was to be completely naked on a film set for the first time. Fortunately, Momoa was there to look out for her. "He was so kind and considerate and cared about me as a human being," Clarke told host Dax Shepard, adding that Momoa even made sure she had a robe ready for filming breaks. And while filming the first season was tough, "the scenes, when I got to do them with Jason, were wonderful, because he was like, 'No, sweetie, this isn't okay.'"
Momoa also proved that he had his Khaleesi's back even when he wasn't around during filming. Per Insider, he watched the 2019 finale of "GoT" and shared his unfiltered reaction with fans. As fans of the show may remember, Daenerys was stabbed to death by her lover, Jon Snow. And while Snow was tortured over Dany's death, Momoa felt that the former "King of The North" didn't receive the punishment he deserved. "I feel lost, I'm lost. What the f***! Drogo should've f***ing melted his a**," Momoa lamented. Clearly, the bond between Drogo and the "moon of his life" remains unbroken, even today.