Emilia Clarke Makes Her Thoughts About Jason Momoa's On-Set Behavior Clear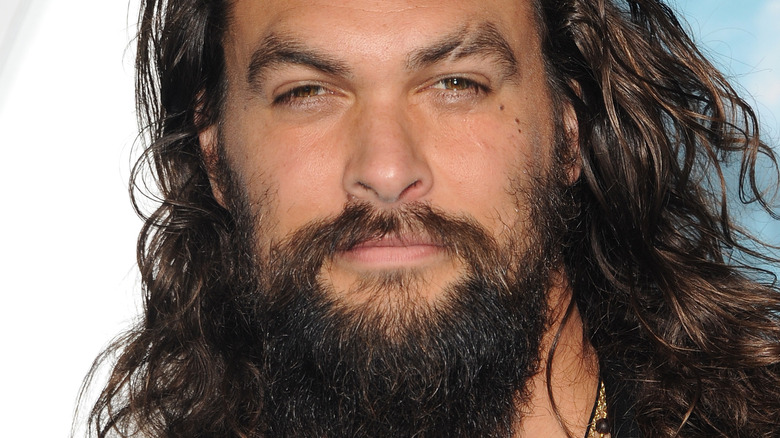 Tinseltown/Shutterstock
From the moment Jason Momoa and Lisa Bonet announced their divorce after 16 years together, shocked fans have been trying to wrap their heads around the split by looking for clues that might explain what exactly went wrong. From comments Bonet made just weeks earlier to what Momoa did hours before announcing the separation, the couple's every move has been placed under the spotlight. However, it seems that the pair's official statement, which read that "the love between us carries on" and which put much of the blame for the divorce on "the squeeze and changes of these transformational times" was totally true.
Even digging deep into the pair's past and unearthing every aspect of their union, like the creepy things the actor said about his wife before they met or Momoa's relationship with Zoe Kravitz, brings up little drama, proving that this is one couple that won't be making headlines with a messy divorce. As one fan tweeted, "They had great chemistry on and off the screen" and indeed, they built a healthy, steady relationship that put family first. It should really come as no surprise, given that Momoa has often been praised for his loving, supportive, understanding personality, including by one of his most famous co-stars: Emilia Clarke.
Jason Momoa's chivalrous on-set behavior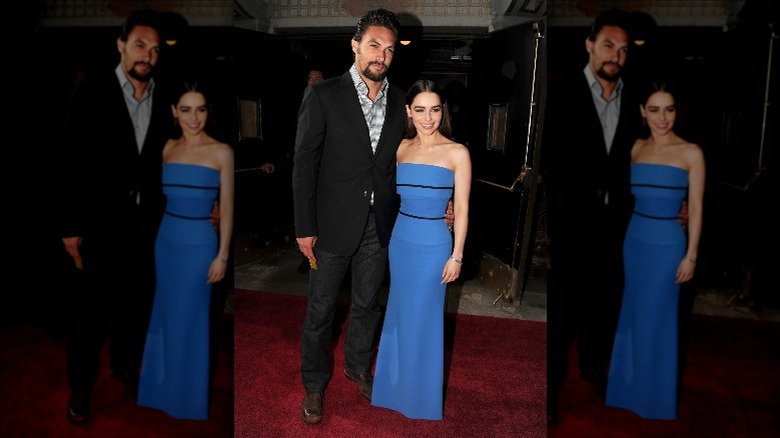 Kevin Winter/Getty Images
"Game of Thrones" gave Emilia Clarke her big break, but it also came with challenges, namely filming sexually explicit and disturbing nude scenes (including appearing naked in the show's very first episode). Sitting down with the "Armchair Expert" podcast in 2019, the actor recalled landing the biggest role of her life at just 23 and feeling like she had "no idea what I'm doing," according to AOL. She shared how she'd "been on a film set twice before then, and now I'm on a film set completely naked with all of these people." As she wrote in The New Yorker that year, the role made her feel "in every way, exposed."
Luckily, she had the best co-star possible: her on-screen husband, Jason Momoa. As Clarke told "Armchair Expert," he always made sure her needs were taken care of and, during the most uncomfortable scenes, "he was crying more than I was! He took care of me..." She continued, "He was so kind and considerate and cared about me as a human being." When she didn't feel empowered to stand up for herself, he did, like when they'd break in filming and he'd yell at the crew, "Could we get her a f***ing robe? Could we get her a g**damn robe? She's shivering!" Saying the first season "was definitely hard," she concluded, "Which is why the scenes, when I got to do them with Jason, were wonderful, because he was like, 'No, sweetie, this isn't okay.'"
Jason Momoa's off-set behavior matched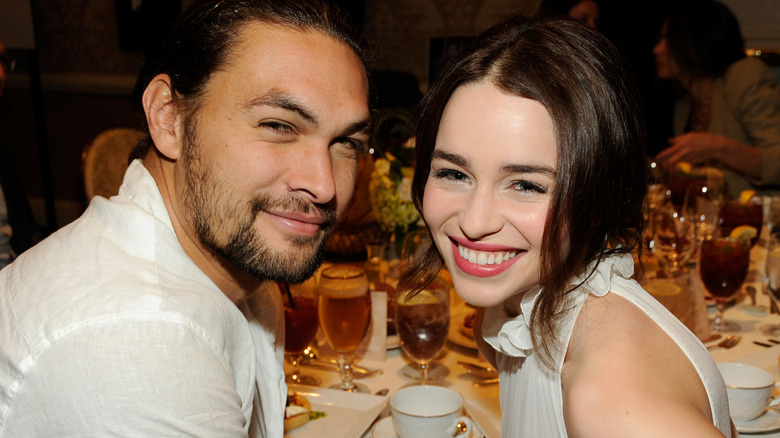 Frazer Harrison/Getty Images
Jason Momoa didn't just have Emilia Clarke's back on-screen, he was also there to show her love and support off-screen when the young actor suffered a life-threatening health scare. As she revealed in a 2019 essay for The New Yorker, one fateful morning in February 2011 changed her life forever. Clarke was in a London gym when she suddenly felt like "an elastic band [was] squeezing my brain," she became "violently, voluminously ill" and was rushed to hospital. There, doctors learned she had suffered a subarachnoid hemorrhage, a "life-threatening type of stroke" that most don't survive. Emergency surgery and weeks of painful rehab followed. She returned to work, but in 2013, was again fighting to survive after surgery to remove a growth from her brain failed left her with a "massive bleed."
In the months that followed, Clarke slowly, painstakingly recovered with help from her "mum and brother," her doctors and nurses, and her friends, including Jason Momoa. As he shared with ET in 2019, he'd "kind of been a part of that whole situation for a very long time." Revealing that he tried to support Clarke any way he could, he recalled, "We've had so many scares and trying to find the right way to come out and help." Calling her "so brave" for sharing her story, he continued, "I'm very sad, because we almost lost her the first time. So, I love her to bits and she's here and she's going to do great things with it and teach the world."