Lisa Bonet's Comments Weeks Before Split From Jason Momoa Have Whole New Meaning Now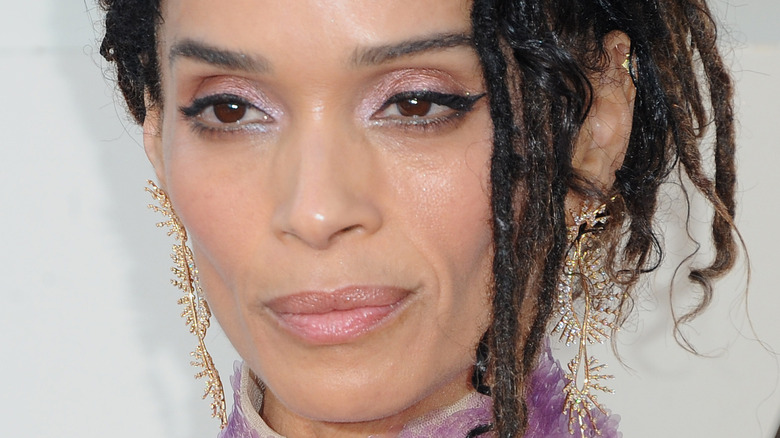 Tinseltown/Shutterstock
Making a marriage last in Hollywood is no easy task for any couple. From Jennifer Aniston and Brad Pitt to Kim Kardashian and Kanye West, some of our favorite couples headed to splitsville far sooner than we had hoped. Jason Momoa and Lisa Bonet are one of the latest couples to call it quits. According to Newsweek, a mutual friend introduced the pair, and they began dating in 2005. In 2007, they welcomed daughter Lola into the family, and the following year, they had son Nakoa-Wolf. The pair had a long courtship and eventually wed in 2017.
In January, the couple surprised many by announcing that they would be parting ways. [Cue sad music.] "We have all felt the squeeze and changes of these transformational times... A revolution is unfolding and our family is of no exception... feeling and growing from the seismic shifts occurring. And so we share our Family news that we are parting ways in marriage," the couple shared in a joint statement that the "Aquaman" star shared on Instagram. 
"We share this not because we think it's newsworthy but so that as we go about our lives we may do so with dignity and honesty," they wrote, adding that they "free each other to be who we are learning to become." The pair stated that they would be focused on their children. Their announcement ended, "Living the Prayer. May Love Prevail." But now, in hindsight, one of Bonet's earlier statements makes a lot more sense.
Lisa Bonet seemingly hinted at big life change ahead of split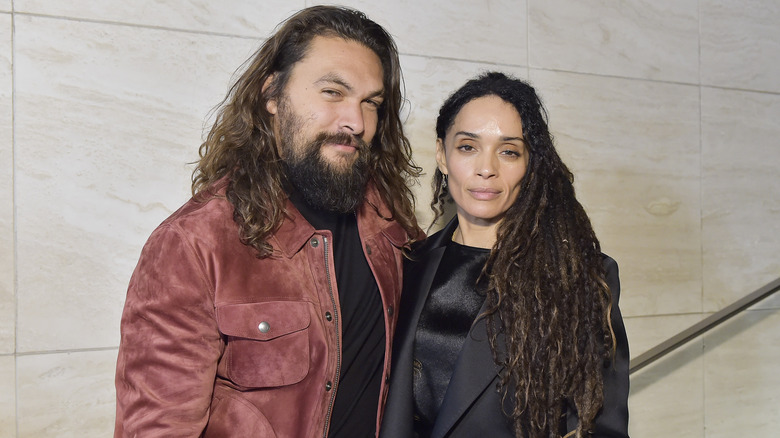 Stefanie Keenan/Getty Images
While we're still shaken by the split, Lisa Bonet may have given us a clue about her impending divorce from Jason Momoa in December 2021. The actor chatted with Marissa Tomei and Interview, talking about a range of topics, like meditation. "The more still we are, the more clearly the guidance comes through in these very uncertain times," Bonet said. Could this have been foreshadowing? 
Then, after touching on how invested she became when she starred in Oscar Wilde's "Salome," Tomei asked Bonet what is calling her. "Definitely learning how to be authentically me, learning to be new, and following this invitation from the universe to step into this river of uncertainty," Bonet shared, adding, "We've eliminated all this extra noise, and now it's time to grow our roots deeper into our own values."
Before her marriage to Momoa, Bonet was married to rocker Lenny Kravitz. Momoa and Kravitz appear to be close friends, once again proving that exes can be friendly... even with an ex's significant other. "Happy Birthday, Jason. I'm proud to call you my brother. One love. One family," Kravitz tweeted in August 2021 alongside a photo of himself and Momoa. Momoa also sent some love to Kravitz on Instagram a few years prior. "Mahalo lenny for coming to support me on @nbcsnl aloha j," he wrote on the update. 
Hopefully, this is an indication of how Momoa and Bonet will be after the split.
Fans are heartbroken about Lisa Bonet and Jason Mamoa's split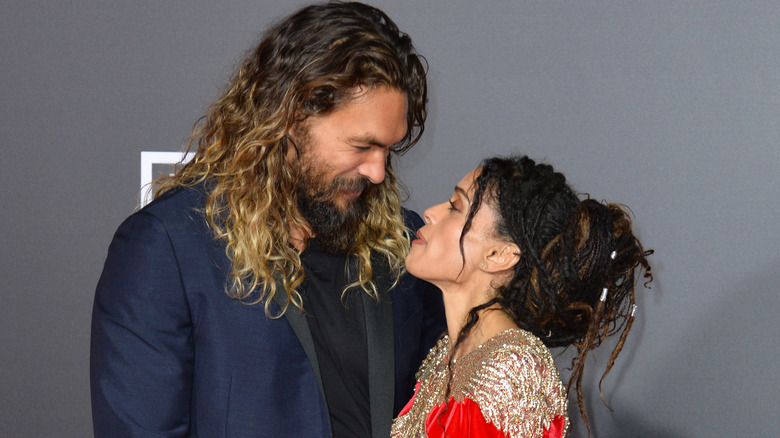 Featureflash Photo Agency/Shutterstock
The peanut gallery has weighed in, and fans are not too happy about Lisa Bonet and Jason Mamoa's split. It was already a rough start to the year with the passing of Betty White on New Year's Eve and then losing Bob Saget just weeks later. And while you can't compare a death to a split, it's just heartbreaking to see one of the most beloved couples in Hollywood go their separate ways, making the beginning of 2022 a total drag.
Fans took to social media to comment on the split, cue dreary music. "I'm still so sad about this. Over 15 years together!" celebrity blogger Perez Hilton tweeted with an article on the split. "NGL, kinda sad about this one... These two seemed perfect for each other," another fan wrote on Twitter. "Jason Momoa and Lisa Bonet split up. I don't know if I'm happy, sad, or going into stalker mode," one more person wrote. Clearly, many fans thought this love would last forever.
News of the split came on the same day that "Aquaman and the Lost Kingdom" wrapped up filming. Director James Wan shared a photo on Instagram that included Momoa. "And finally, finally, finally picture wrap on the actual last day of #Aquaman2 in Malibu with these two gents @prideofgypsies @thereelpatrickwilson," he wrote on the update. "I have a very long way to go before it will be ready, but I can't wait to share this little film with you all." It's safe to say that Momoa is now Hollywood's most eligible bachelor!