Inside Florence Pugh's Relationship With Timothée Chalamet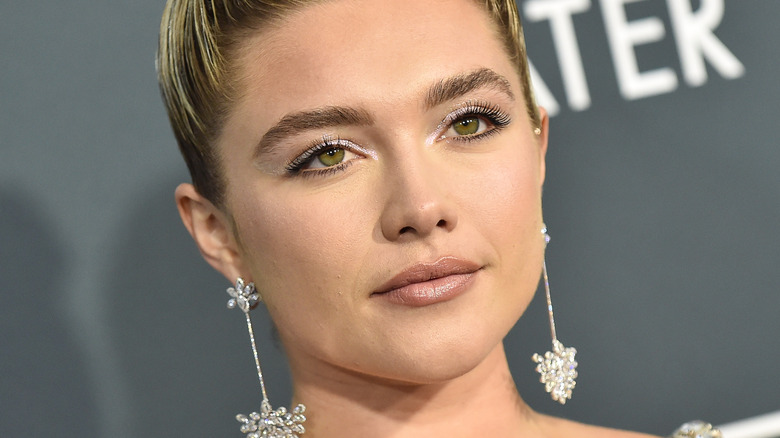 DFree/Shutterstock
Florence Pugh and Timothée Chalamet represent the future of Hollywood. Both in their mid-twenties, these stars have a powerful on-screen presence. In 2017, "Little Women" director Greta Gerwig described Chalamet to GQ as "a young Christian Bale crossed with a young Daniel Day-Lewis with a sprinkle of young Leonardo DiCaprio, and then raised speaking French in Manhattan and given a Mensa-level IQ and a love of hip-hop." Director Olivia Wilde similarly praised Pugh. Wilde told Entertainment Weekly that Pugh's performance in the upcoming film, "Don't Worry Darling," is "something you have to see to believe. You are witnessing the birth of a full-fledged movie star."
Chalamet earned an Oscar nomination at age 22 for his work in 2017's "Call Me by Your Name," making him the youngest actor to be nominated in the Best Actor category in 80 years. In 2019, Pugh was nominated for an Oscar for Best Performance by an Actress in a Supporting Role for her work in "Little Women." The two young actors are unusual, with natural confidence in their work. A casting director raved about Pugh, telling The New York Times, "It's rare that you find someone at that age who is so comfortable in her own skin." Respected "Dune" director Denis Villeneuve also praised about Chalamet, telling Time, "Timothée is a thoughtful, poetic spirit. I am always impressed by his beautiful vulnerability."
But what's the inside story about Pugh's relationship with Chalamet?
Florence Pugh and Timothée Chalamet are good friends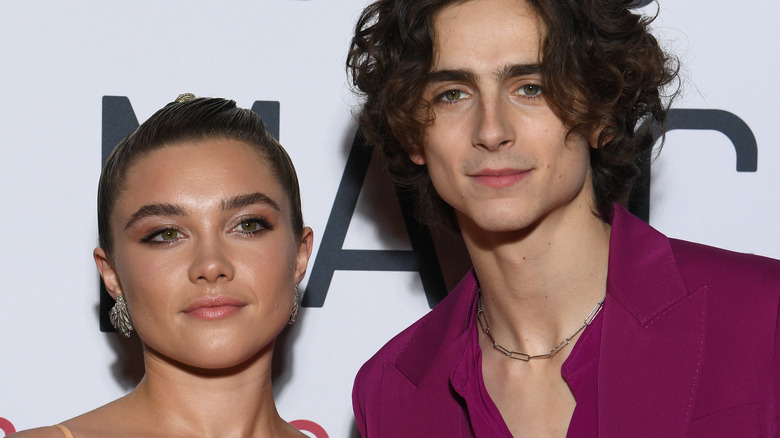 Pascal Le Segretain/Getty Images
It's no surprise that Florence Pugh and Timothée Chalamet are friends. Pugh talked to Glamour about Chalamet on the "Little Women" set. "Timmy was so involved with all the girls," Pugh gushed (via Grazia Daily). She added, "He was instantly in with the jokes and the wrestling. Everything about that dynamic didn't feel like we were welcoming a boy — it was really wonderful." Chalamet, Pugh, and Saoirse Ronan were spotted by the Daily Mail at a football game, and it seems like the "Little Women" crew is tight.
Pugh and Chalamet are likely friends because they took a unique career path. The "Call Me By My Name" star was the darling of arthouse and indie movies, similar to Pugh. Greta Gerwig raved to The New York Times about why she cast Pugh to play Amy in "Little Women." Gerwig said, "I knew there was no other person who could do it but Florence. She has movie star written all over her, but she's also a character actor, which is the best kind of movie star."
The young actors don't have big egos. Chalamet remains humble about his fame, saying the word movie star is "like death." The "Dune" star told Time that his success was a "combination of luck and getting good advice early in my career not to pigeonhole myself." And, as casting director Shaheen Baig told The New York Times about Pugh, "There's no fear or vanity; it doesn't matter what you throw at her."
Florence Pugh and Timothée Chalamet will likely stay friends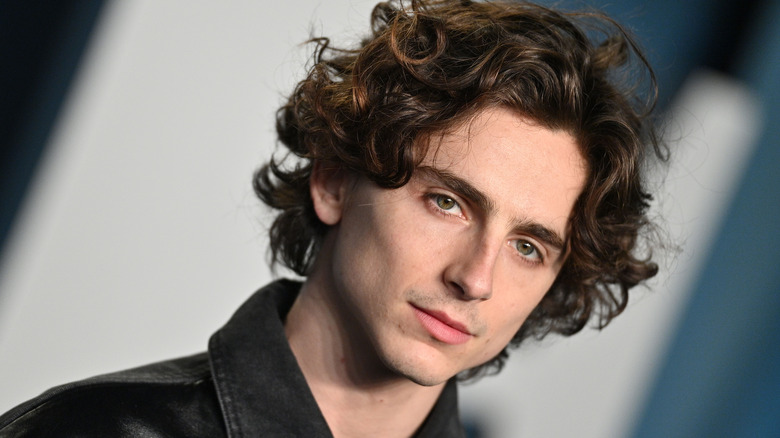 Lionel Hahn/Getty Images
Florence Pugh and Timothée Chalamet will likely stay friends because there aren't many young actors with their star power and work ethic. Pugh will star alongside Harry Styles in "Don't Worry Darling" in September, Chalamet will headline the "Willy Wonka" reboot in 2023, and the two "Little Women" stars will reunite in "Dune: Part Two."
The craft of acting is important to both actors. In a 2020 New York Times interview, the British actor said, "I've had conversations about films with people who had no idea that I was in them," Pugh revealed. "I love that. To me, that's acting. It's like, O.K. It worked." Chalamet also takes his work seriously. In a Deadline interview, Chalamet emphasized his continuous responsibility "to the story, and what the material is all about, and to bringing that out in the most human way."
Both actors like to push themselves past their comfort zone, too. Chalamet told GQ, "When you think you're doing some great thing, it's probably something you've done before, and when you really f***ing have no clue, that's when you're doing something on the edge, good or bad." In a 2020 chat with The Hollywood Reporter, Pugh said, "I love getting dirty and I love getting cold. It only helps your performance, anything that's physical. I can't stand faking things. I love being able to do stuff."
We can't wait to watch what Chalamet and Pugh do next!