Florence Pugh Has Another Talent Outside Of Acting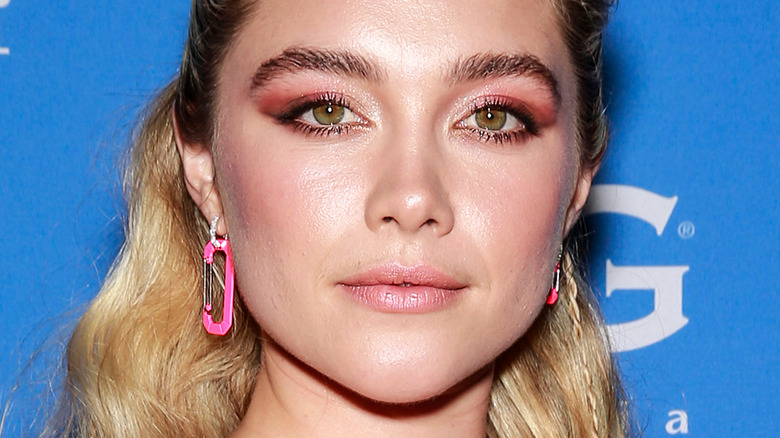 Ovidiu Hrubaru/Shutterstock
The talented Florence Pugh continues to stun audiences in the indie movies like "Lady Macbeth" and blockbusters, such as Marvel's "Black Widow." And the British actor will likely wow more fans by starring with Harry Styles in "Don't Worry Darling," which hits theaters in fall 2022. But some are fascinated with the British actor's love life, in addition to her work. Pugh and Zach Braff have been dating for two years, despite their 20-year age difference. In 2020, Pugh got tired of all the haters criticizing her relationship with Braff, so she hit back at critics in an Instagram video. Pugh said: "I am 24 years old. I do not need you to tell me who I should and should not love and I would never in my life tell anyone who they can and cannot love." She continued, "It is not your place."
BuzzFeed News reported rumors that Pugh had split from Braff and was dating actor Will Poulter. Once again, she turned to Instagram, putting the rumors to rest in her Stories. "No, Will Poulter and I are not dating. We went to the beach with our friends, who are always about half a meter away from us in every picture, but have been cleverly cut out/ framed out so that it looks otherwise," she said. But, with all Pugh's acting talents, you'll be surprised to learn about her other major talent.
Florence Pugh has a beautiful singing voice
Florence Pugh can sing! In a 2020 Vogue cover story, Pugh explained that her mother uploaded home videos of her to YouTube. In 2013, Pugh called herself "Flossie Rose" and sang Oasis songs while playing guitar. According to People, one of Flossie Rose's most popular videos is "Wonderwall," which she tailored to sound like Ryan Adams' cover. "So amazed by Ryan Adams version of this i decided to have a go at it. Love the original and love this version-food for ears!" Pugh wrote in the video's caption.
It makes sense that the young actor is comfortable singing. Pugh told Vogue, "I've always been a very loud personality ... And because I was good at it, I don't think my parents found it offensive." Pugh revealed that her unusual singing voice is due to tracheomalacia, making her trachea partially collapse when she breathes. The "Little Women" actor said tracheomalacia resulted in childhood hospitalizations but noted she's done some singing in her films and would like to make more music. Watch "Flossie" perform; her voice is amazing!
Florence Pugh's acting career is getting hotter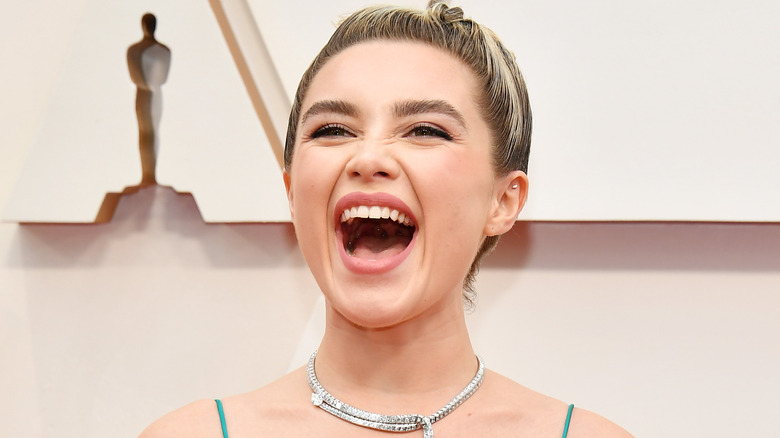 Amy Sussman/Getty Images
Florence Pugh is one of Hollywood's hottest actors, and she can sing. Pugh got an Oscar nod for "Little Women," and she's not stopping now! Olivia Wilde, director of Pugh's upcoming "Don't Worry Darling," raved about her to Entertainment Weekly. Wilde said Pugh's performance is "something you have to see to believe. You are witnessing the birth of a full-fledged movie star." In September 2021, the British actor teased "Don't Worry Darling" to her 7 million followers on Instagram, posting a video with the caption: "See you next year..."
The rising star will be in Denis Villeneuve's "Dune: Part Two" and Christopher Nolan's "Oppenheimer" next year, per IMDb. In the second "Dune," Pugh co-stars with Timothee Chalamet, whom she worked with in "Little Women." The young actor gushed to Glamour about Chalamet. "Timmy was so involved with all the girls," Pugh said (via Grazia Daily). She added, "He was instantly in with the jokes and the wrestling. Everything about that dynamic didn't feel like we were welcoming a boy — it was really wonderful." We can't wait to see what the talented actor-singer does next!