Are Peyton List And Mary Mouser Friends In Real Life?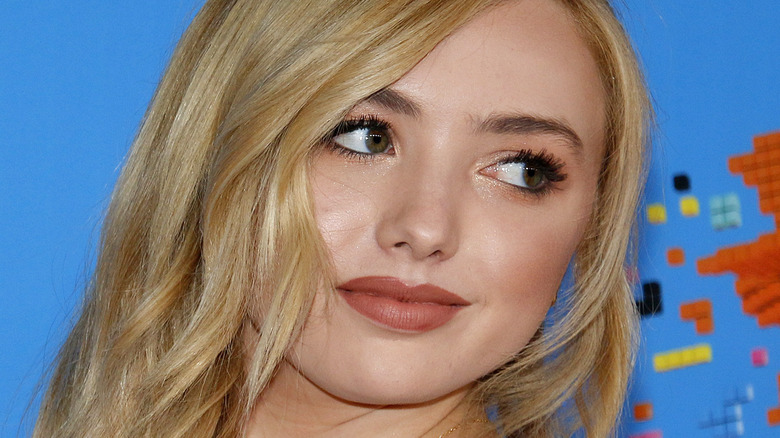 Tinseltown/Shutterstock
On "Cobra Kai," a messy love triangle-turned-rectangle has kept Mary Mouser and Peyton's List respective characters, Samantha "Sam" LaRusso and Tory Nichols, at each other's throats since the Netflix series' second season. And when you possess considerable karate skills, raging hormones, and a spiked bracelet, fighting over boys can get downright deadly.
Sam and Tory's feud rivals that of Sam's father, Daniel LaRusso (Ralph Macchio), and Tory's former sensei, Johnny Lawrence (William Zabka). Their hatred for each other runs so deep that List told Hollywood Life in 2021, "I don't know if it'll ever be over. ... I think there will always be more with these two." There are feelings of jealousy due to their relationships with fellow karate students Miguel Diaz (Xolo Maridueña) and Robby Keene (Tanner Buchanan), and Sam harbors simmering anger over how Tory viciously attacked her during that brutal school brawl, sparking a desire for vengeance that has made her bitter and more aggressive — qualities more befitting of a Cobra Kai disciple than a student of her father's Miyagi-Do dojo.
But off-screen, Mouser thinks that List is more vengeful than her. In a joint interview with Mouser, List, Maridueña, and Jacob Bertrand, Seventeen asked the group, "Who would try to get revenge on an enemy?" List was Mouser's answer. "If somebody wrongs her, I wouldn't want to do it," she said. Luckily for Mouser, she hasn't had to worry about getting on List's bad side.
Peyton List and Mary Mouser met as toddlers
Mary Mouser and Peyton List are former child stars who crossed paths during their early days in the entertainment industry. "We actually knew each other, though, from way back when, when we were toddlers. We would audition against each other," Mouser said in an interview with Smart Entertainment Group. "We were friends from hanging out in waiting rooms and stuff when we were little."
However, the two actors didn't encounter each other as young adults until List joined the cast of "Cobra Kai" during Season 2. Mouser confessed that she was worried about how List would treat her at first because the two of them would be playing enemies on the show, and her old audition pal turned out to be perfectly cast. Mouser and List did such a convincing job conveying the animosity that Sam LaRusso and Tory Nichols feel toward each other that some viewers were convinced the co-stars couldn't stand each other in real life — which wasn't the case. 
In a 2020 Instagram Live, List and Mouser discussed the gossip about their working relationship. "After meeting you, I was like, 'Oh my gosh, she's actually so nice!'" Mouser told List. The two actors revealed that they spent a lot of time together off-set while shooting "Cobra Kai" Season 3, and Mouser even rescued List from a "weird" person who was bothering her at a karaoke bar by pretending to be her pal's girlfriend.
Peyton List accidentally injured Mary Mouser while filming Cobra Kai
Before Peyton List and Mary Mouser headed to prom for Season 4 of "Cobra Kai," they got a little dance experience. In an interview with Seventeen, the friends revealed that they once took a single burlesque dance class together. List said to Mouser, "You were so much better than me! I was terrible. Delete that video, please!" But List later killed it on the dance floor in that jealousy-inducing prom scene. 
After the prom, Tory Nichols and Sam LaRusso took their rivalry to the afterparty. List and Mouser were performing some of their intricate fight choreography for those scenes when Mouser made a mistake. "I went down, and I stupidly put my hands out like this to catch my fall, so I had my hands spread," she recalled to Vanity Fair. "Peyton accidentally fell — because she was in those heels — fell on my hand, and my thumb went, 'Pop!'" Mouser learned that she had dislocated the digit and had to ice it before resuming filming.
While Tory and Sam's rivalry was still going strong during Season 4, List confirmed that she and Mouser were as close as ever. "Mary and I are friends, and especially filming this last season, we've been hanging out," she told "Collider's Lady Night" in January 2022. When asked about their fight scenes, List revealed that they aren't as tense as they look, saying, "We have so much fun with those."