Inside Drag Race Star Gottmik's Close Friendship With Heidi Klum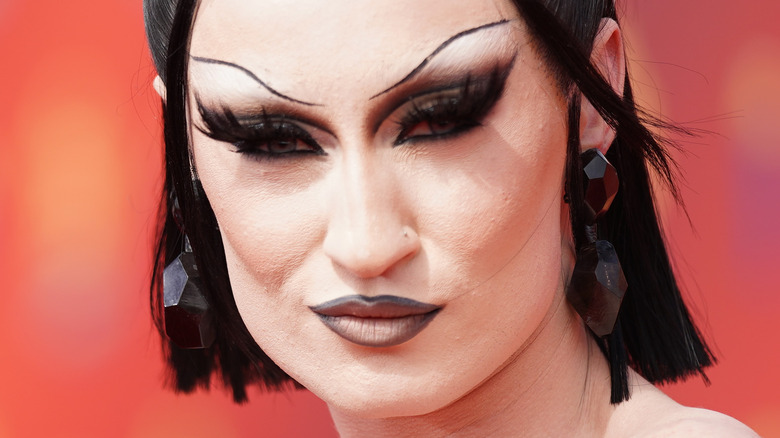 Presley Ann/Getty Images
The stars of "RuPaul's Drag Race" certainly have some friends in high places. There's Kerri Colby getting private messages from Jennifer Lopez and supporting her alongside a few other drag superstars during big shows, Willam rubbing shoulders with Neil Patrick Harris and his partner David Burtka, or Raja who's super friendly with Queen frontman Adam Lambert.
Then there's Season 13 star and hugely popular makeup artist Gottmik, who has a very close bond with none other than supermodel and "America's Got Talent" judge Heidi Klum. Yep, in a friendship you may not have expected, these two actually go all the way back to 2019 and have quite the sweet admiration for one another — which they're certainly not afraid to show off. Something you may not know? Gottmik (who also goes by Kade Gottlieb) has actually done the former Victoria's Secret model's super glam makeup on multiple occasions. What an honor!
So grab your stilettos and your makeup bag, because we're taking a deep dive into the sweet relationship of these two uber glam stars.
Gottmik's 'full-circle moment' with Heidi Klum
Kade Gottlieb (aka Gottmik)'s friendship with Heidi Klum blossomed after the supermodel asked him for advice on how to drag makeup, and a close relationship grew from there. The star, who goes by he/him pronouns when out of drag and she/her when in drag, found his talents being called upon when Klum was appearing on the German series "Queen of Drags," after which they bonded when Klum took an interest in his life. "She was just so accepting," Gottlieb told People during a joint interview with the model in June. "It's so cute that you were just wanting to be respectful, and it's the perfect example of what an ally is: it's just respectful listening, asking questions and being open to everyone," he added, describing doing Klum's makeup as a "full-circle moment" because he'd been a fan of hers for years.
"She's like a light in this world. I feel like that's what the queer community always wants to see — someone that's living life to the fullest, inspiring, happy, successful and gorgeous, and that's you," he gushed.
Gottlieb regularly shared photos and videos on Instagram of Klum in the makeup chair when they worked together on the series, including one video showing her with seriously dramatic lashes. Fierce! But it wasn't just on the German series where Klum called upon the star. In 2020, he even did her makeup for "America's Got Talent" — and posted all the proof to Instagram.
Gottmik's hangs out at Heidi Klum's house
Gottmilk drag star Kade Gottlieb and Heidi Klum really are close, as it's not just at work where they spend quality time together. Gottlieb told People that Klum often invites him over to her home, while Klum gushed during the joint interview about how much she's learned from the "RuPaul's Drag Race" star and how happy she was that she was able to help him on his journey as a makeup artist and drag queen. Klum spoke candidly about her support for drag artists, explaining, "I love them for who they are, what they stand for, that they're free. Everyone should do whatever they want to do, no one is hurting anyone, let everyone be themselves. So I've always celebrated people being who they want to be."
The star has also been nothing but supportive of her friend on social media, sharing a touching post on Instagram for the makeup artist on June 9 as she showed off his incredible skill. Klum posted several speedup videos of herself in the makeup chair while Gottleib worked his magic. "@gottmik love your artistry and your imagination," she captioned the upload alongside three red heart emoji.
Now this is one friendship we want to see stay and never sashay away.