Who Is Trisha Paytas' Husband, Moses Hacmon?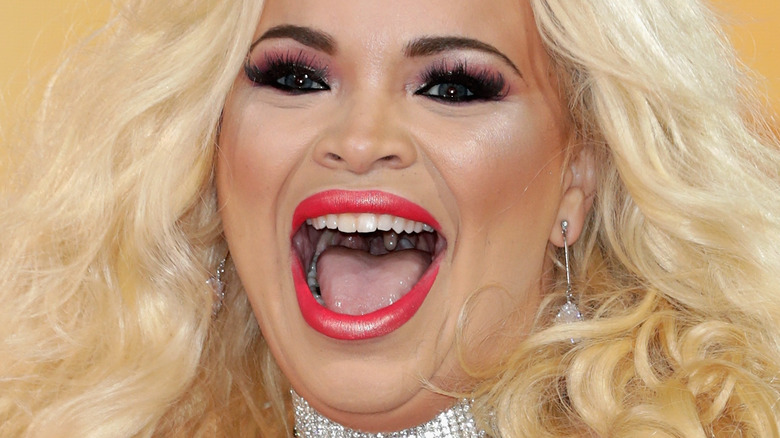 John Phillips/Getty Images
Trisha Paytas has long been known for their controversial YouTube personality, but who is their new husband, Moses Hacmon? As longtime followers of Paytas will know, Hacmon is the brother-in-law of the YouTuber's on-again, off-again frenemy, podcaster Ethan Klein. To say that Paytas and Klein's relationship is rocky would be an understatement. At one point, when the two were on good terms, Paytas was brought onto the podcast Klein shares with his wife, Hila Klein, and that set the stage for Paytas' relationship with Hacmon. In a playful spoof aptly named "The BacH3lorette," Paytas was brought on as a guest star. However, while there, she lamented that Klein's brother-in-law wasn't amongst her suitors. "Originally, I was pitched the idea to come on as a contestant and Hila's brother was going to be 'The BacH3lor,' and then I thought maybe he would apply to be on my 'BacH3lorette,'" she mused. Paytas also said that she believed Hacmon was "strikingly hot."
Ultimately, Paytas and Hacmon did meet up, and began a relationship while quarantining together in 2020. They eventually married in December 2021, and shared a video of the ceremony with fans via Paytas' YouTube channel. Their union wasn't made without controversy, though. The Kleins were not in attendance at the couples' nuptials, and the family no longer follows each other on social media.
That said, what was Hacmon up to before all the drama began?
Moses was in the public eye before he met Trisha
There's no denying that Moses Hacmon's public persona reached new heights when he began a relationship with Trisha Paytas. However, he had something of a public profile long before meeting his wife.
Hacmon made his YouTube debut in an episode on Hila and Ethan Klein's YouTube channel, Ethan and Hila. The 2014 episode was the couple's first vlog, and saw the Kleins join Hila's family for a meal. Upon their arrival, they were greeted by Hacmon, who they jokingly referred to as "Holy Moses." Biblical reference aside, the nickname may also have had something to do with Hacmon's spiritual personality, which he shared with the world when he started his very own YouTube channel.
As fans of Paytas and Hacmon are probably aware by now, prior to their meeting, Hacmon was the YouTuber behind Channel Water. Piggybacking off his decade-long research into the subject (per his Blurb profile), Hacmon uses YouTube to deliver lectures on the role water plays in everyday life. His very first YouTube video "Channel Water — Jumping In!" sees the YouTuber introduce the space to viewers. "Channel Water is an educational channel that will share with the world water's knowledge and point of view about the many different aspects of our lives," he promised. Since meeting Paytas, Hacmon has gone on to create two more channels, ASMR by Moses Hacmon and Paytas-Hacmon Family Channel.
Fans were surprised by Moses' teachings
Many YouTube viewers have admitted to coming across Moses Hacmon's teachings, hoping to find something as outlandish and amusing as his wife, Trisha Paytas. However, many fans have shared that they were blown away by what they found. "Wow. This is so beautiful and calming. I came here from Frenemies podcast. I was not expecting this. Moses is such a pure person," wrote one viewer, in response to his "My Identity Is Water" video. Meanwhile, another commented, "Here because of trisha but i'm a fan now!! this video was very relaxing and calming it made me feel at peace."
Hacmon's eloquence may come as a surprise to many, but a quick dive into his background is all it takes to see that he really is an expert on the subject of water. According to his Blurb profile, after obtaining degrees in architecture, fine art and cinematography in his hometown of Tel Aviv, Israel, he went on to study water more in-depth. He spent a decade learning more about water in movement and dance, and also went on to create a photographic technique to fully capture the essence of all that water is. If that wasn't enough, he's also the author of three books: "SOUNDWAVES," "Once Upon Water," and "FACES OF WATER."
Well, with those credentials, it's no surprise why he had none other than Trisha Paytas thirsting over him! Controversies aside, we're wishing these two the best.