Kim Kardashian Shares Perhaps Her Most Candid Photos With Pete Davidson Yet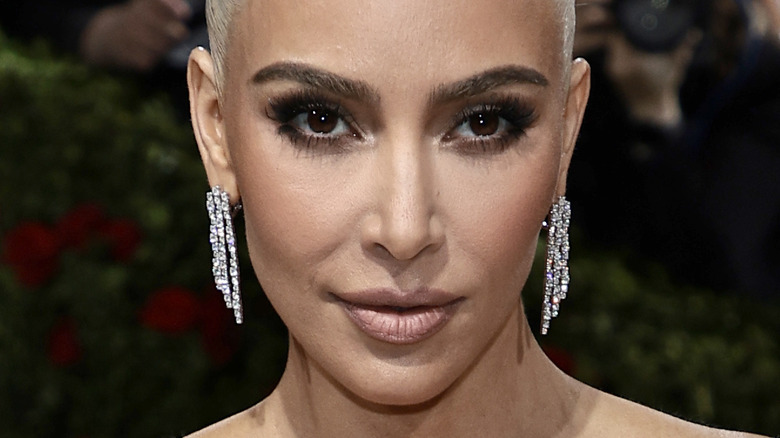 Dimitrios Kambouris/Getty Images
Sure, we know that "candid" is kind of a relative term when it comes to anything that Kim Kardashian posts to her Instagram, but still — the photo carousel she uploaded of her and her boo Pete Davidson on June 13 includes some of the sweetest, most personal images of the two of them together that we've seen yet. 
As you are undoubtedly aware, Kardashian and Davidson first got together after she hosted "Saturday Night Live" in October 2021. Unlikely a pair as they may have seemed, the couple's relationship has weathered scrutiny in the press, buckets of unsolicited social media commentary, and an all out public campaign by Kardashian's ex-husband Kanye "Ye" West to break them up. But even though the "SNL" comedian is occasionally referenced on Kardashian's Hulu show, "The Kardashians" (per Vulture), he does not actually appear on the show, so fans haven't really had an opportunity to see the couple's chemistry off the red carpet — until now.
Pete Davidson makes first appearance on Kim Kardashian's Instagram
Kim Kardashian finally gave the people what they wanted — an inside peek at her real relationship with "Saturday Night Live" star Pete Davidson — on her Instagram. Captioning the photos, "Beach for 2," Kardashian posted several pics of herself and Davidson enjoying a tropical vacation. The up-close-and-personal snaps show the couple kayaking, making out, and posing (well, only Kardashian was posing, actually, but you get the idea). Kardashian also appears to have done that extremely girlfriend thing of snapping a photo of the side of her boyfriend's face while he wasn't looking and uploading it.
The comments on the post were almost as cute as the photos themselves. "Platinum cuties," read one, referencing the couple's matching bleach blonde hair. "Sex on the beach," another cheeky commenter wrote. "Feet lovers go wild," someone else joked. 
Kardashian also posted from the vacation to her Instagram Stories (via E! News), noting that Davidson had "passed the content taking boyfriend test." We'll be honest, that's a pretty big deal.