Kim Kardashian Hints That The Drama Between Kanye And Her Family Goes Way Back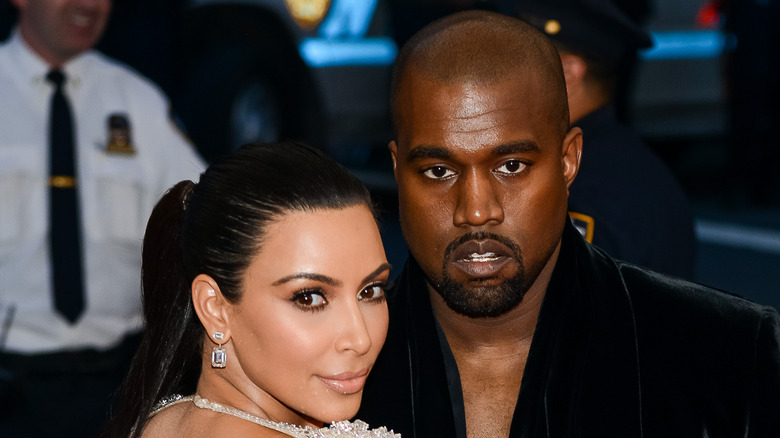 Sky Cinema/Shutterstock
Kim Kardashian's drama with her former husband Kanye West is no secret. Things appeared to turn pretty tense between the two — who share four children together — in the wake of Kardashian filing for divorce back in 2021, with multiple reports claiming at the time that things between the two were not good.
West himself appeared to confirm the drama in February, when he shared a meme inspired by "The Avengers: Infinity War" which showed himself on one side as well as many of the famous faces he's feuded with in the past, including the likes of Kim, her boyfriend Pete Davidson, and even Taylor Swift (via The Sun). He shared it alongside the caption, "Kanye West — Civil War." West then called out Davidson once again, that time threatening violence against the now former "Saturday Night Live" star in a music video. "[Kim] thinks it's way too violent and is upset. She's really upset with Kanye that he'd do this. She's completely over all of this and she wants it to stop," a source told People in March.
Before that, West seemed in with the Kardashian family and even lavished expensive birthday gifts on the family, with Khloé Kardashian praising his "thoughtful" gifts on Twitter in May 2021. But does the drama between the Kardashians and West actually go further back than we even realized?
Did Kanye West fall out with the Kardashians years ago?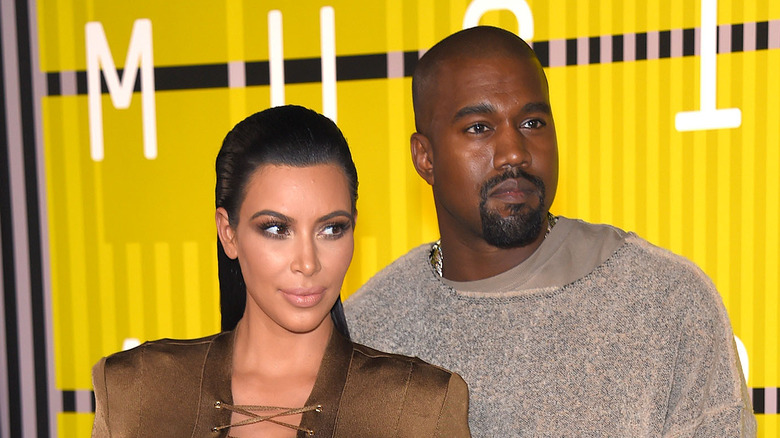 DFree/Shutterstock
Kim Kardashian appeared to hint that her ex-husband Kanye West hadn't had a great relationship with her family members for a while before their divorce. The star made the admission during the May 25 episode of "The Kardashians" as Kim, Khloé Kardashian, Kourtney Kardashian, Travis Barker, Kendall Jenner, Kris Jenner, and Cory Gamble gathered together for a chat amid West's now infamous public outbursts. The clan found out West planned to release a new song, to which Kim said (via Daily Mail), "It means he's talking s*** about me and probably saying whatever." Kim then noted of her ex, "When people are saying disparaging things about any of us, it hurts all of us" and suggested they'd had problems for a while, with West never really treated her family the best. "I protected that for so long, but I said I will never let that happen to you guys again," she said.
In early 2022, Kim spoke out against her former husband after his public outbursts via her Instagram Story. "Divorce is difficult enough on our children and Kanye's obsession with trying to control and manipulate our situation so negatively and publicly is only causing further pain for all," she wrote (via People). "From the beginning I have wanted nothing but a healthy relationship because it is what is best for our children and it saddens me that Kanye continues to make it impossible every step of the way."