The Truth About Mila Kunis And Kristen Bell's Friendship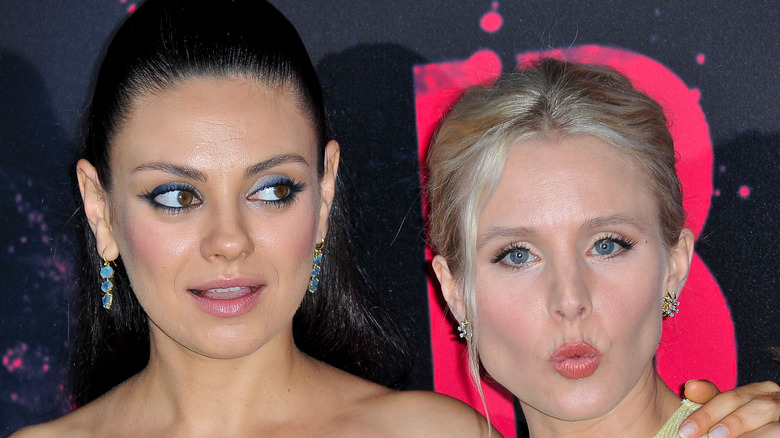 Allen Berezovsky/Getty Images
If there's one thing we love round here, it's celebrity besties. From the likes of Oprah Winfrey and Gayle King, to Ben Affleck and Matt Damon, to Taylor Swift and Selena Gomez, there's little we love more than seeing a couple of famous faces celebrating that sweet thing we call friendship.
One set of famous faces you can add to that list that you might not know about, though? Mila Kunis and Kristen Bell! Yep, it turns out the former "That '70s Show" star and the "Frozen" voice actor are super close besties just like the above stars, with their partners, Ashton Kutcher and Dax Shepard, also enjoying life as good pals. In fact, it was actually those two who became friendly first, with Bell explaining to Entertainment Tonight in 2018 of "The Ranch" co-stars, "Really they started that with 'Punk'd.' They fell in love and they remained friends." Adorable!
But what we really want to know more about right now is Kunis and Bell's close bond, so let's take a deep dive into this friendship we just can't get enough of.
Mila Kunis and Kristen Bell 'love each other'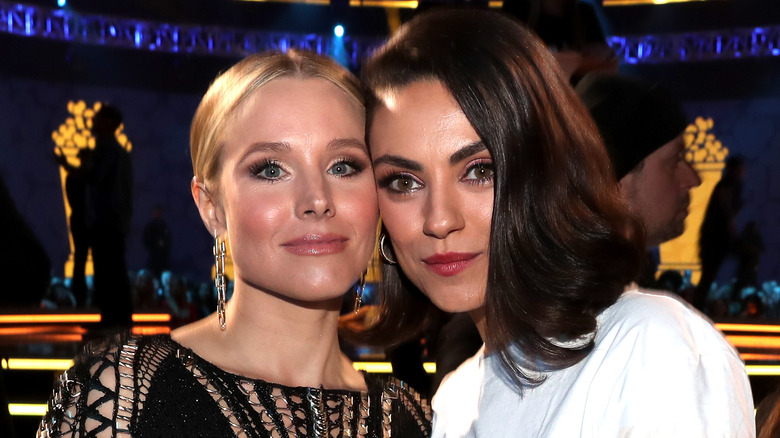 Chris Polk/vmn18/Getty Images
Yep, Mila Kunis and Kristen Bell are such close besties that the latter even used the 'L' word to describe the "Friends With Benefits" star. Bell revealed to Entertainment Tonight that their friendship really began to blossom outside of their husband's bond when they appeared together in the 2008 Jason Segel and Russell Brand movie, "Forgetting Sarah Marshall." "We became great friends and that contributed to 'Bad Moms,'" she said, referring to the 2016 movie they also starred in together. "But yes, we love [each other]. It's a very nice foursome, and we have kids the same age. They're good people."
We got a glimpse of that when the two appeared on "The Ellen DeGeneres Show" in 2016 when Dax Shepard and Ashton Kutcher surprised their wives with flowers for Mother's Day and the gang all sat down to play a game of Never Have I Ever. Kunis and Bell also gushed about bonding over motherhood and the great time they had filming the original "Bad Moms" movie, with Kunis told DeGeneres, "It was a really great set. Like, the whole vibe, everything was so nice." The two clearly had a great time, as they even reunited with their co-star, Kathryn Hahn, for "A Bad Moms Christmas" the following year.
Kristen Bell and Dax Shepard have Mila Kunis and Ashton Kutcher's backs
You may remember that Mila Kunis and Ashton Kutcher caused a bit of a stink in 2021 when Kunis revealed how often, or not, they tend to bathe their kids. Speaking on Shepard's "Armchair Expert" podcast alongside Kutcher, she revealed that they only pop their kids in the bath when they can physically see dirt on them. "I didn't have hot water growing up as a child, so I didn't shower much anyway. But when I had children, I also didn't wash them every day. I wasn't that parent that bathed my newborns. Ever," she explained.
Not everyone had Kunis' back on that one, but Bell and Shepard did. "I'm a big fan of waiting for the stink. Once you catch a whiff, that's biology's way of letting you know you need to clean it up," Bell said during a joint interview with her man on "The View." "There's a red flag. Honestly, it's just bacteria. Once you get bacteria you gotta be like, 'Get in the tub or the shower.' So, I don't hate what [Kunis and Kutcher] are doing. I wait for the stink."
But that's not the only way these two show off their cute friendship. Proving their serious bestie status back in 2017, Bell shared a snap to Instagram showing herself and Kunis rocking bobs, which she described in the caption as "Friendship haircuts." So cute!