Here's What Salma Hayek Really Looks Like Without Makeup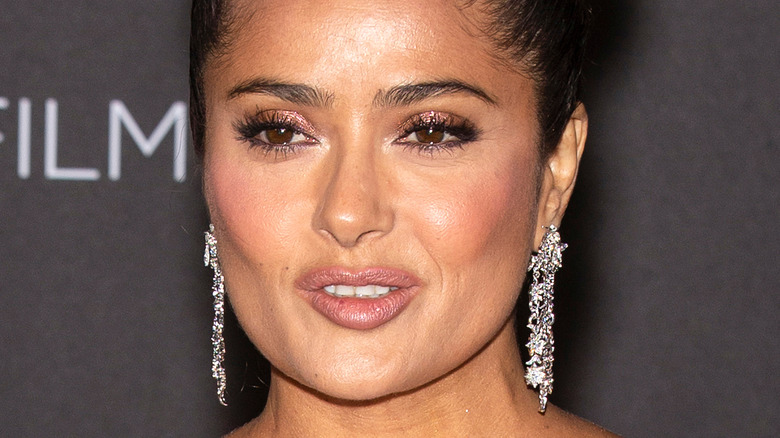 Ovidiu Hrubaru/Shutterstock
Often described as ageless, it's fitting that Salma Hayek was cast as a vampire in the 1996 classic film  "From Dusk Till Dawn." A quarter of a century later, she found herself playing a different immortal being in the Marvel movie "Eternals."
Hayek's youthful appearance was a popular topic on Instagram when she commemorated her 55th birthday with a swimsuit photo. "You do not look anything over 30," one Instagrammer wrote. "How do you look so beautiful and young at 55? Absolutely gorgeous," another remarked. Hayek appeared to have on little or no makeup in the birthday photo — and it's not uncommon to see her going au naturale in her social media snapshots, which sometime include the hashtag #nomakeup. 
But even when a red carpet isn't rolled out in front of her and the cameras aren't rolling, Hayek does occasionally like to use cosmetics to transform her appearance. "This is embarrassing to say but I wear makeup a lot. Not every day, I try to let my skin rest, but when I do, I shade my face to give it more depth and to slim my jaw," she told Vogue in 2015. In an interview with Glamour, she revealed that she started honing her makeup application skills when she was 14. "I always loved makeup. I guess I really liked to paint," she said. But many Hayek fans seem to agree that she doesn't need to touch her face with a brush for it to be a work of art.
How Salma Hayek gets that glow
When Salma Hayek shared a makeup-free selfie in January 2022, many of her Instagram followers reacted with the social media equivalent of a jaw drop. "Wow! You look better without makeup!!" one admirer wrote. "Why does she wear makeup at all?" another commenter wanted to know.
In addition to simply being a makeup fan, Hayek's job does require the use of cosmetics to change her appearance, but when it's time to get rid of all that gunk on her face, the actor has a fragrant makeup removal process that brings to mind sipping a piña colada after breakfast in the springtime. "At night I take off my makeup with coconut oil. Then I use rose water to take off the residuals," she told The New York Times in 2015. Hayek added that she occasionally adds a homemade cleanser made out of oatmeal and almond milk to the mix.
Hayek credits her grandmother for teaching her some of her best beauty secrets when she was growing up in Mexico, and she swears by an ingredient from her home country. In fact, Hayek's such a big fan of the botanical that she added it to one of the products in her skincare line, Nuance. "We have one ingredient in the line that nobody else has; that is tepezcohuite and it's used in Mexico for burn victims. It regenerates the skin like nothing else," she told Glamour.
Why Salma Hayek changed her mind about getting Botox
In 2015, Salma Hayek told Elle that her use of products containing tepezcohuite was why she hadn't felt the need to experiment with Botox, and five years later, she revealed that she still hadn't tried the injectable. Per Allure, when an internet troll responded to one of her Instagram selfies by writing, "Too much Botox ... Not needed Salma!" Hayek clapped back, "I don't have Botox But thank you for the advice because I was thinking maybe it's time."
In 2019 — one year before the Instagram exchange — Hayek decided that she was ready to take the plunge by having a syringe full of botulinum toxin plunged into her face. But it wasn't because she was concerned about crow's feet. She told Entertainment Tonight that she wanted to try it as part of her transformation into her "Like a Boss" character, a conniving cosmetics tycoon. "I was so excited to do it because I've never done it," Hayek said.
But the actor told Access that she had to start working on a different movie right after she finished filming "Like a Boss," and the director pleaded with Hayek to leave her face alone. "That [movie] is like I am going through a tragedy and really hard time," she explained to ET. "There's no makeup and no hair and I couldn't have had that leftovers [from the injections]." So the Botox speculators on social media haven't won this battle just yet.