Here's How Awkwafina Really Got Famous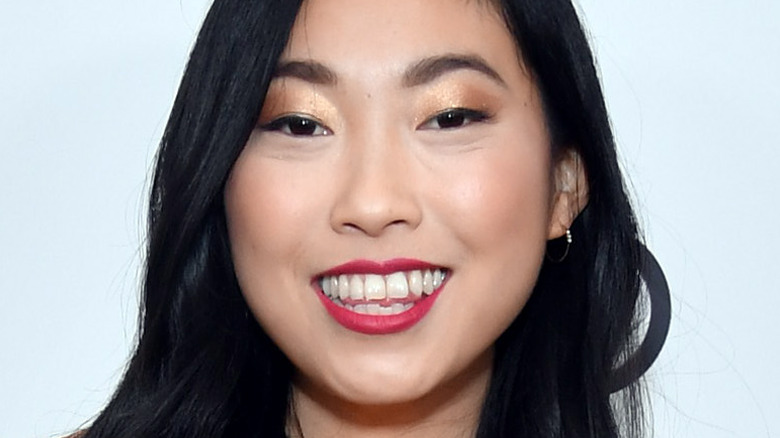 Amy Sussman/Getty Images
In such a short amount of time, Awkwafina went from being a virtual nobody to becoming a household name.
Most people first got wind of the actor-rapper when she starred in "Ocean's Eight" alongside industry heavyweights like Sandra Bullock, Cate Blanchett, Anne Hathaway, Mindy Kaling, Sarah Paulson, Helena Bonham Carter, and Rihanna. There, she showed her comedy chops, proving that she can be a mainstay on the big screen. She then starred in yet another box office hit: "Crazy Rich Asians," in which she played Peik Lin Goh, Rachel Chu's hilarious best friend. She went on to bag serious projects, too, including "The Farewell," where her performance got her a Golden Globe for best actress.
It's safe to say that Awkwafina is an unstoppable force. She's booked and busy, but the star is the first to admit that never in her wildest dreams did she think she would ever be popular. In fact, she said that she thought one of her first creative projects on YouTube would only get a handful of views.
Awkwafina started out as a YouTuber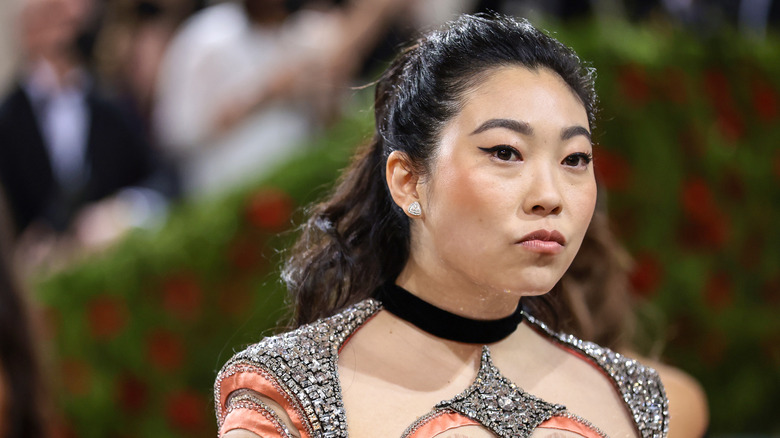 Jamie Mccarthy/Getty Images
New fans of Awkwafina would likely assume that she got her start in acting by auditioning for roles, but the star got her foot in the door in the industry by way of YouTube. Her roots lie in music, where she first tried to make a name for herself through her rap.
Fresh off university, she got a job in publicity which she hated, and decided to focus on her craft instead. While she had already been making music during her college days, it was only when she entered the workforce that she started taking it seriously. On her 23rd birthday, she filmed a music video for her track "My Vag," which ended up going viral. "I didn't intend it to get more than 30 views from like my entire family," she told NPR. "I really thought that's where it would be. I had no idea."
She ended up losing her job as a publicity assistant, but it turned out to be a blessing in disguise, as that became the turning point for her. "There was a chance that I could never get a 9-to-5 job ever again, because all it takes is one Google search and then that comes up. So I knew that there was no turning back. But I had nothing to lose, and that's when the best things happen."
Awkwafina got her first major role through FaceTime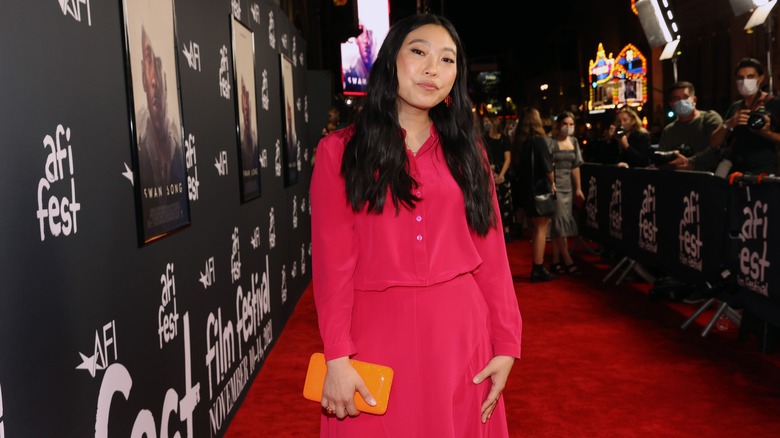 Amy Sussman/Getty Images
After she got recognized for her music, Awkwafina went on to release follow-up tracks, including "NYC Bitche$" and "Green Tea." One of her first acting gigs was a role in "Neighbors 2: Sorority Rising," and according to the star, she got the part thanks to her music video.
"Seth Rogen and Nick Stoller came across the video online and asked me to audition," she wrote in an essay for InStyle. "I pretended to be a really gross sorority girl named Moonstone who never did the dishes. That was my first movie. From there I wanted to do more and see if I could pull it off." She also starred in the Netflix film "Dude," and her performance got "Ocean's 8" director Gary Ross curious. "[Gary] saw a rough cut of 'Dude' and hired me on FaceTime, so that's how that happened," she shared with NPR. "There was a lot of presh there because, maybe he has no idea that I don't know what the hell I'm doing."
Fast forward to today, Awkwafina is now considered one of Hollywood's famous faces. Even the actor herself can't believe how far she's gotten. "I've had moments when I wake up and think it's all been a dream. It took a while for everything to really sink in," she said in her essay. "But I'm still the same me. It's not raining glitter. I still buy clothes at Target. I never really had a road map. This still feels like a rollercoaster ride that I hope will never end."