Denise Richards And Charlie Sheen's Daughter Makes A Bold Career Move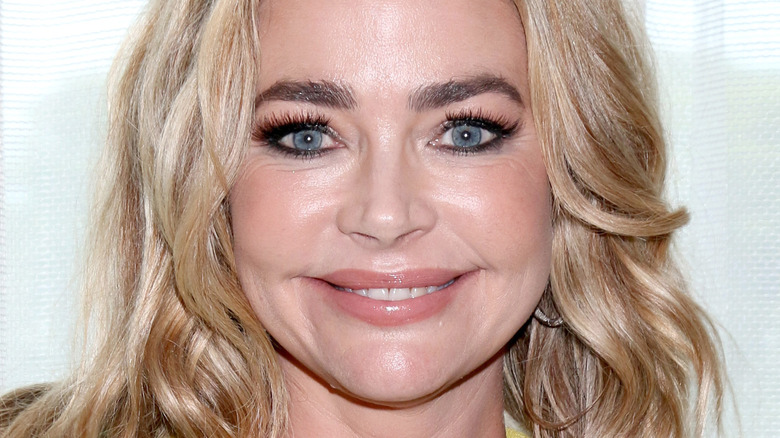 Kathy Hutchins/Shutterstock
Denise Richards has always made it clear that the two most important jobs in her life have been that as an actor and a mother to her three daughters at home. However, it hasn't always been easy for her. There have certainly been some good times and some bad for the family, as Sami Sheen took to her Instagram account in October of 2021 and told her followers that she felt "trapped" living under her mother's thumb. As a result, she temporarily moved in with her father, Charlie Sheen, whose parenting is apparently vastly different from Richards. A source at the time explained to People, "They need structure and rules and Charlie is very permissive. Denise just wants the best for them." Fortunately, Richards had a touching reunion with her estranged daughter Sami Sheen back on May 9.
Now, it looks like young Sami has made another huge move and it's one that is raising eyebrows among both fans and critics alike. However, both of her parents have had very different reactions to what some people would call a controversial career decision.
Sami Sheen debuts her OnlyFans account
While there's no doubt that kids grow up fast, Charlie Sheen and Denise Richards probably didn't expect their daughter Sami Sheen to grow up this fast. 
According to the Daily Mail, Sami now has her own account on OnlyFans, a subscription-based platform that often houses 18+ content. She shared a photo of herself on her Instagram page with a black bikini top along with red lipstick on and her blonde hair slicked back. Sami directed her fans in her caption to check out the link to her new OnlyFans account if they "wanna see more." Her father Charlie released a statement to Us Weekly hinting that Sami's decision to have her own account on the otherwise NSFW site might be in part because she is now living with Richards. He said, "She is 18 years old now and living with her mother," but also added, "I do not condone this but since I'm unable to prevent it, I urged her to keep it classy, creative and not sacrifice her integrity."
Meanwhile, it looks like Richards is rooting for her daughter's decision, at least for now. In the comments section, the "Wild Things" star wrote, "Sami I will always support you & always have your back. I love you," to which Sami replied with, "i love you thank you."