Inside Dua Lipa And Rita Ora's Complicated Relationship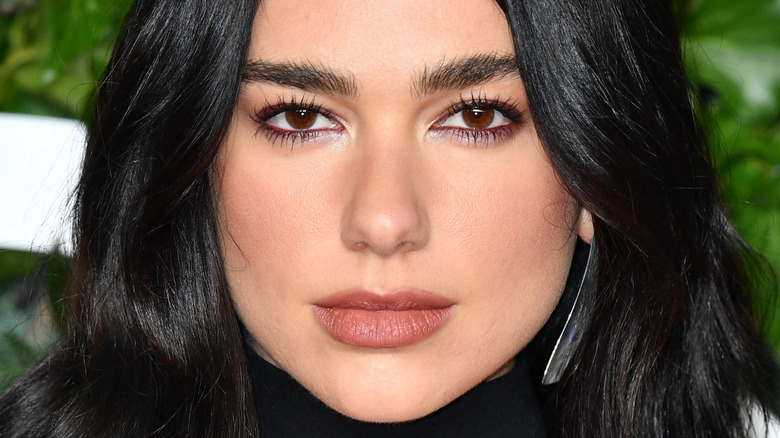 Gareth Cattermole/bfc/Getty Images
If you've paid any attention to pop music in recent years, you might have noticed an interesting trend. Between Dua Lipa, Rita Ora, Bebe Rexha, and Ava Max, female singers with Albanian heritage are having a serious moment. 
Given their shared background and similar musical output, they're often compared to one another, with Rexha herself expressing desires for a collaboration between the four. She even tagged her peers in a 2019 tweet with Max replying, "New lady marmalade," referencing the early 2000s remake of Patti Labelle's signature hit by the genre's it girls of the time. Rexha previously featured on Ora's controversial 2018 song "Girls," but a new song would bring together Lipa and Max as well. Three years after the hopeful tweet, the potential collab still has yet to see the light of day. 
Dua Lipa's star has burned the brightest, propelling her to a whole new level of stardom thanks to her album "Future Nostalgia," while Rexha, Max, and Ora have also seen success. However, a rumored feud between Lipa and Ora is supposedly what put a damper on the much-anticipated collab. Given the alleged rivalry, maybe it isn't "meant to be" after all.
It's worth noting that whispers of the feud aren't based on any concrete evidence, and remain just that — whispers. Neither Lipa nor Ora have spoken out against one another, with mostly the Daily Mail reporting that the two artists have avoided each other at parties. However, a firsthand witness has hinted there's more to the story.
Bebe Rexha thinks the pair's feud is here to stay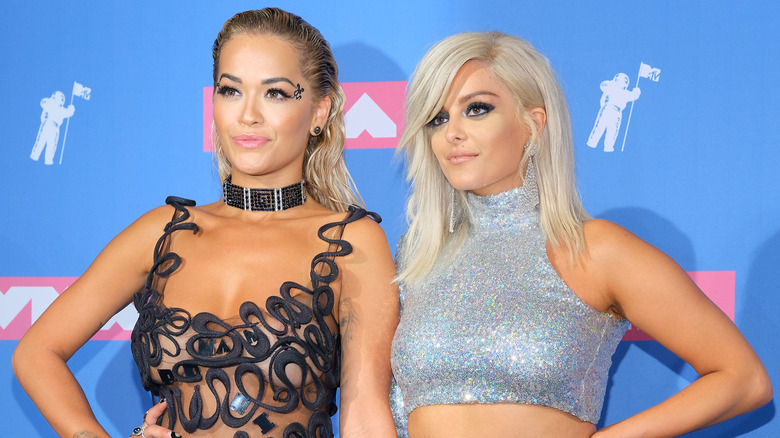 Matthew Eisman/Getty Images
In 2021, Bebe Rexha was again asked about the possibility of the current Albanian artists coming together for a song and the forecast wasn't looking too good. "I don't know what's really going on there or what the drama is," Rexha explained to The Sun. "I've tried to always be the peace-keeper and bring the girls together." The "Me, Myself & I" singer continued, "For me, I would really love to do something together but I'm not sure that will ever happen. And I won't say any more about that."
Many speculated she was referring to the feud between Lipa and Ora, although Rexha later took to Twitter to accuse The Sun of twisting her words, tweeting, "A UK tabloid is making up an awful story about my friends and women I admire. It's absolute bull**** to pit women against each other, especially those who I know are GOOD PEOPLE !!! This toxic gossip is malicious and NOT F***ING TRUE!"
Whether The Sun twisted Rexha's comments or she simply recanted them once made public, it's clear that there's something preventing the song from becoming a reality. Even if the rumors are true, it could still make for an interesting dynamic. After all, Brandy and Monica recorded "The Boy Is Mine" at the height of their beef, and even worked it into the song. In the meantime, fans have discovered another link between Lipa and Ora.
Dua Lipa and Rita Ora have a surprising family connection
After Bebe Rexha's comments about the alleged feud, an old Instagram post from Dua Lipa's father Dukagjin resurfaced. In 2019, he posted a photo of Lipa's grandfather having a drink with none other than...Rita Ora's grandfather. Dukagjin tagged his daughter and Ora, saying, "My dad, Seit Lipa and Mr. Besim Sahatçiu. Grandfathers of @dualipa and @ritaora having a drink in 1960s city of Peja. #grandfathers #friends." The picture is old and in black and white, but you can still see a slight resemblance between the British-Albanian pop stars and their ancestors, especially with the Lipas. Perfect eyebrows must run in the family!
It also turns out that Lipa and Ora aren't the first in their families to achieve fame. Both Seit Lipa and Besim Sahatçiu were a pretty big deal in 20th century Kosovo, the state where they lived. Lipa was the head of the Kosovan Institute of History, while Sahatçiu was a famous director on the big screen and stage alike. While she has yet to direct anything, Ora has seemingly followed in her grandfather's footsteps by pursuing a career in the arts. Neither Lipa nor Ora's grandfathers are still alive, but if they were maybe they would encourage their granddaughters to work together.