Selena Gomez Makes Rare Comments About Split With Justin Bieber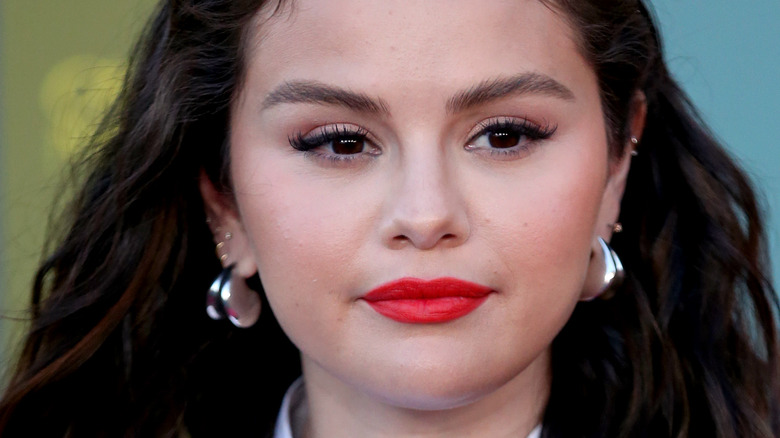 Phillip Faraone/Getty Images
Justin Bieber and Selena Gomez were the "it" couple of tweens. The famous duo boasted a huge fan base who lovingly referred to the couple as Jelena. While Bieber was one of the most popular singers of his generation, Gomez gained fame on her hit Disney show, "Wizards of Waverly Place." Together, the two seemed unstoppable.
According to MTV News, the pair first linked up back in 2011. Bieber, being the superstar he is, rented out the Staples Center in Los Angeles for a dinner date. The couple had somewhat of a rollercoaster of a relationship, and they were very much on-again, off-again. HuffPost reported that in 2013, the pair broke up after a fight on New Year's Eve, but by 2014, they were back on again (per MTV U.K.). The couple called it quits for good in 2018, per Seventeen.
As fans know, Bieber ultimately moved on with Hailey Baldwin, and they tied the knot. Gomez turned to music after her split from the pop superstar, and according to PopSugar, her song, ​​"Lose You to Love Me," seemed to be an ode to Bieber. One of the lines, for example, read, "In two months, you replaced us / Like it was easy," which takes a jab at his romance with Baldwin. Now, Gomez is talking more about the split and the positive things it brought to her life.
Selena Gomez is proud of the person she became post-split from Justin Bieber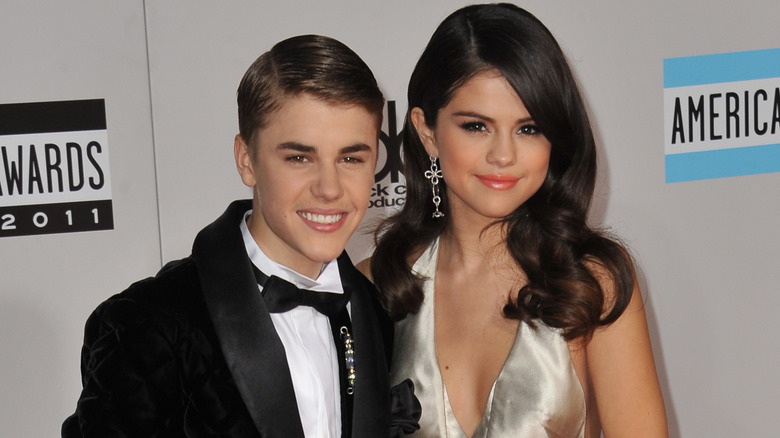 Jaguar PS/Shutterstock
Selena Gomez doesn't talk about her ex, Justin Bieber, all too often ... But when she does? We're all ears. The star spoke with The Hollywood Reporter's "Awards Chatter" podcast, sharing that after her split from Bieber, she had a lot of "soul-searching" and "learning" to do. "I was, you know, obviously going through a really tough break-up, and then I was left with the question of my career and where am I gonna go and what's gonna happen?" she asked, adding that she also had kidney problems, and issues with her lupus on top of that. 
"It was actually really hard," Gomez said on the podcast. But luckily, she was able to find the silver lining. "Being on the other side of it, I have to be honest; it's actually been really good for me," she confessed. "It allowed me to develop a character where I don't tolerate any sort of nonsense or disrespect in any way, and I'm really proud of how I came out of it."
Gomez has spoken about her split with Bieber on occasion, including in 2020. In an interview with NPR, the singer talked about one of the negatives. "It's dangerous to stay in a victim mentality," she told the outlet. "And I'm not being disrespectful, I do feel I was a victim to certain abuse." When NPR asked Gomez if she was referring to emotional abuse, she said, "Yes."