What Alexandria Ocasio-Cortez Did For A Living Before Becoming A Congresswoman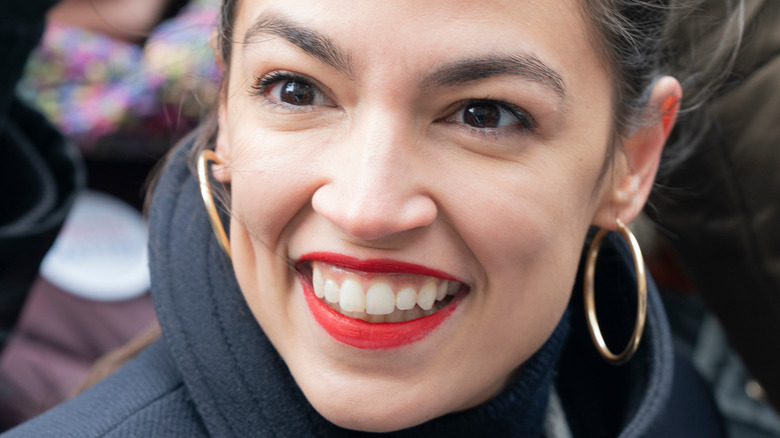 lev radin/Shutterstock
Alexandria Ocasio-Cortez doesn't hold back, especially when it comes to some of the things she strongly believes in. 
Ocasio-Cortez, who is better known as AOC to both her fans and her critics, often makes passionate statements on social media, especially when it comes to improving the lives of her constitutes. On June 13, she wrote on Twitter, "Very often I am told that raising concerns [about] provisions that risk harm to communities like mine means I'm 'letting the perfect be the enemy of the good.' That phrase often becomes a euphemism for 'I'm willing to sacrifice your community for mine.' I reject that. We can all win."
As the youngest woman to serve in the United States Congress, AOC graduated from Boston University, where she was a double major in international relations and economics and graduated with high honors. But before she became the household name that she is today, AOC had a job that is no where near or similar to what she is doing today.
AOC mixed drinks on the regular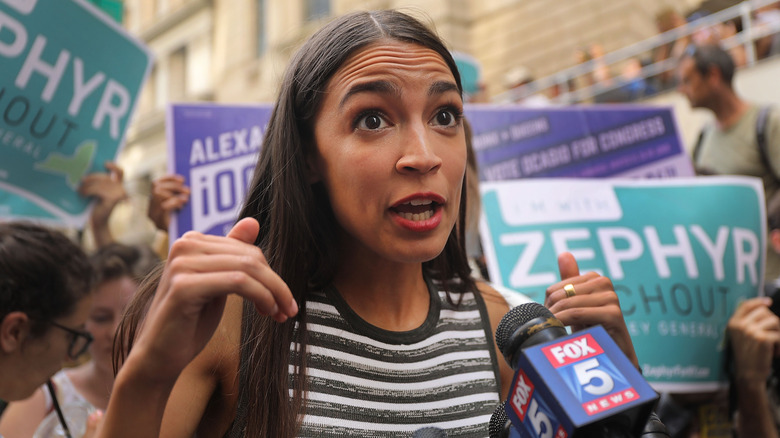 Spencer Platt/Getty Images
Alexandria Ocasio-Cortez might be a lot of different things to a lot of different people, but before she became a politician, activist and member of Congress, she was a neighborhood bartender that mixed drinks on the regular. However, AOC has claimed that being a bartender was no different than being a member of Congress, especially when it came to all of the stress she had to endure. In an interview with The New Yorker back in February, she said, "And so the day-to-day of my day job is frustrating. So is everyone else's. I ate s*** when I was a waitress and a bartender, and I eat s*** as a member of Congress. It's called a job, you know?"
And while a lot of AOC's critics seem to want to throw her past resume in her face from time to time, her comebacks have been of the golden kind. In January 2019, she tweeted, "'This bartender' has served in a Senate casework office, organized & educated 1000s of young people, earned relevant degrees w/ honors, worked on field campaigns, and the only reason I wasn't told to run for city council was because I was consistently told not to run at all." That said, a lot of people are unaware of how AOC almost quit her bartending job when she decided to stick with her morals and beliefs over a weekly paycheck and tips.
AOC once put her foot down over a sexist boss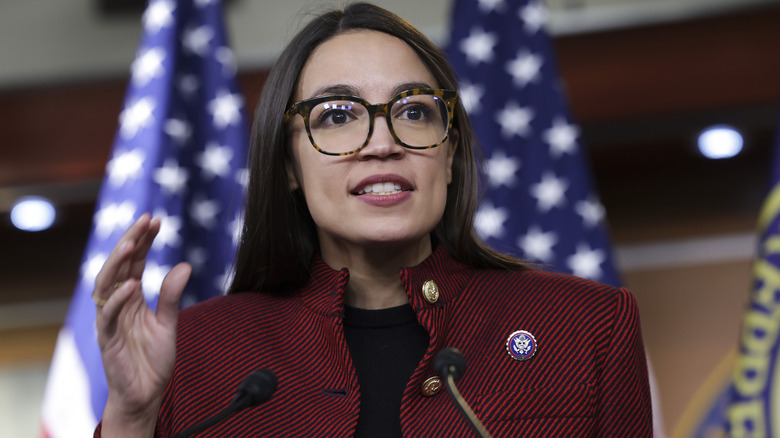 Kevin Dietsch/Getty Images
Even though Alexandria Ocasio-Cortez is known to wear stylish hoop earrings, a perfect color of red lipstick and her hair in a messy but trendy bun, when she's making a political statement, she's never wanted her looks to be the focal point of her job. 
That might be one of the reasons why she quit her job as a bartender when her boss came up with the idea to line up her and her co-workers and rank them based on their looks. AOC was not having it and walked out of the bar in protest according to the book, "We've Got People." But because AOC probably had mad skills mixing up a mojito or whisky sour behind the bar, her manager pleaded with her to come back and promised her that it would never happen again, per Jezebel. 
And while AOC no longer needs her bartending job to pay her bills, she did briefly return to her old profession back in 2019 to help "promote a national living wage," as detailed by the New York Post. She cheekily tweeted at the time, "To the silver spoon classists saying they're going to 'make AOC bartend again' you're in luck!" followed by, "At the event I will also unveil my newest platform policy: Abolish Sour Mix 2020."