Post Malone Reveals The Extreme Way He Altered His Voice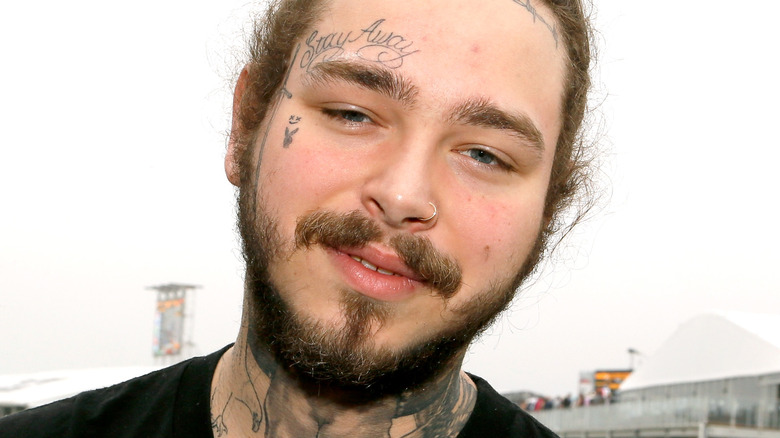 Paul Morigi/Getty Images
Post Malone's voice may not be the same but regardless he will still go down as one of the greatest to ever do it. Back in 2020, fans started to speculate the "Cooped Up" singer was on drugs after one of his crazed performances during his "Runaway Tour," per The U.S. Sun. As the video clip of him in concert started to make its rounds online, Malone quickly shut down the rumors and advised concert-goers that was far from the truth. "I'm not on drugs and I feel the best I've ever f*****g felt in my life," he said during his show at the FedExForum in Memphis, Tennessee (via The U.S. Sun). 
"I've been busting my a** for these shows and f*****g fall on the floor and do all that fun s**t." he added. "I appreciate the love and the support, but I feel f*****g fantastic and I'm not doing drugs."
While Malone has made it abundantly clear he is not on any kind of substance, he has however revealed what his vice is and how it's affected him in several ways. 
Post Malone smokes up to 80 cigarettes per day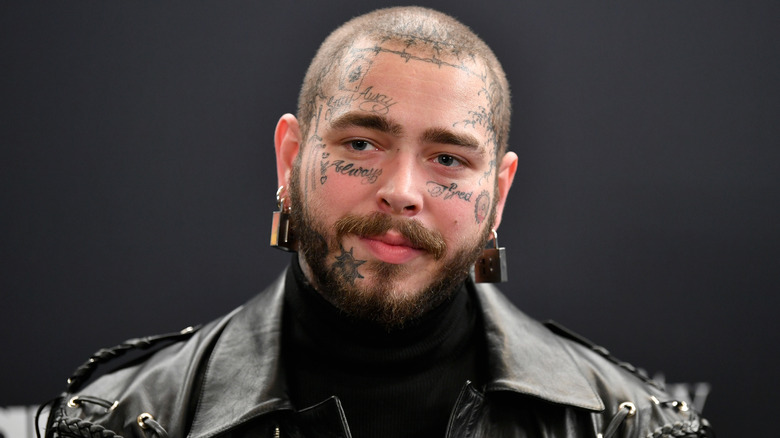 Amy Sussman/bbma2020/Getty Images
During an interview on the "Full Send" podcast, Post Malone revealed he might have permanently damaged his voice due to his excessive smoking habit. The "Better Now" singer confessed to smoking at least 80 cigarettes in one day and while he claims that isn't an every day occurrence, he did admit that he smokes half of that — daily. 
"On a really terrible day, there's a very fine line between a terrible day and a good day ... 40 to 45," he said. Malone understands smoking that much isn't good for him and opened up about feeling like a "total piece of s**t" by the time he opens up his third pack of cigarettes for the day. Not only has it been hard for him to break the habit, but it's also affected his vocal cords. "It definitely has [messed up my voice], but I mean, Johnny Cash smoked his whole life," the singer said. "He sounded cool, you know?'" 
Malone also addressed in his interview rediscovering his love for creating music. "This is what I'm supposed to do ... This is what makes me happy," he said. And, in terms of finding happiness, the "Sunflower" singer has experienced a newfound love with his new addition to the family. On June 13, TMZ reported that Malone welcomed his first child with his fiancée last month in Los Angeles. In 2019, the musician also quietly moved from California to Utah as well.