The Unexpected Place Gisele Bundchen Was Discovered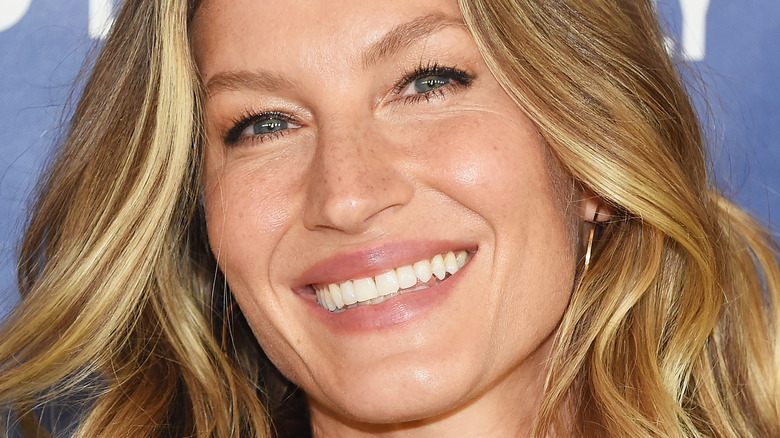 Michael Loccisano/Getty Images
A model can hardly expect to become more successful than Gisele Bündchen. The Brazilian beauty rose to fame in the late 1990s, when her confident high-stepping, leg-crossing "horse walk" became the talk of town, Glamour noted. Showcasing her strong legs and hip swag, Bündchen is credited with ending the 1990s "heroin chic" trend, British Vogue argued. "The return of the sexy model," announced Bündchen's 1999 Vogue cover. Her style went on to define the incoming decade, with Bündchen becoming one of the best-known models to wear Victoria's Secret's famous Angel wings, Newsweek noted.
And it reflected in her bank account. By 2002, Bündchen was the world's best-paid model, a title she held for a whopping 15 years until Kendall Jenner pushed her to second place in 2017, Forbes reported. Still, Bündchen has amassed a fortune unseen by nearly any model — acting or retired. With $400 million to her name, Bündchen still ranks among the richest models ever, with Marie Claire Australia placing her just behind Kathy Ireland. Bündchen is even richer than her famous husband, Tom Brady, who is worth $250, according to Celebrity Net Worth.
Bündchen's runway days are now behind her, though she still works in the industry in other capacities. With this kind of success in her trail, it sounds like Bündchen was predestined for it. But the truth is she never expected to be a model. In fact, she was discovered in the unlikeliest of places.
Gisele Bundchen was first spotted at a fast-food chain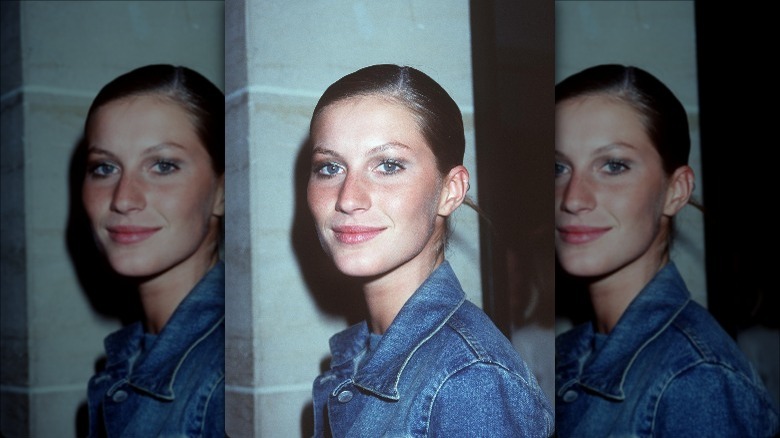 Robin Platzer/twin Images/Getty Images
Gisele Bündchen was at a shopping mall in São Paulo, Brazil when she was spotted by an Elite Model Management scout, she told The Wall Street Journal in 2019. She was just a 13-year-old eating at a McDonald's, a tremendous treat for a girl from a small town of 17,000, Vanity Fair reported in 2013. Bündchen found herself in her country's largest and richest city because of her posture. After a growth spurt that put her above 5-foot-9 on a 95-pound frame, Bündchen started to hunch a bit. Her mother noticed.
To remedy the issue, the family's matriarch signed up Bündchen and two of her sisters, including her twin Patricia, in a local modeling course. "My mom wanted me to be confident," she told the WSJ. The reward for completing the class was a trip to three big cities, including São Paulo. The scout picked her out among the 50 girls enjoying their sandwich and asked if she was interested in modeling. "I had never seen fashion magazines and I told my mom I didn't want to be a model, and my mom wasn't sure, either," Bündchen told Vanity Fair.
But the scout later convinced her mother to enroll her in an Elite contest. With no experience at all, Bündchen placed second. Thanks to it, she snagged a spot in a contest in Spain. And a supermodel was born. 
Gisele Bundchen wanted to be a volleyball player
Growing up in rural Horizontina, Gisele Bündchen had no idea what a model did. Bündchen never thought about how she looked. Instead, she had an athletic predisposition and the space to keep herself busy and active outdoors. "I never thought of myself as beautiful. Beauty wasn't a priority, and I didn't stare in the mirror," she told The Wall Street Journal. "I played sports and climbed trees. I was busy having fun."
In fact, Bündchen believed she would go on to play sports professionally. "I never even knew modeling existed. I wanted to be a volleyball player," she said. Bündchen even showed up to her first modeling contest in her volleyball uniform, not knowing what it would entail, she told Vanity Fair. Before she moved to São Paulo to engage full-time in modeling, Bündchen considered vying for a place on her country's national team, according to Entertainment Tonight.
Her sports career never came to fruition, but she remained athletic throughout her life. And volley continued to be a part of her routine, albeit in a different format. "These days, when I have time, I go surfing, I do yoga or I play beach volleyball," she told DW in 2006. Now in her 40s, Bündchen devotes a lot of time to yoga. "Yoga gave me back my life," she wrote in her 2019 memoir "Lessons: My Path to a Meaningful Life" (via Marie Claire Australia).