The Truth About Barbara Eden And Larry Hagman's Relationship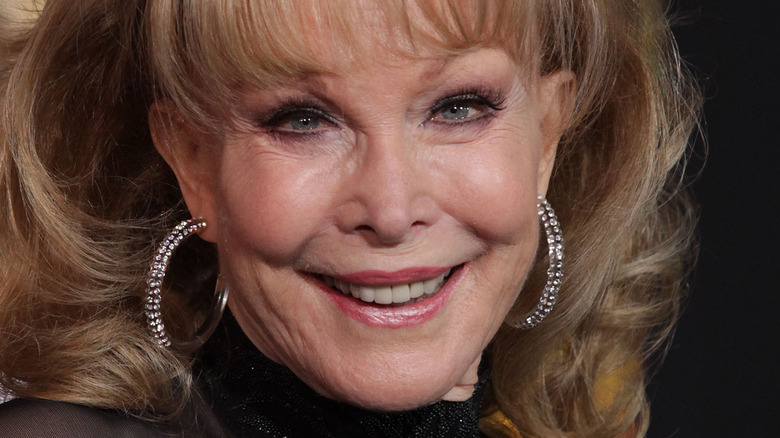 DFree/Shutterstock
Actors Barbara Eden and Larry Hagman had a very special bond as they worked as on-screen co-stars. The pair first collaborated when they were cast as Jeannie and Tony Nelson in the '60s sitcom, "I Dream of Jeannie." Before the show reached success and they went on to star together for five seasons, the late Hagman's initial reaction to working with Eden was an interesting one. "Larry came over, and in between shots in my dressing room, we'd rehearse. We did that first scene," Eden said on the Australian series "Where Are They Now" in 2007. "And I remember [Hagman] telling me I scared [him] to death."
When Hagman was asked about why the show's popularity had endured for so many years, he attributed it to the cast's dedication to their roles. "We worked hard at it. We rehearsed all the time," Hagman said in an archival "Larry King Live" interview. "It was five years of hard work. And it was a lot of fun too."
Eden has since spoken about her and Hagman's exceptional chemistry, which likewise contributed to the success of "I Dream of Jeannie."
Barbara Eden believes she and Larry Hagman 'were meant to be together'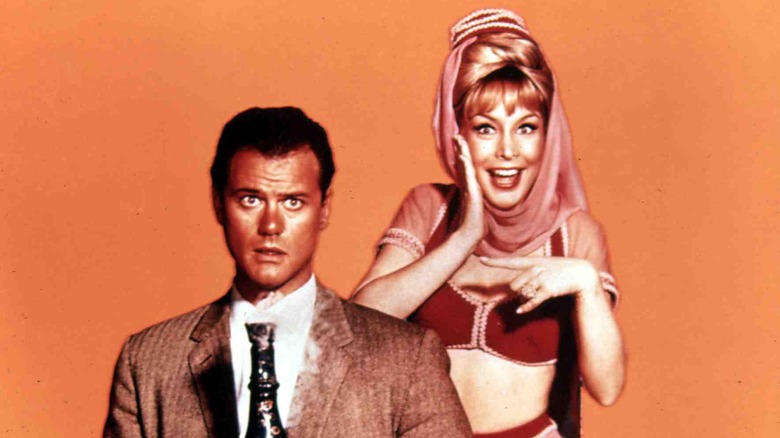 United Archives/Getty Images
Barbara Eden and Larry Hagman were destined to share the screen together. In a 2021 interview with Closer Weekly, Eden reflected on her memories of starring alongside Hagman in the memorable sitcom "I Dream of Jeannie." The performer spoke of her and Hagman's natural connection, which played a big part in the series catching on with audiences. "We just ... we clicked. We had the same rhythm. We've got the same truth out of whatever we were doing," Eden said. The pair never dated in real life, but Eden shared that she feels they "were meant to be together."
The legendary performer also discussed how she cared for Hagman, who sadly died in 2012, per The Guardian, as a friend off-screen. "I loved him a lot," Eden said. "Some actors you have to work at really liking them ... But with Larry, I never had to do that. He was there constantly." In a 2019 Studio 10 interview, Eden further explained how acting with Hagman was so enjoyable that it felt effortless. "It was not work ... it was wonderful," she said. The dynamic duo was always supportive of each other and continued to collaborate after "I Dream of Jeannie" wrapped.
Larry Hagman gained a loyal companion in Barbara Eden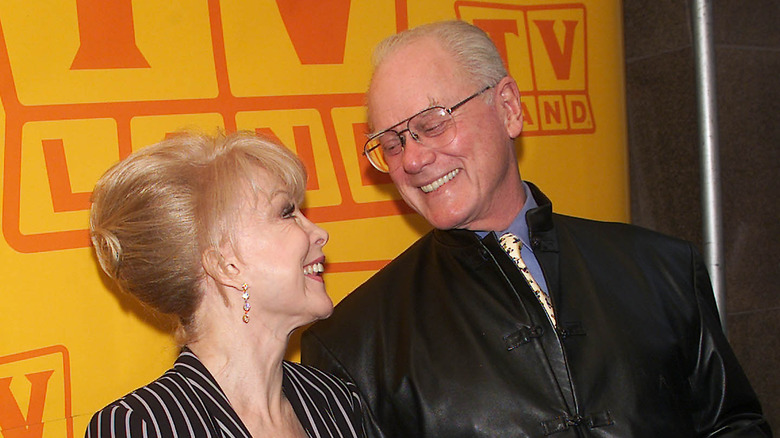 Evan Agostini/Getty Images
"I Dream of Jeannie" stars Barbara Eden and Larry Hagman were a support system for each other as they worked on the series. In a 2021 interview with Fox News, Eden described sticking up for Hagman when there were talks of him being replaced on the show. The creator and producer of "I Dream of Jeannie," Sidney Sheldon, approached Eden about potentially bringing in a new actor for the role of Tony Nelson as a result of Hagman being "troubled" at the time. Eden noted that Hagman "was personally troubled, but never on the set," and she was then able to convince Sheldon to keep him on the show.
"I simply said, '[Hagman] can't get along with people. That's all. You can get around that. I think it would be foolish to switch him in the middle of the show,'" Eden said. After "I Dream of Jeannie" ended, Eden and Hagman's companionship continued as Eden appeared in the last season of his series, "Dallas," in 1990, per Deseret News. In 2006, they again joined forces for the stage play, "Love Letters," the Tampa Bay Newspapers wrote. Eden noted in a 2019 Closer Weekly interview that she had "millions of memories" of the late Hagman.
Their one-of-a-kind friendship and work relationship was fated and made for some truly unforgettable performances.