Dorinda Medley Is Still Not Done With Her Messy Vicki Gunvalson Feud
Ron Adar/Shutterstock
If you're a Bravo fan, then chances are you've been missing pot stirrers Vicki Gunvalson from "The Real Housewives of Ocean County" and Dorinda Medley of "The Real Housewives of New York City" since they left their respective franchises. The good news is the ladies joined the cast of the Peacock spinoff "The Real Housewives Ultimate Girls Trip: Ex Wives Club," which gathered fan favorites who had departed the franchise for one reason or another.
Now, this wouldn't be a "Real Housewives" spinoff without a little bit – okay a lot – of drama and Gunvalson and Medley are bringing it. According to Brandy Glanville, a former "Beverly Hills" star who also signed on for the season, there was immediate tension between Medley and Gunvalson. "I felt like [Dorinda and Vicki] were both, like, peacocking a lot. It was like, 'Who's the OG?' Glanville explained to Us Weekly. "It was almost a queen bee off," she continued. "I feel like it was more of, like, who's more popular? It was really silly. Like, this is not a popularity contest. We're not in high school."
The issues started when Gunvalson shared her controversial opinions about the COVID-19 vaccine, which rubbed Medley the wrong way, per Page Six. Things only worsened from there, and now Medley is reportedly refusing to engage with her co-star any longer.
Dorinda Medley can't stand Vicki Gunvalson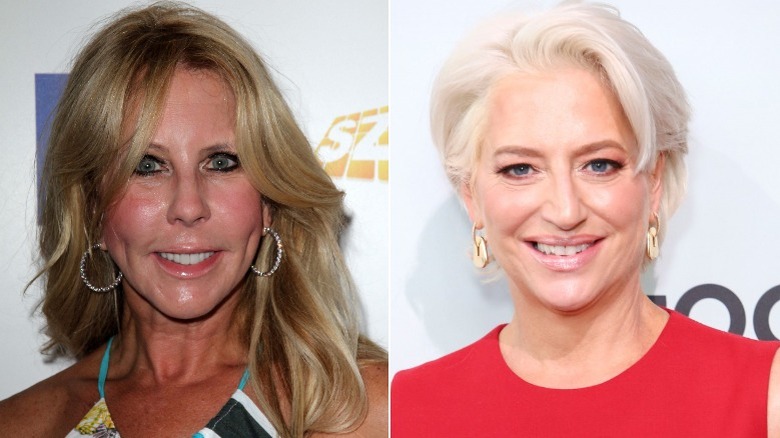 s_bukley & Ron Adar/Shutterstock
What started as a tiff about vaccine preferences quickly became so much more when Vicki Gunvalson reportedly insulted Dorinda Medley's Massachusetts home. According to Daily Mail, Gunvalson complained that Medley's large home — where the second season was filmed — was in the middle of nowhere, old, and not much fun.
Medley explained on her podcast "Make it Nice," "You can't really have people that don't have taste, understand taste," before taking aim at Gunvalson's failed relationships. "I also don't date people that pretend to have cancer, you know what I mean?" she said, referring to Gunvalson's ex Brooks Ayers who caused chaos on "RHOC" by pretending to have pancreatic cancer. For good measure, she also insulted Gunvalson's most recent relationship with Steve Lodge, which ended when he left her for a much younger woman.
It seems Medley is not about to bury the hatchet anytime soon. "I have hundreds and hundreds of texts from [Gunvalson], but I don't really respond. She not only wrote 100 texts, she left me a very long voicemail," Medley told Page Six. Gunvalson also left a comment on Instagram following Medley's podcast rant calling her "the nasty one." Though Gunvalson's texts were reportedly inflammatory — mocking Medley for inheriting the house from her late husband rather than buying it herself — the "OC" star shouldn't hold her breath for a response anytime soon. Medley added, for good measure, "Listen, once I clap back, I go silent."