Shaquille O'Neal's Mystery Date Situation Fully Explained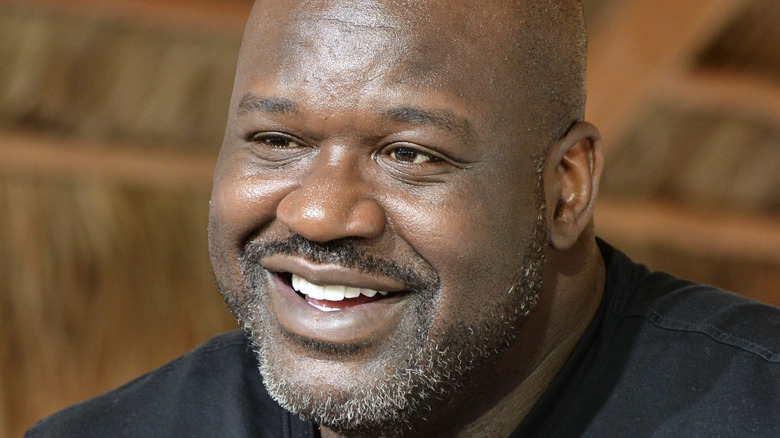 Manny Hernandez/Getty Images
Former NBA player and current sports commentator Shaquille O'Neal made headlines recently when he covered the tab for an entire restaurant while on a date in New York City. According to Page Six, the business mogul visited Jue Lan Club on June 12, and reportedly spent over $25,000 to cover the bill for fellow patrons at the restaurant. The outlet also reports that O'Neal was "extremely generous" to the restaurant's employees and "left them the biggest tip they've ever received."
The gracious move is not too surprising, as O'Neal has previously gifted his supporters with vehicles, engagement rings, and more. O'Neal discussed his desire to continue helping people during an episode of his TNT show, "Shaq Life: Acts of Shaqness." "Whenever I go to the store from now on, I'm buying somebody else something," he said.
And while the former Lakers star's recent act of kindness at Jue Lan Club appeared to be just another day for the entrepreneur, this stop came with the addition of an unnamed "mystery date." However, the situation is not quite what it seems.
The date was a business meeting
The woman who was spotted dining with Shaquille O'Neal at Jue Lan Club, is setting the record straight about her meeting with the basketball legend. Dr. Jaime Johnston, founder and CEO of Kin Essentials, told Page Six that despite reports, the pair simply had a "business meeting."
"It was a business meeting, and lastly, I don't engage in gossip stories," she told the outlet. Johnston's statement contradicts reports that O'Neal called her "my date" on the night of their outing. However, her Instagram may tell a different story. Johnston posted an image from inside Jue Lan Club, and captioned the photo, "His favorite view." And while she didn't mention O'Neal explicitly, insiders claimed Johnston and O'Neal dined alone that evening.
O'Neal later denied referring to Johnston as his "date," clearing up the confusion on a June 16 episode of "The Big Podcast with Shaq." When asked about the viral moment by his co-hosts, Nischelle Turner & Spice Adams, O'Neal said, he doesn't date. "I say, 'Hello, this is my date?'" O'Neal explained. Adding, "Black people even talk like that — first of all. Second of all, I don't do dates." Turner has also been romantically linked to O'Neal, after the pair were spotted together at Super Bowl LVI.