What's The Real Meaning Behind Drake's Falling Back? Here's What We Think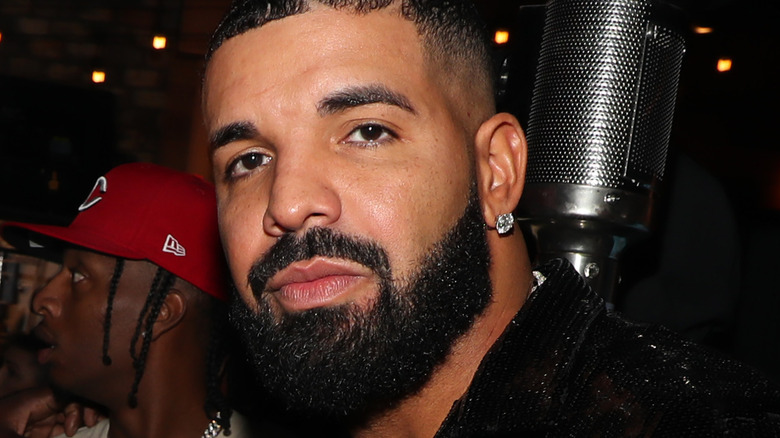 Jerritt Clark/Getty Images
Drake just surprised his fans with a whole new project. The "God's Plan" rapper announced on Instagram that he was dropping his seventh studio album "Honestly Nevermind" less than 24 hours before its release. While fans rushed to get their notepads to jot down all their new Instagram captions, most weren't actually shocked the Toronto rapper was releasing a new body of work. While the announcement may have been unexpected, this isn't the first time Drake has done something like this. 
According to Forbes, back in 2015 Drake released two surprise albums in the same year — "What a Time to Be Alive," a collaborative project with Future, and "If You're Reading This It's Too Late." Billboard reported that both of the rapper's surprise projects made it to the No. 1 spot on the Billboard 200 chart and his latest album is projected to do the same. 
"Honestly Nevermind" is packed with 14 tracks and this particular body of work is a little different than what Drake normally puts out. While the "Back to Back" rapper is known for incorporating different sounds in his music, this album focuses more on his singing abilities rather than him dropping bars. And, because Drake is giving us major lover boy vibes on this album, his leading song "Falling Back" off of "Honestly Nevermind" has everyone in their feelings. Here's what we think the song means.
Drake feels like the rebound on Falling Back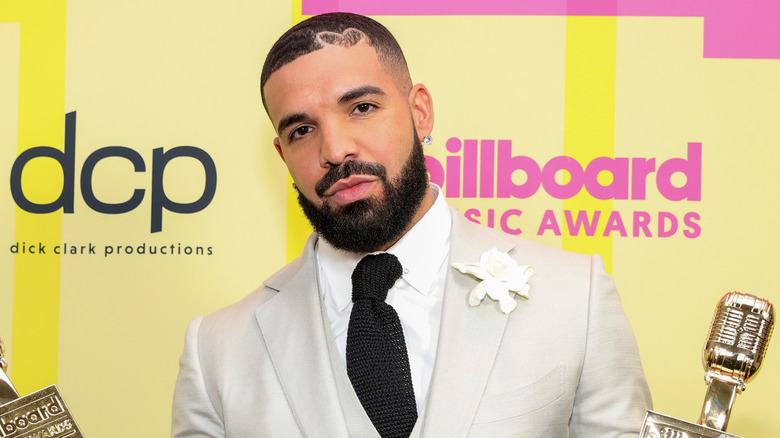 Rich Fury/Getty Images
"Falling Back" starts off with a catchy beat that seemingly sounds very similar to Drake's "Get it Together" from his 2017 project "More Life." While this may come as a shock to many people (including us), this track is all about Drake feeling like he isn't the main priority in his relationship. "Finding myself / Showing myself / Finding a way to stay outta the way," he sings. 
"Falling Back" is the perfect title to this record because the song truly captivates the ups and downs people face in their relationships. And, it appears Drake is dealing with an on-and-off-again relationship. "How do you say to my face, 'Time heals'? / Then go and leave me again unreal." The rapper also fears he's the only one working toward making a difference. "I see us fadin' away / I'm still holdin' my breath for the day / that you will see that the effort I make is too real," Drake sings. 
Given the fact that Drake is a ladies man, there is no way to identify who he is referring to in this song. However, we do know what he is looking for in a partner. "It'd have to be somebody that I get along with so much to the point that when we're separate, I'm feeling like I can't function properly without their presence," he told Rap Radar (via Hollywood Life). While Drake often sings about wanting stability and his journey to finding the one, his latest music video proves otherwise. 
Drake drops the music video for Falling Back
"Falling Back" is an inside look into one of Drake's failing relationships, but the visuals for his latest music video tell a different story. The over-nine-minute wedding-themed video starts off with the rapper dressed in a tuxedo getting a pep talk from none other than NBA player Tristan Thompson. As the basketball star preps Drake to make sure he is ready for the big moment, the "Nonstop" rapper reassures his friend he is all set to make the commitment. "I'm ready to settle down. I'm in love," he said. However, when he makes it to the altar he is accompanied by 23 different women all dressed in bridal gowns who ultimately say "I Do" and marry Drake, per Page Six. 
While the "Falling Back" music video is a complete contrast compared to what Drake is actually singing about in his song, the rapper still found a way to seemingly connect other outside elements to his video. According to Pitchfork, Drake showed his support for Young Thug and his entire crew — who are currently in jail on several gang-related charges — with a brief part that read, "Free YSL." 
It's been less than 24 hours since Drake released "Honestly, Nevermind" and he's already encouraging his fans that another project is on the way. "I got another 'Scary Hours' pack coming too in a little bit," he said during his new Sound42 SiriusXM radio show "Table For One" (via HipHopDX).