Twitter Is Calling Drake The Ultimate Troll As Tristan Thompson Stars In His Latest Video
Frazer Harrison/Getty Images
Toronto's biggest rapper Drake announced on June 16 he was dropping a surprise album at midnight titled "Honestly, Nevermind" and fans lost their minds. So soon after "Certified Lover Boy?" On the same day that Beyoncé announced her new album? Not only that, he already filmed a blockbuster music video to herald the new album! 
The video for the track "Falling Back" follows the rapper as he finally decides to walk down the aisle and get married to the one he loves. Thing is, it's not just one love, it's — *does the math* — 23. Yup, you read that right. Drake marries 23 bona fide hotties in this tongue-in-cheek video, per The Toronto Star. If that doesn't have you laughing, there are so many other nuggets and Easter eggs for die-hard stans. Toronto of course set the stage, along with his beloved CN Tower in the final shot (more's the pity he's not sitting atop the tower like on his "Views From The 6" album cover). True to Drake's religious background, the wedding follows Jewish traditions and features a rabbi. Plus, blink and you'll miss her, but his mother, Sandi Graham, has a cameo!
But it's the cameo of another Canadian superstar that has tongues wagging and jaws dropping on Twitter. 
Tristan Thompson's cameo in Drake's Falling Back video is causing a stir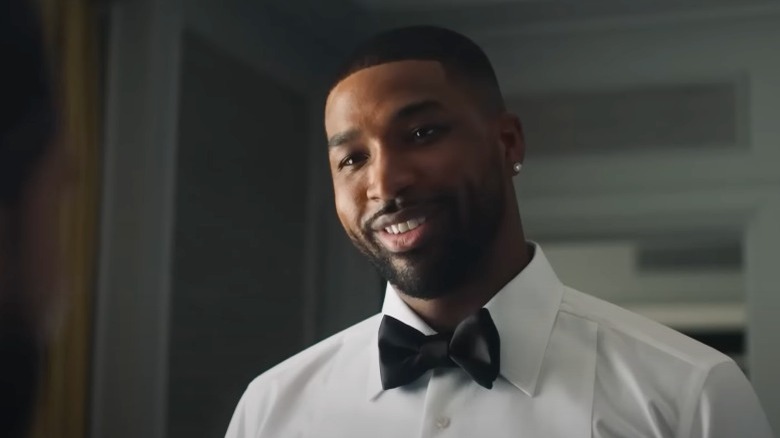 YouTube
Merely a few hours after the season finale of "The Kardashian's" aired, on which we learned how Khloé Kardashian reacted to her then-partner Tristan Thompson's most recent cheating scandal (per Buzzfeed), Thompson made an eyebrow-raising cameo in fellow Ontarian Drake's new music video for "Falling Back." Appearing as Drake's best man at his wedding, Thompson's dialogue with the rapper is truly telling. After asking the "Hotline Bling" rapper if he's ready to get married, Thompson says, "Doesn't feel right, we scrap it, we go home, it's done."
"No, I'm good bro. It's a good time for me, you know, I'm ready to settle down. I'm in love," Drake replies, but the fact that Thompson is giving relationship advice is sending Twitter into a meltdown. "Not Tristan Third Trimester Thompson as the best man," one user scathingly wrote. Another posted, "So your [sic] telling me tristan Thompson can commit to being in a music video but can't commit to Being faithful to the queen khloe kardashian I mean I'm just saying." Then, one fan jokingly tweeted what we're all thinking: "This is the wedding that Tristan promised @khloekardashian."
But one viewer was not feeling this joke at midnight when the video dropped, responding the news, "Ok, that's ENOUGH! I'm going to bed."