Kim Kardashian Is Putting Pete Davidson To Work During Their Vacation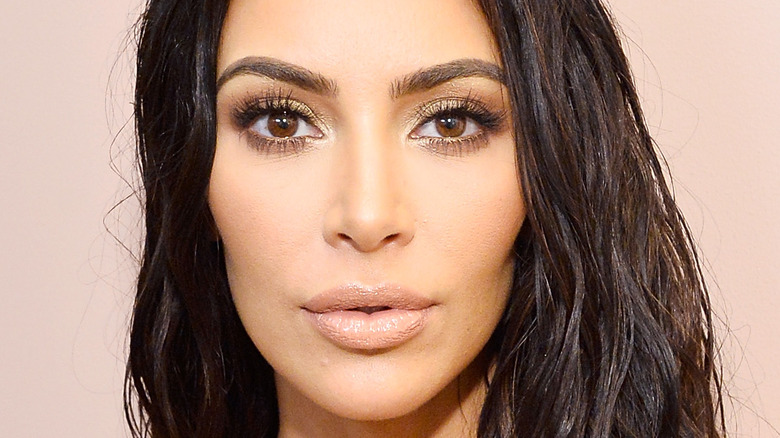 Stefanie Keenan/Getty Images
Pete Davidson is shaping up to fit right in with Kim Kardashian's lavish lifestyle. Things between the two heated up after they locked lips during a "Saturday Night Live" skit back in October 2021. In an episode of "The Kardashians" (via People), Kardashian explained that she felt a "vibe" from the kiss and later revealed how she and Davidson's relationship began, and it was all thanks to a flirty text. 
The SKIMS mogul explained that when Davidson did not show up to the "SNL" after-party, she decided to make the first move by reaching out to a producer for his number. She shared in a confessional, "I text him. I wasn't even thinking like, 'Oh my God, I'm gonna be in a relationship with him.' I was just thinking, 'Heard about this BDE," she added with a grin. "I was just basically DTF."
Since then, the duo has had quite a whirlwind romance. Davidson and Kardashian have taken major steps in their relationship, including meeting each other's inner circles and attending red carpet events together. Davidson has even gotten a tattoo dedicated to his "lawyer" girlfriend and seems to be getting closer to her kids. The pair has also been on several romantic getaways, and as it would turn out, Davidson is one heck of an Instagram boyfriend.
Kim Kardashian camera trained Pete Davidson
Pete Davidson and Kim Kardashian are clearly enjoying life as a couple. The cute pair recently enjoyed the white sand beaches of Tahiti, but, of course, she couldn't leave without getting some content for her 319 million Instagram followers and she used her boyfriend to do so. On Instagram, Kim posted a series of envy-inducing snaps of the two enjoying the beach and getting some paddleboarding in.
On her Instagram Stories, however, Kardashian gave a peek at the work going on behind the camera lens. In a clip of her posing in front of palm trees, she wrote, "Out few attempts at trying to get content coming up..." Next, Kim cheekily splashes water at the camera, and Davidson told her to do it again, but Kim wrote, "I can't tell if he's making fun of me?!?!" The comedian continued to poke fun at Kardashian while shooting her content, even laughing at her and letting her drift away on a paddleboard. It looks like Davidson passed the content-shooting test, as Kardashian wrote, "He turned out to be the best photog and we got the cutest pics and just had so much fun trying."
Apparently, the famous couple is closer than ever following their romantic Tahiti getaway. "They were in Tahiti for several days without the kids," an insider revealed to People. "Kim is head over heels. She can't get enough of Pete. He treats her so well." With Kim's stamp of approval, hopefully, we'll see more of Davidson's photography skills in the future.