Denise Richards Comes Out Swinging Against Criticism Of Her Daughter Sami Joining OnlyFans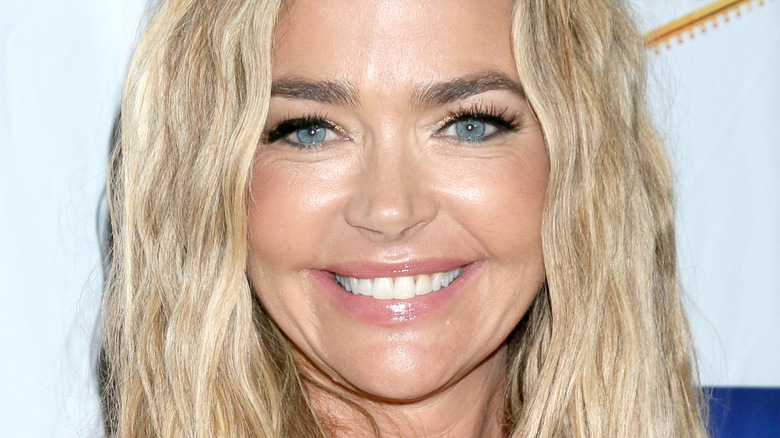 Kathy Hutchins/Shutterstock
Denise Richards and Charlie Sheen's daughter, Sami Sheen, is used to her parents attracting negative attention thanks to her mother's feuds with her co-stars on "The Real Housewives of Beverly Hills" and her dad's lengthy list of legal woes. Then there are all those bizarre boasts, including Charlie's claim to ABC News that his brain "fires in a way that is not from this particular terrestrial realm."
Now, 18-year-old Sami has made a bold move that's bringing out the internet trolls by the droves: She joined OnlyFans, a paid platform that's popular with sex workers, influencers, and celebrities. While it's often associated with risqué photos and videos that would get users kicked off of other social media platforms, some celebs simply use it as a way to get paid for exclusive content. Cardi B is an example of an OnlyFans member who keeps her page on the SFW side, per Complex. But while creating an OnlyFans page has become more mainstream, Charlie isn't happy about his daughter doing so. "I do not condone this but since I'm unable to prevent it, I urged her to keep it classy, creative and not sacrifice her integrity," he told Us Weekly. "This did not occur under my roof," he added, saying that Sami has been living with Richards. 
According to the Daily Mail, Sami is charging her followers $19.99 a month and hasn't shared any fully unclothed content. But even if she did, her mom would have her back.
Denise Richards praises Sami Sheen for being confident
Sami Sheen has seemingly limited comments on her own Instagram page, as her post announcing the creation of her OnlyFans account only has a handful of responses. So it looks like internet trolls decided to share their complaints on Denise Richards' page instead. "Focus more on your daughter and her only fans page," read a response to a trailer for Richards' new Freevee movie, "Love Accidentally." Another commenter wrote, "Must be so proud of your daughter. You people are millionaires. Give her some damn money."
Richards clapped back at the critics in a lengthy post, pointing out that she once made money by posing for risqué photos of her own during Playboy's heyday. She also mentioned her racy role in the R-rated erotic thriller "Wild Things," saying that she has no room to judge. "I have to say, I wish I had the confidence my 18 yr old daughter has," she wrote. "And to be able to ignore the negativity at her age? It took me many years & I still sometimes struggle." Richards also called out Charlie Sheen for being among the judgmental. After all, as ABC News points out, Sheen has always been a big supporter of adult entertainers, including his ex Bree Olson, who appeared on the cover of Playboy in 2011.
Near the end of her post, Richards joked that she might even start her own OnlyFans to post swimsuit pics on. Now that's a show of true mother-daughter solidarity!