What's The Real Meaning Behind Drake's Tie That Binds? Here's What We Think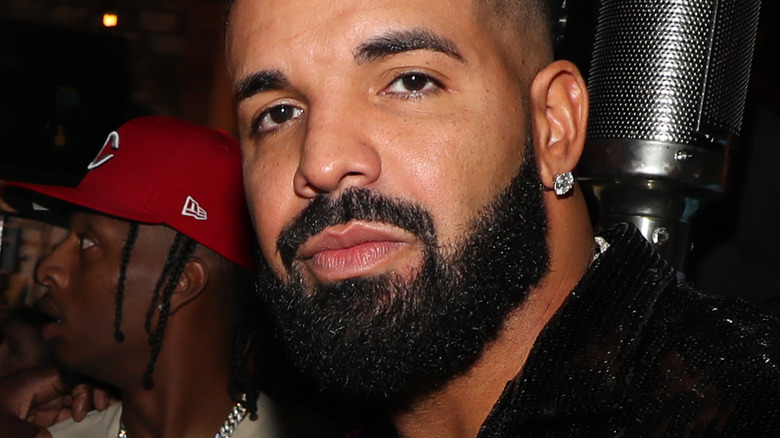 Jerritt Clark/Getty Images
Drake dropping his seventh album, "Honestly, Nevermind," on June 16 was unexpected — and the songs on it weren't what fans were expecting, either. Those who enjoy the artist's rapping were likely disappointed as he sang most of the tracks, and some listeners weren't in love with the mellow house music that backed his vocals.
On Twitter, a number of critics suggested that the album's 14 songs are better suited for listening to while posing in pantsuits than grooving to on the dance floor. "I'm 7 songs in to this Drake album and I feel like I'm at Zara trying on jackets," read one tweet. But some fans didn't necessarily think that this is a negative thing. "Drake's a genius. There about to have that album in heavy rotation in the retail stores," another person wrote. Those who went along for the ride as Drake slowed down and got in touch with his more sensitive side were eventually rewarded with some rapping, and his return to dropping bars helped the last track on the album, "Jimmy Cooks," land at the top of Billboard's ranking of every song on "Honestly, Nevermind."
But we're going to do our best to decipher a track that landed smack dab in the middle of the list: "Tie That Binds." Billboard suggested that the guitar-infused tune with some salsa spice would make ideal listening during a vacay somewhere balmy and scenic — just don't go alone, or it might leave you feeling lovesick.
Drake has marriage on his mind in Tie That Binds
"Tie That Binds" has Drake getting in his feels, a theme he teased in the album note he shared on Apple Music. "I know everyone that tells me they love me doesn't love me all the time," it read, in part, per Pitchfork. "I didn't get here being blind."
But, while Drake might realize this, at the end of "Tie That Binds," he repeats a line that expresses a desperate need to be loved. "Please, don't leave me / You know I need you, you know I need you, yeah," he croons, per Genius. He's singing to a lover, and he's so smitten with her that he wants to make her Mrs. Aubrey Drake Graham. "I never wanna see you ever leave," he tells her. "Maybe I'll take you to my family / Change your name." There also seems to be a reference to the "'til death do us part" marital vow, but Drake wants their love to continue into the afterlife. He begs, "Hold me close as you can 'til we're ghost / It's a promise, 'til we're ghost."
Interestingly, the music video for "Falling Back" features a wedding. However, Drake marries 23 brides, so that haunting would look more like the aftermath of a season of "The Bachelor" where proposals were handed out instead of roses. Drake isn't married in real life, but on "The Shop," he did confess that he once wanted to settle down with Rihanna.
Is there a subtle nod to Johnny Cash in the song?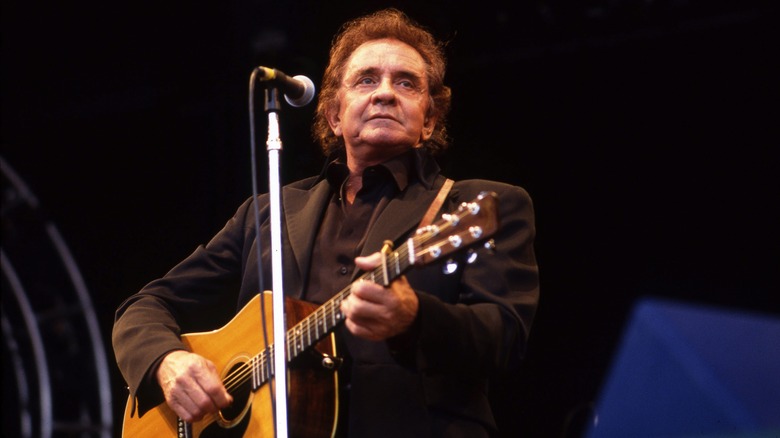 Martyn Goodacre/Getty Images
At one point in "Tie That Binds," Drake sings, "With no doubt I'll give you all my time / And walk the line," per Genius. "I Walk the Line" is the title of one of the most beloved songs by the late country music legend Johnny Cash. And while Drake never utters the words "tie that binds" in his song, Cash croons, "I keep a close watch on this heart of mine / I keep my eyes wide open all the time / I keep the ends out for the tie that binds / Because you're mine, I walk the line."
Per NPR, Cash confessed that "I Walk the Line" was a reminder to himself not to give into temptation and stray from his wife at the time, Vivian Liberto. But he would, of course, eventually fall for June Carter and divorce Liberto.
Drake hasn't yet found his Carter, whom Cash remained married to until her death in 2003, but the rapper revealed that some of his exes have almost fit the bill while describing what he's looking for in a long-term partner. "It'd have to be somebody that I get along with so much to the point that when we're separate, I'm feeling like I can't function properly without their presence," he said on the "Rap Radar" podcast in 2019. "I have come across it a few times. I've yet to be able to hold onto it, for whatever reason."