What's The Real Meaning Behind Drake's Jimmy Cooks Featuring 21 Savage? Here's What We Think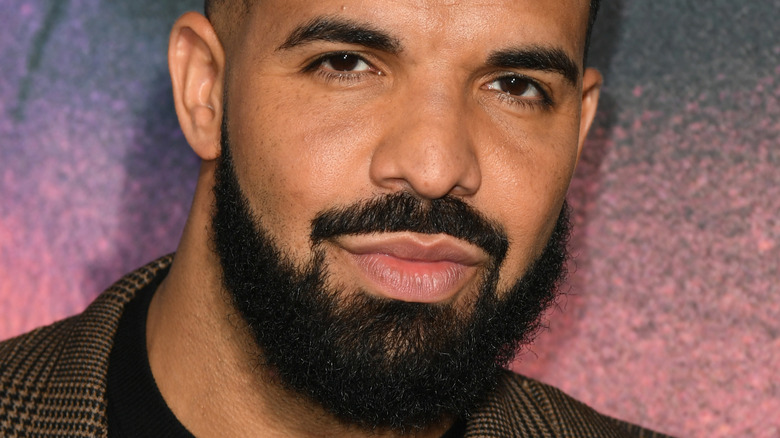 Kevin Winter/Getty Images
If we're not hearing the sound of Drake fans rejoice at the announcement of his new album, "Honestly, Nevermind," we're definitely hearing his new music blasted somewhere. And, with one song in particular sticking out to fans, something tells us we'll all be hearing one of the new tracks on repeat for the foreseeable future.
Drake fans were left freaking out when the rapper made a surprise announcement on June 16 via Instagram. "7th studio album "HONESTLY, NEVERMIND" out at midnight," the rapper wrote. Just four hours later, he got fans champing (or, dare we say, champagne papi'ing) at the bit when he posted once again. Captioned "Nvm," the Canadian-born artist released the new album's track list — and suffice it to say, his followers were impressed. Though comments on the post have since been limited, those who made it to the post in time were quick to express their excitement. Online motivational speaker Zachery Dereniowski wrote, "You were working in silence. Can't wait for this masterpiece," alongside a flame emoji. DJ Heyz, meanwhile, commented, "already iconic" with a champagne toast emoji. 
At the time of writing, Drake had released just one music video from the new album, for "Falling Back On Me." However, even though Team Drizzy has been all for the video — which features a tongue-in-cheek cameo from Tristan Thompson — the song that's really got people talking is the final song on the tracklist: "Jimmy Cooks."
Jimmy Cooks is an ode to Drake's progress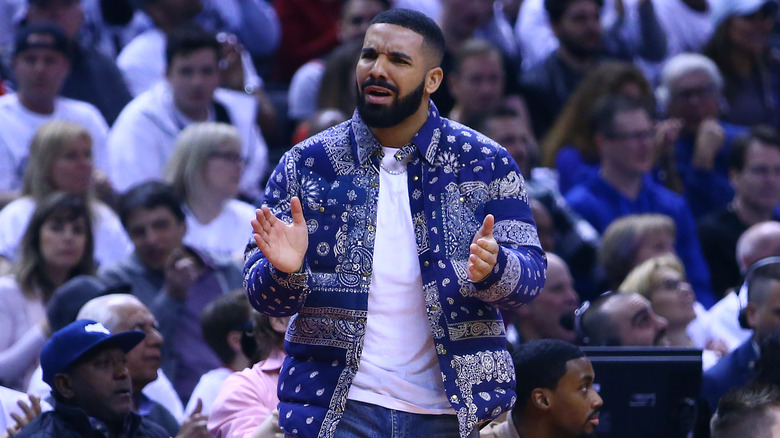 Vaughn Ridley/Getty Images
Beginning with an old-school beat before moving into a more contemporary sound as 21 Savage takes over, "Jimmy Cooks" invites listeners on a journey through the times. Drake's times, that is.
As noted by Genius, "Jimmy Cooks" delves into Drake's professional journey, and makes reference to the rapper's beginnings as an actor on Canadian TV show, "Degrassi." As longtime fans will recall, Drake played Jimmy Brooks on the show for close to a decade. However, as MTV reported in 2015, the "Worst Behavior" rapper told W Magazine that his tenure was cut short when he chose to channel all his energy into his then-fledgling music career. "I'd spend a full day on set and then go to the studio to make music until 4 or 5 a.m. ... I'd sleep in my dressing room and then be in front of the cameras again by 9 a.m. Eventually, they realized I was juggling two professions and told me I had to choose. I chose this life." Drake's opening lyrics in the first verse, "F*** a pigeonhole," seem like a stark reminder of that very choice.
As for where the "cooks" comes in, it's more than a name to rhyme along with Drake's ex-character. "I'm cookin' up ambition on a kitchen stove," Drake raps, speaking to his constant desire to keep pushing for more, from his early days as an aspiring rapper up 'til now.
Drake teases his newest venture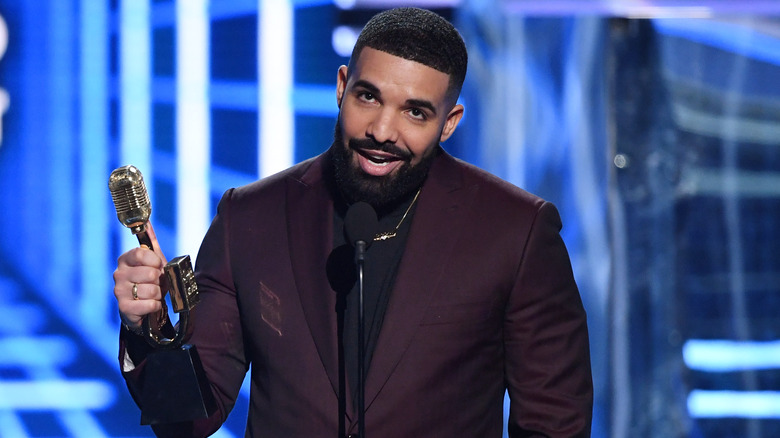 Ethan Miller/Getty Images
If Drake wasn't willing to be pigeon-holed in "Degrassi," he was definitely resistant to being limited as his star power grew, and "Jimmy Cooks" makes that clear.
In May, Variety reported that the rapper had signed a deal with none other than Universal Music Group. Just how much he signed for has yet to be revealed. However, according to the publication, one source referred to the amount as "Lebron-sized," and others believed $400 million wouldn't be too far a stretch of the imagination. That said, figures aside, what makes the deal all the more relevant in regards to Drake's unwillingness to be restricted, is what he stands to gain from it. That is, what Variety describes as a deal that spans music, merch, publication, visuals and more. To quote the man himself, "F*** a pigeonhole" indeed!
Drake's unexpected announcement of a new album certainly took many of his fans by surprise, but it appears as though no one is complaining! And, luckily for fans of the "Lemon Pepper Freestyle" rapper, "Jimmy Cooks" and "Honestly, Nevermind" are just the beginning of Drake's latest chapter. We can't wait to see what's next for the star.