What's The Real Meaning Behind Drake's Liability? Here's What We Think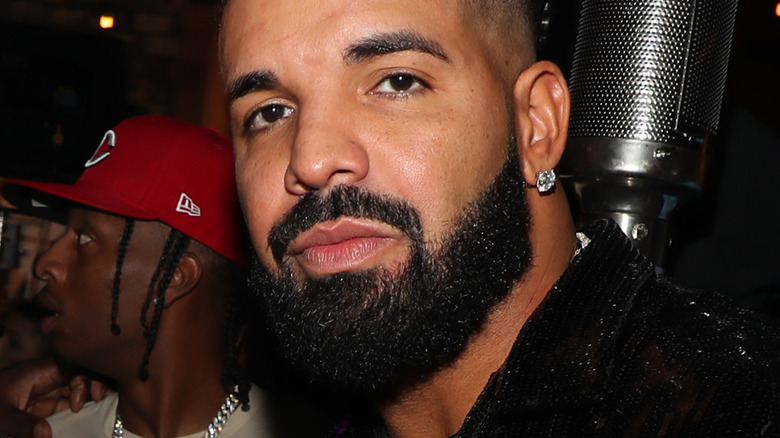 Jerritt Clark/Getty Images
After shocking fans on June 16 with news he would be releasing his seventh studio album at midnight, Drake left fans scrambling to prepare.
The album, "Honestly, Nevermind," features 14 new tracks and is under one hour of listening. But fans could only be so shocked with the announcement. Back in September, Drake released the highly anticipated album "Certified Lover Boy." It could be said that part of the reason it was so anticipated amongst fans was due to the fact the album was delayed for months. But, when the album was all said and done — and ready for release — Drake only teased the album for a week, per Pitchfork. At the time, the "God's Plan" rapper didn't even release a single for fans to get a taste of what would be coming on "Certified Lover Boy."
With fans having a week to prepare for "Certified Lover Boy," it's no shock Drake wanted to up the ante with his seventh studio album — and that he did. Taking to Instagram on June 16, the rapper simply posted the "Honestly, Nevermind" album cover and announced it would be released at midnight in the caption. And as anticipated, fans went crazy — and have been going crazy ever since. But underneath the surprise factor of the album, and the ultimate summer bops, lie deeper sentiments that seem to be the real reason Drake put out "Honestly, Nevermind." One of those sentimental songs is "Liability."
Drake signals his relationship can be a 'Liability'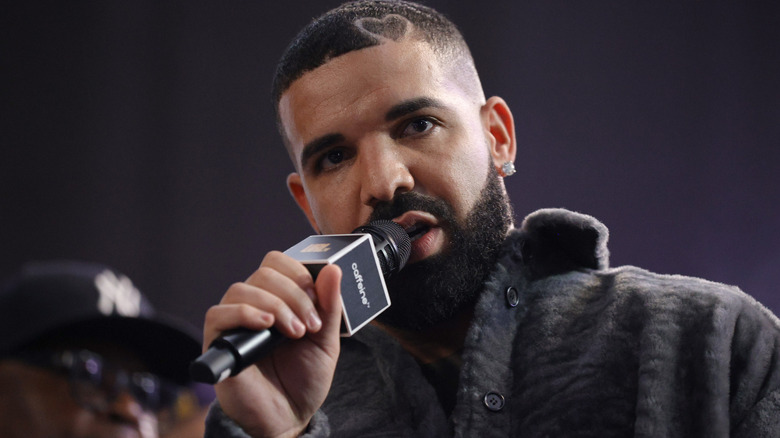 Amy Sussman/Getty Images
Drake's seventh studio album "Honestly, Nevermind" came just in time for summer to start. As the album is listed under the "Dance" category, it's no surprise the album is filled with luscious bops that make you simply want to dance. But, in classic Drake style, one song on the album brings back the contemplative Drake we all know and love.
Taking on a slower pace and maximizing the use of a pitch shifter on "Liability" seems to hide Drake's real voice. And with the lyrics, it seems that was not a coincidence. Throughout "Liability" a story is being told, but not one of a happy ending. Instead, the song sees Drake looking back on what went wrong in his current relationship — but blaming the end of the relationship on his former significant other. "You get in my bed, you twist up my head / I'm changing for you, changing for you," Drake begins the song with.
But the song never picks up in pulse or tempo, as Drake simply releases his feelings on why he and his lover couldn't make it work. For example, Drake claims the person was drinking and partying while "playing with [his] emotions." Throughout the chorus and the second verse, Drake continues that list claiming the person lied to him, and their pride was the reason the two couldn't make it. After listing his reasons, it's no doubt, Drake thinks his former love is a "Liability" to him.
How did Drake go from Certified Lover Boy to Liability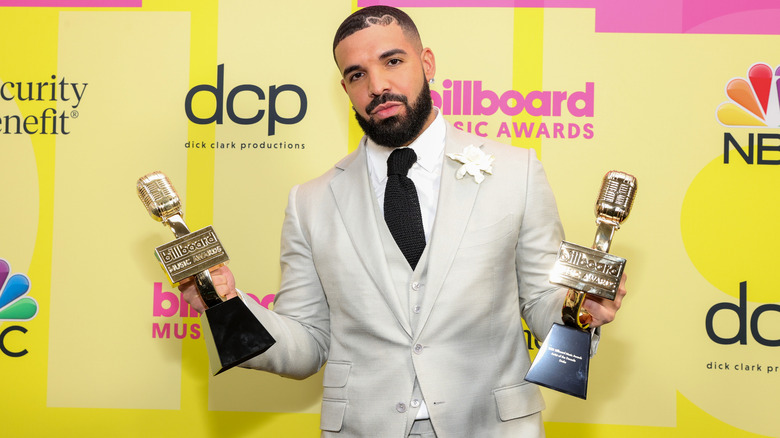 Rich Fury/Getty Images
In less than a year, Drake went from "Certified Lover Boy" to in his feelings on "Liability." And if "Liability" felt like you were reading the diary pages of Drake, well there seems to be a reason why.
When Drake dropped "Certified Lover Boy" in September 2021, the rapper was dating Johanna Leia, per People. That same month he dropped the album, the normally private celebrity posted himself and Leia in a passionate photo on Instagram. But, it seems Drake might have spoken — and posted — too soon. According to sources, a month later, Drake and Leia had quietly gone their separate ways after the "One Dance" rapper celebrated his birthday, and Leia was not in attendance, per Radar. Knowing that timeline, it is no question how Drake is no longer our "Certified Lover Boy" and back in his feelings. As he says on "Liability," "You found replacements for me, but you know it's hard to compete."
But if Leia happened to listen to "Liability" and thought getting back together with Drake might be a good idea, let's just say there are plenty of messages on his new album that explain how Drake would respond to that — simply put, "Honestly, Nevermind."