What Really Happened Between Emilia Clarke And Brad Pitt?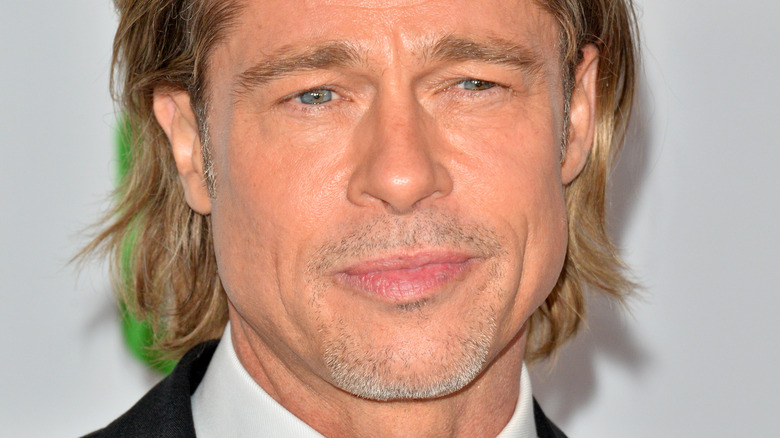 Featureflash Photo Agency/Shutterstock
Brad Pitt is perhaps one of the (if not the) most recognizable faces in the entertainment world, which is probably why his name is always in the headlines. If he's not reminiscing about his previous engagement with Gwyneth Paltrow, then he's giving the world heavy heart palpitations when he's mingling with his ex-wife Jennifer Aniston behind the scenes at award shows. He's also still one of the biggest stars in the film industry with innumerable projects on his resume — both on and off-screen, per IMDb. Yet, when asked if he reads all of the things that has been written about him, Pitt told the New York Times in 2019, "I don't go out of my way to avoid it; I just don't seek it out. I don't know how many women they've said I've been dating the last two or three years, and none of it's true — I just flashed on something, but maybe it doesn't mean anything."
That said, there was one time that Pitt was linked to another star that a lot of people actually don't know about. And no, we are not talking about Juliette Lewis or Christina Applegate or even the German model that he reportedly dated back in 2020, but rather "Games of Thrones" star Emilia Clarke.
Brad Pitt almost had a chance to spend time with Emilia Clarke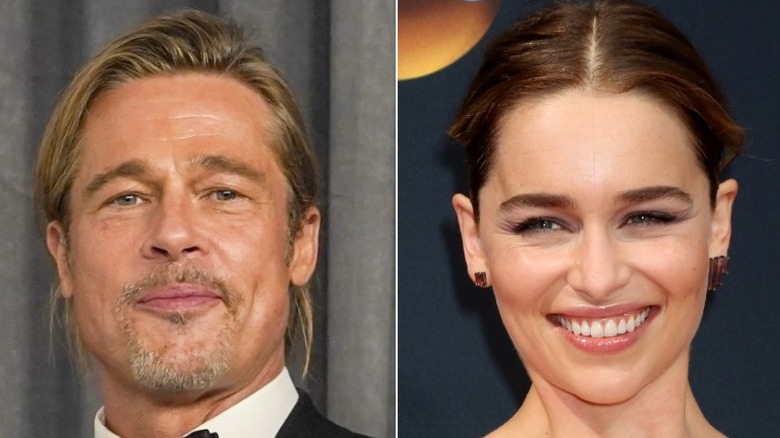 Chris Pizzello/Pool/Getty & Eugene Powers/Shutterstock
Emilia Clarke had a night to remember with Brad Pitt back in 2018. But no, it wasn't the kind of night that began with a candlelit dinner and ended with an Uber ride to someone's Malibu pad. 
According to Vanity Fair, Pitt bid for the chance to spend some time with the British-born actor during a charitable silent auction hosted by none other than Sean Penn — whose annual gathering sees A-listers come together for Haiti relief, per The Hollywood Reporter. Pitt had reportedly bid $80,000 and went all the way to $120,000 before he was outbid by someone else who paid $160,000 for the opportunity to be in Clarke's presence. Or at least, that's what we want to believe. 
Although that person wasn't Pitt himself, the fact that he even tried to bid for Clarke was enough to put a huge smile on her face. During an interview with British talk show host Graham Norton, Clarke said the auction was the "best night" of her life (via the Daily Mail), and we surely believe it. And even though the night didn't work out the way that Clarke had hoped, apparently there was a reason why Pitt was bidding so high to spend the night with her.
Brad Pitt reportedly had one specific request from Emilia Clarke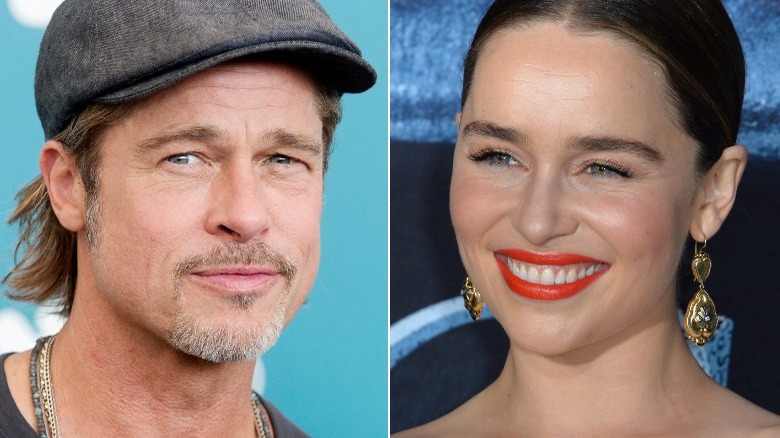 Andrea Raffin & Featureflash Photo Agency/Shutterstock
According to Us Weekly, Brad Pitt did everything he could to get up close and personal with Emilia Clarke. And that's not because he wanted to date her, but because he wanted to watch "Games of Thrones" with her. One source close to the situation said, "When the auction announced Emilia Clarke, they called her out in the crowd and Brad literally turned his whole neck to find and look at her and enthusiastically clap. He offered $80,000 in the auction to watch 'Game of Thrones' with Emilia."
While it's pretty stunning that Pitt wanted to spend that much money watching a television show with one of the hottest actors in the industry, one can only wonder how much he would have forked up to watch an episode of "Friends" with his ex, Jennifer Aniston, right? After all, he did admit that he enjoyed the "Friends" theme song in an appearance on "Between Two Ferns with Zach Galifianakis." That said, there's a very good chance that Pitt might have continued to bid higher if he knew that Clarke was also a huge fan of "Friends" star Matt LeBlanc, too. One can only wonder, right?