The Truth About Christina Applegate's Divorce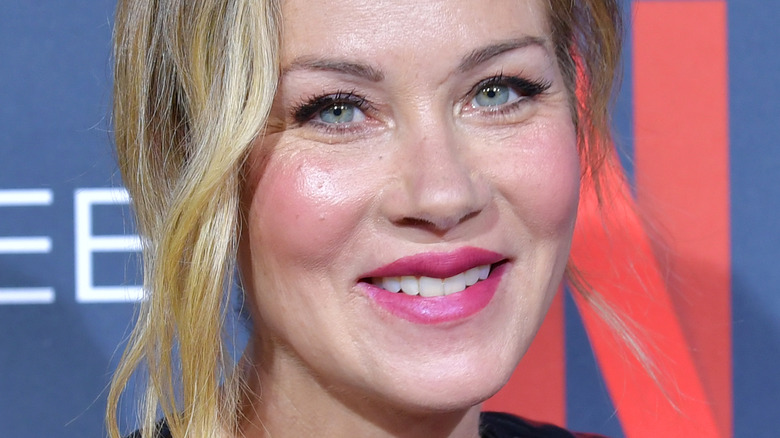 Amy Sussman/Getty Images
Christina Applegate has definitely proven herself to be a mainstay in Hollywood. That's mostly because her career has seen a steady stream of success in both film and television. While her biggest claim to fame will always be her role as Kelly Bundy on "Married... With Children," Applegate has starred in a string of hits over the years that have included "Anchorman," "Bad Moms" and the '90s classic, "Don't Tell Mom The Babysitter's Dead." That, and she's also had a very interesting personal life, having dated the likes of both Brad Pitt and Sebastian Bach in the past. And while Applegate might be a Hollywood favorite, that doesn't mean she acts like one. In 2013 she told DuJour, "You're lucky if I have the energy to shave my legs. That's about as strict as I get before a red carpet. Look, I'm not that guy. I think of myself as an actor; I don't think of myself as a model."
That said, a lot of people can't help but wonder what happened to Applegate and her first husband, Johnathon Schaech. The ex-couple pulled the plug on their marriage back in 2006 after just five years of marriage, prompting a lot of people to wonder what went wrong behind the scenes. 
Inside Johnathon Schaech and Christina Applegate's rough divorce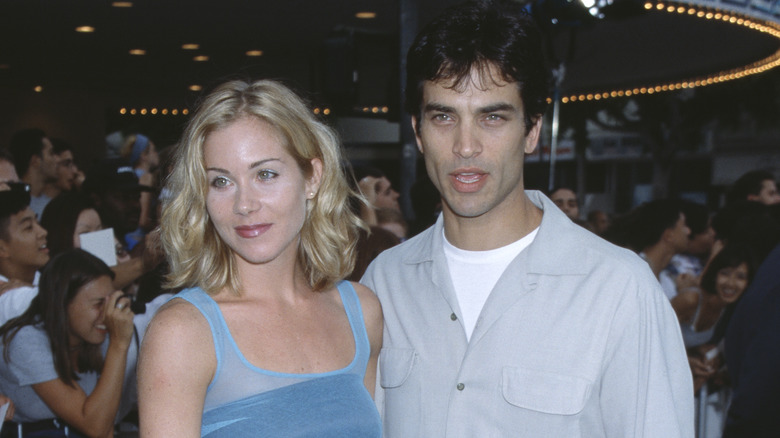 Michael Ochs Archives/Getty Images
Christina Applegate and Johnathon Schaech were certainly a celebrity couple that you couldn't ignore on the red carpet. Schaech, who's best known for his role in the 1996 film "That Thing You Do," admitted on Jana Kramer's "Whine Down" podcast that being married to a household name like Applegate had both its perks and its shortcomings, especially when it came to being in the spotlight. He said (via Us Weekly), "My marriage was connected to my career, everything about my work. It was, you know, Christina is an actress. We were in the limelight." In 2007, The Hollywood Reporter noted that Schaech walked away with more than $1.5 million, a car, and Applegate's cement Buddha (that was probably worth fighting for) in their split.
And while Schaech did call Applegate the "love of [his] life," per OK!, he admitted in a Reddit AMA in 2020 that their divorce was certainly a dark period in his life, too. Schaech said, "[B]eing raised Catholic and having parents that are still together over 50 years, I felt I failed everyone. I thought God had given up on me. Sex, drugs, alcohol and dark nights became who I was. I knew I needed to find someone who loved me as much as I loved them." Not only that, but it also seemed like Schaech's issues with his divorce from Applegate spilled over to his next relationship, too.
Johnathon Schaech and Christina Applegate managed to move on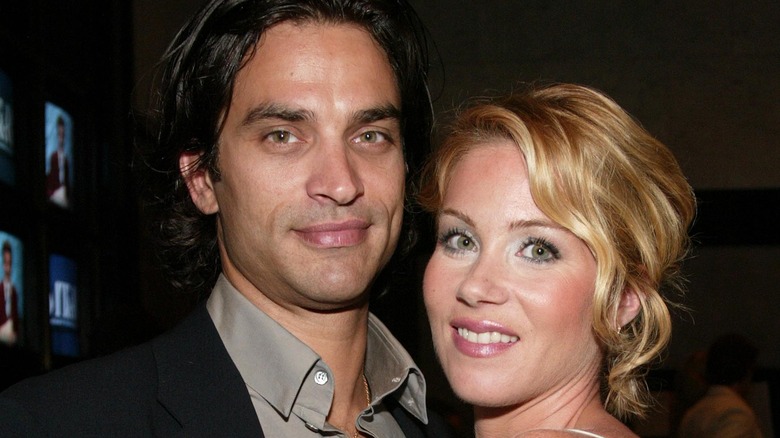 Evan Agostini/Getty Images
Johnathon Schaech admitted on Jana Kramer's "Whine Down" podcast that it was very hard for him to get over Christina Applegate after their divorce even though he moved on with the country crooner in 2008. Explaining that it took a long time for him to heal after their split, Schaech said (via Us Weekly), "I hadn't taken time to heal myself from that broken heart."
Schaech went on to marry Kramer in 2010, but they divorced in 2011, although he admitted in his Reddit AMA that, although they had a wedding, they weren't really married. That said, he's been with his third wife, Julie Solomon, since 2013. Applegate, meanwhile, went on to marry her husband Martyn LeNoble. And while things might not have worked out with Kramer or Applegate, Schaech has nothing put positive things to say about his exes. When asked about Applegate, he told fans, "She's cancer free and is an absolute hero for others and to my family. I'm perfectly blessed. All the Christina Applegate and Jana Kramer fans should know – I'm rooting for them too."