What Really Happened Between Trisha Paytas And Aaron Carter?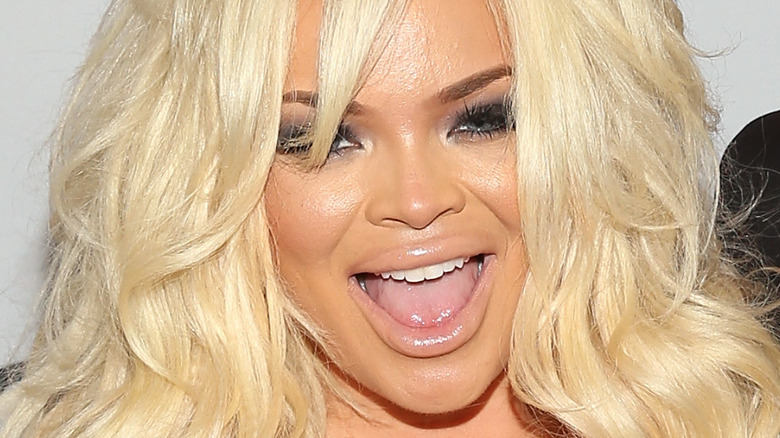 Jesse Grant/Getty Images
Trisha Paytas' time on the internet has been filled with drama and high-profile relationships. In an interview with BuzzFeed News, Paytas was even candid enough to acknowledge that they pursued fame for the simple sake of fame. "I never sang or danced or acted, I was just like, I want to be famous," they said. "I was the perfect troll."
Needless to say, this perspective on fame and influence can lead to regrettable moments and tantalizing clickbait. In recent months, however, Paytas publicly claimed that they are turning away from drama. They announced their pregnancy with husband Moses Hacmon on Instagram, and have since taken to Twitter to write, "'Letting things go' was my biggest hurdle to get over. It takes time. Practice. But once you can keep it moving, the positive energy that comes your way is such a great reward."
Paytas may be moving forward, but their previous decade of drama has still left some questions. For example, Paytas' 2021 engagement to Hacmon couldn't make us forget about their brief 2019 fling and subsequent beef with singer Aaron Carter.
Trisha Paytas publicly claimed to be Aaron Carter's rebound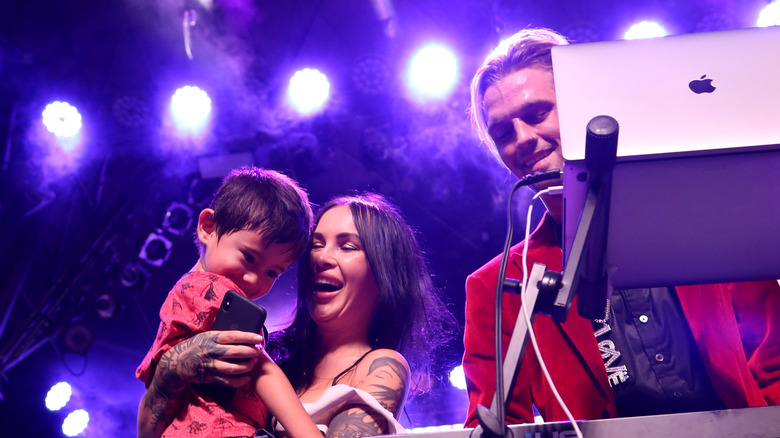 Gabe Ginsberg/Getty Images
The year 2019 was a tough one for Aaron Carter, who gained popularity years back through hit songs like "I Want Candy." In early August 2019, he confirmed to E! News that he and his long-term girlfriend, Lina Valentina (pictured above), had broken up. "I was really hoping this would be the one that lasted forever. We even talked about having kids," his statement read.
Although he was apparently shaken up, it wasn't long before rumors circulated that he had moved on. Paytas took to their Twitter to write, "I hooked up with @aaroncarter 2 nights ago and all I got was an unfollow." The tweet, which came just weeks after Carter and Valentina's breakup, quickly garnered attention and drama. In a since-deleted tweet, via Hollywood Life, Carter leaked old DMs from Paytas, which asked him to collaborate with her on YouTube. In the caption, Carter wrote, "You're better then this n have some respect. I get what you're doing with your life/career but it's gotta change at some point in your life. Let's be real."
Paytas was quick to clapback with a tweet of their own. "U really gon expose DMs ? Ok here we go — why u f**king with someone when ur girlfriend lives at ur house ! !???" Paytas went on to leak further DMs that implied they entered the picture before Valentina and the singer had officially split.
The pair reconciled and sparked more romance rumors
Despite the Twitter vitriol, the Trisha Paytas and Aaron Carter beef wasn't long-lived. E! News recounted the pair's September 2019 reunion, which was documented in since-deleted Instagram posts. Paytas shared an Instagram post in which they smooched the singer, while Carter went live on the platform as he cozied up with Paytas in a car.
Despite the optics, both stars maintained that they weren't in a relationship. On Twitter, Carter wrote, "I just got out of a relationship, that isn't mature to move on too fast. PERIOD." Paytas also addressed the rumors on their platform of choice, YouTube. In a 24-minute video entitled, "Sunday funday with Aaron," Paytas provided plenty of insight into the friendship.
"First and foremost, I frickin' love Aaron so much ... He's genuinely a good person and wants to be loved, so I relate to that," they began. Paytas acknowledged they "hooked up before." Still, they made their status perfectly clear: "I'm a lonely person, I am, and I want a boyfriend, but in my head, we're just friends." Fortunately, Paytas seems to have found their forever love in Moses Hacmon, and can leave the Twitter drama and constant relationship rumors behind them.