Are Jennifer Aniston And Kate Hudson Friends?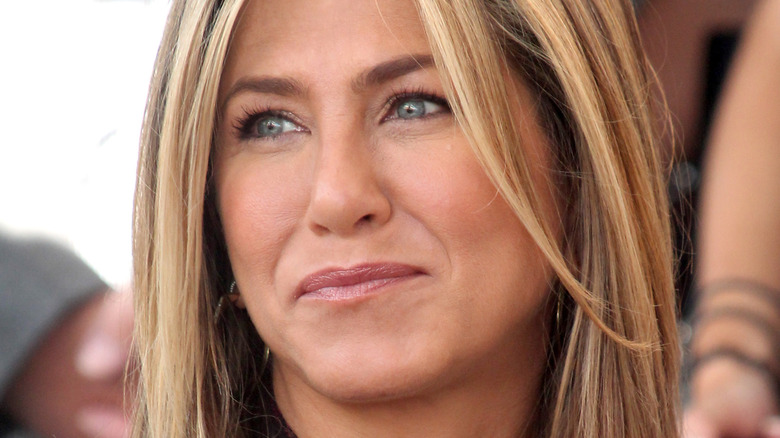 Kathy Hutchins/Shutterstock
During the heyday of romantic comedies, Jennifer Aniston and Kate Hudson taught their fans so many lessons about love, like what behavior indicates that "He's Just Not That Into You," or "How to Lose a Guy In 10 Days." The actors also learned that not every movie that fails the Bechdel Test with flying colors will be a hit at the box office. Per Bomb Report, Hudson's film flops include "Raising Helen" and "Something Borrowed," while Insider lists "The Switch" and "Wanderlust" as some of Aniston's big misses.
But much like a bright-eyed chick flick protagonist who hasn't yet reached the part of her character arc that calls for her to swear off romance, Aniston hopes that moviegoers will realize that the movie genre they're really in love with was right in front of them all along. During her appearance on the Variety "Actors on Actors" series, she enlisted the help of Sebastian Stan to achieve this lofty goal. "We're gonna do a rom-com. So exciting. We're bringing them back," she told "The Falcon and the Winter Soldier" star.
One romantic ensemble comedy starring Aniston and Hudson possibly helped pave the way for a chick flick resurgence. According to Forbes, their 2016 movie "Mother's Day" inexplicably became Netflix's most-watched film in June 2021. But are Hudson and Aniston on good enough terms that they would possibly work together again to save the rom-com genre from extinction?
Kate Hudson was allowed to break one of Jennifer Aniston's birthday party rules
It was a big deal when Jennifer Aniston joined Instagram in 2019, but Kate Hudson was lobbying to get the "Friends" star to create an account years earlier. While they were filming "Mother's Day" in 2015, Hudson took to Instagram to share a photo of herself and Aniston at work, adding the hashtag "#LetsConvinceJenToGetOnInstagram."
When Aniston celebrated her 50th birthday in February 2019, she hadn't yet given into Hudson's peer pressure, so the "Almost Famous" star took it upon herself to give the world a peek inside Aniston's star-studded party. On her account, Hudson shared pictures of herself, Aniston, and Gwyneth Paltrow hamming it up inside a photo booth (pictured above). Thanks to singer Katy Perry — who was also in attendance — we learned that Hudson had been given a special privilege. "NO SOCIAL MEDIA," Perry wrote in the comments, per Pajiba, to which Hudson replied, "I got permish." Aniston didn't post the party pics herself until the following year when she included them in a birthday tribute to Hudson, per People.
Paltrow's presence in the photos likely raised a few eyebrows, as she was once engaged to Aniston's ex Brad Pitt. But despite claims to the contrary, Hudson didn't sully the sanctity of her sisterhood with Aniston by dating Pitt. "There's nothing true to that," she said on "Watch What Happens Live" (via Us Weekly). However, she did confess, "It was kind of an awesome rumor."
Jennifer Aniston got handsy with Kate Hudson at the Golden Globes
On the red carpet at the 2015 Golden Globe Awards, Jennifer Aniston crashed E! News host Ryan Seacrest's interview with Kate Hudson by giving the latter a few friendly pats on the booty. "Had to do it, sorry," Aniston told Seacrest, who appeared to be a bit flustered. "We feel comfortable," Hudson said of their PDA.
Aniston explained her actions when she appeared on "The Ellen DeGeneres Show" in January 2015 (via Us Weekly). "Well, my gosh, look at that a**," she said. "It's such an irresistible tush." She also accused Seacrest of trying to follow her lead but said that, unlike the talk show host, she had Hudson's permission to get handsy.
Hudson spoke about the Aniston encounter on "Conan" in 2016. "She went in for the butt squeeze," she recalled. "Girls are cuddly, you know? We're tactile; we like to squeeze and touch and hug and snuggle." Perhaps Aniston had their red carpet cuddle-fest in mind when she wished Hudson a happy birthday in 2020. Per People, "The Morning Show" star shared a post on her Instagram Story that read, "Wish I could squeeze you today." For the record, in a 2021 interview with Women's Health, Hudson said that she, too, would like to film more rom-coms, but she's grown tired of grappling with male movie execs over creative control of her projects. So maybe it's time to team up with a certain affectionate female friend?