How Long Have Isla Fisher And Sacha Baron Cohen Been Together?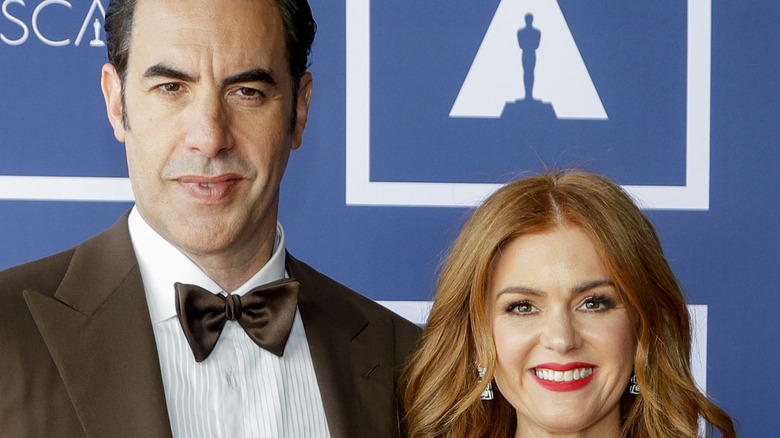 Pool/Getty Images
Isla Fisher and Sacha Baron Cohen are well-known actors in the industry who also happen to be married. While Cohen is famous for his role in the 2006 film "Borat: Cultural Learnings of America for Make Benefit Glorious Nation of Kazakhstan," he's also appeared in several television shows and movies including "Comedy Nation,"Les Misérables," and "Anchor Man 2: The Legend Continues," per IMDb. 
Fisher has also racked up quite the resume having appeared in the series "Home and Away," and in films like "Definitely, Maybe" and "The Great Gatsby" to name a few, according to IMDb. While both their careers took off at different times, they each had a passion for acting which can be seen throughout every project they have been featured in. 
"I'm incredibly lucky I can do a job I love," Cohen said during an interview with GQ Magazine UK. "When I grew up, I didn't know anyone who was an actor or a comedian, so it's sort of unbelievable I've managed to make a living out of doing it." The actor also gets to do what he loves with his longtime partner and best friend by his side. 
Sacha Baron Cohen and Isla Fisher celebrate 20 years of marriage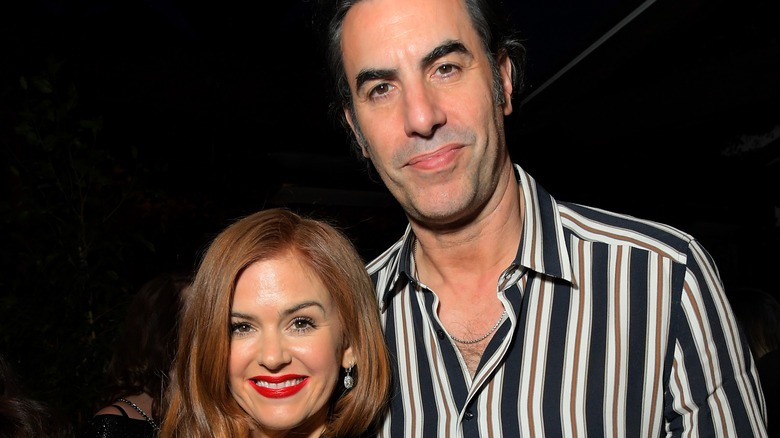 Charley Gallay/Getty Images
Back in December, Sacha Baron Cohen shared a touching tribute on Instagram in celebration of his 20th anniversary with his wife Isla Fisher. "If there ever comes a day when we can't be together keep me in your heart," the actor wrote. "I'll stay there forever, Winnie the Pooh Happy Anniversary my love." According to Us Weekly, Cohen and Fisher first met at an event in Australia in 2002 and after dating for several years they decided to tie the knot in 2011. Together they also share three beautiful children — Olive, Elula, and Montgomery, per E! News. 
While the pair recently reached another milestone in their marriage, Fisher revealed she still gets butterflies for her husband after more than two decades together. "If you marry someone that you have a really good friendship with and everything else seems to fall into place," the actor told the outlet. "You still get butterflies in your stomach and people sort of tell you that wears off after a few years," she added. "But when you're with the right person, actually it just doesn't."
And, the best part of it all is that she can share also share the big screen with the person she loves.
Isla Fisher and Sacha Baron worked together on 'The Brothers Grimsby'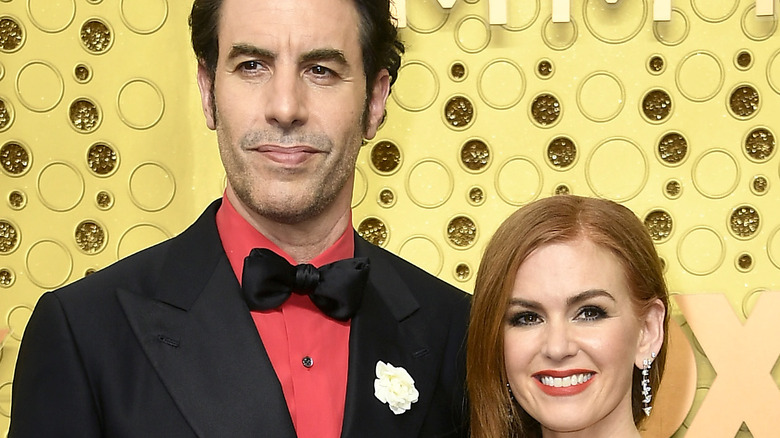 Frazer Harrison/Getty Images
It's not always you get the opportunity to work alongside your partner especially when it comes to making a movie. But, that wasn't the case for Isla Fisher and Sacha Baron Cohen. The couple first got the rare chance to work together in the 2016 film "The Brothers Grimsby," according to Brides. And, for Fisher, it was quite the experience. 
"He's such a perfectionist," she said during her appearance on "Lorraine." "He'll do everything and anything to get the best joke possible into the movie, so it was definitely inspirational. He's so funny on set and it was a lot of fun."
Aside from working together and spending the past two decades with each other, both Fisher and Cohen have been very open about their support for one another. After winning two Golden Globes for "Borat: Subsequent Movie Film," Cohen gushed about how "understanding" his wife is. "Thank you to my incredibly patient wife Isla, who has put up with all my madness," he said (via People). "I'm very lucky to have it." Meanwhile, Fisher credits her husband for the reason she got into comedy. She told People in a separate interview, "He said, 'You're one of the funniest people I know. You should be doing comedy.'" Sounds like a match made in comedy heaven.