The Truth About Keira Knightley's Husband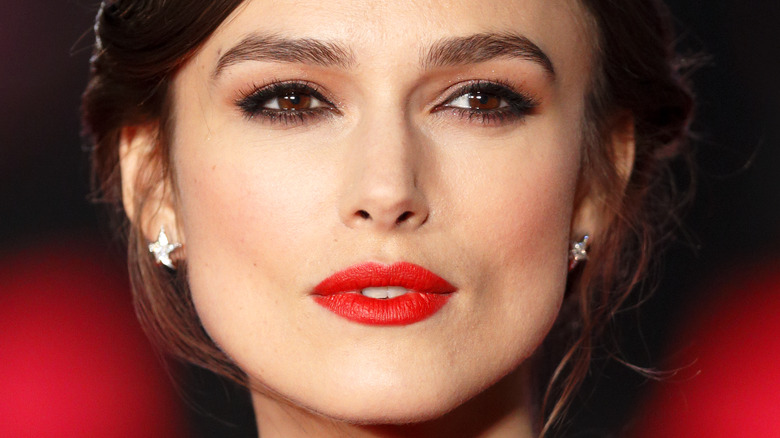 Max Mumby/indigo/Getty Images
"Pride and Prejudice" star and Oscar nominee Keira Knightley tends to keep her life out of the tabloids these days. But it wasn't always like that. When the British beauty first started out in the industry with star-making turns in "Bend It Like Beckham," "Love Actually," and "The Pirates of the Caribbean," she was hounded by the paparazzi who followed her every move.
"The value of photographs of any famous young women at the time went up if they were of a very negative nature," she told The Telegraph in 2019. "So if you weren't already having a mental breakdown, they were trying to push you into doing things that kept your value as high as those who were." When paparazzi forced her car off the road in Kentish Town, she disappeared for a year. "I did have a mental breakdown at 22, so I did take a year off there and was diagnosed with post-traumatic stress disorder because of all of that stuff," Knightley told The Hollywood Reporter "Awards Chatter" podcast in 2018. When she returned to work a year later, she "felt better" and "really good." That's probably why "The Imitation Game" star has managed to protect her private life with her husband.
It's understandable that while the rest of Hollywood fawns over the relationship ups and downs of the Kardashians, the Jolie-Pitts, and every couple from "The Bachelor" franchise, most don't even know the name of Knightley's husband. Believe it or not, he's also in the entertainment industry and quite successful in his own right.
James Righton is a successful rockstar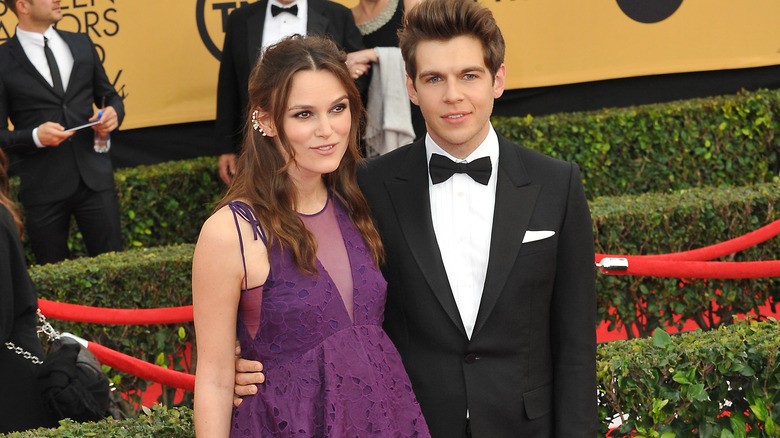 Featureflash Photo Agency/Shutterstock
In 2013, "Atonement" star Keira Knightley married the keyboardist for the British dance-punk band Klaxons, James Righton, per Time. The Klaxons are a critically acclaimed band who previously beat out big names like Amy Winehouse and Arctic Monkeys to win the coveted Mercury Prize in 2007, per CTV News. They had big chart-topping singles in 2007 with "Golden Skans" and "It's Not Over Yet." And true to form, Knightley was incredibly tight-lipped when news broke that he popped the question. "He did it very well!" was all she'd tell iVillage back in 2012, and the couple married in Mazan, France the following year, per Daily Mail. 
Despite the critical and commercial success of Klaxons, Knightley says that her hubby's income doesn't compare to hers, and he's not the least bit intimidated by her success. "That's what our national newspapers are telling girls – that you have to feel guilty about doing well if it's making a man feel uncomfortable, which it doesn't with my husband and it didn't with my dad," she told Porter in 2020.
The couple have two kids, Edie and Delilah, and according to Knightley, Righton enjoys the life of domesticity. She told Harper's Bazaar in 2021 that Righton is "quite extreme, vaguely OCD – it's what makes him a really good cook." We love to see that, because it wasn't so long ago that Knightley was dating men threatened by her success. 
Keira Knightley's ex-boyfriends weren't as supportive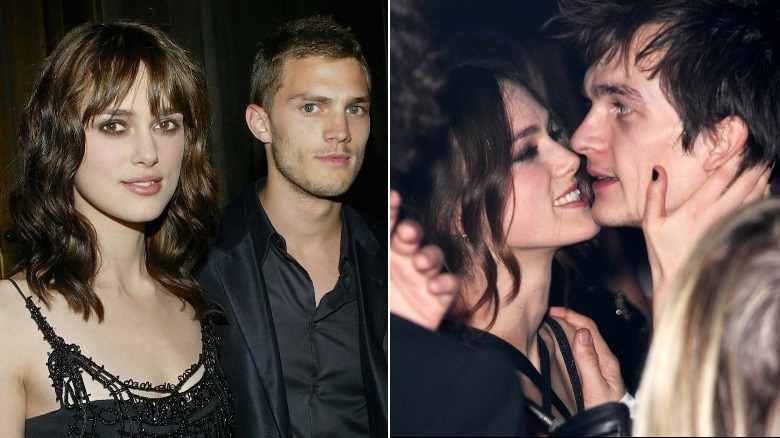 Evan Agostini & Dave Hogan/Getty
Before marrying James Righton, Keira Knightley was in two high-profile relationships. First came "Fifty Shades of Grey" star Jamie Dornan, who at the time of their courtship (2003-2005, per InStyle) was still a struggling model and not so secure with her level of success. "There is a big pressure when you go out with someone such as Keira," Dornan told Mail on Sunday in 2006. "You can feel a bit second-rate ... It's not like I was bringing the bread to the table – and that can start to affect everything." Dornan believed men are supposed to be "the Alpha in the relationship on the money and power front," and since he wasn't, he felt the need to be "dominant in other areas," which ultimately caused conflict.
Next came actor and her "Pride and Prejudice" co-star Rupert Friend. The private couple were together for five years, but once again, it turned out he was someone who couldn't handle having a partner in a spotlight. A source close to the exes told The Sun (via Marie Claire U.K.), "Rupert hates the idea of being followed and photographed. Keira partially had to accept it because of her rising profile ... The pressure took its toll and both decided they should go their separate ways." 
Years after their breakup, Friend was still besmirching Knightley, when in 2018 he responded to a Twitter fan account that posted old throwback pics of the former couple with a thumbs-down emoji, per Daily Mail.