Whats The Real Meaning Of N95 By Kendrick Lamar? Here's What We Think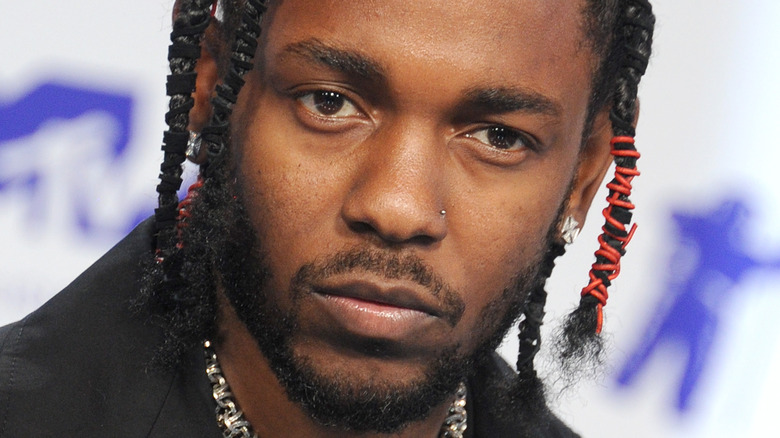 Gregg Deguire/Getty Images
Two things are for certain when it comes to Kendrick Lamar releasing music, he's going to give you a dope album — but, he's going to make you wait for it. According to The New York Times, the rapper released his highly anticipated project "Mr. Morale & the Big Steppers" on May 13, five years after his 2017 album "DAMN." The release of Lamar's latest body of work marks his fifth No. 1 album and all 18 tracks made it to music charts, per Billboard. 
The outlet reported that at the time, the "DNA." rapper earned one of the biggest releases for 2022 with a whopping 295,500 equivalent album units sold. And, that's not all. "N95" — one of the leading songs off of "Mr. Morale & the Big Steppers" — hit No. 3 with 37.2 million streams. "I can't tell you the s**t that I've been through without telling you the s**t that I've been through," he said during a 2017 interview with Rolling Stone in regards to the music he makes. "I'm gonna say, I'm-a give you a breakdown of my life." 
Fans have praised Lamar for his work on "Mr. Morale & the Big Steppers" about addressing sensitive topics like being a Black man in America, the social injustices impacting this country, his struggles with women, and cancel culture, to name a few. And, his song "N95" shares a similar message about what's going on today. As pointed out by Genius, the song title is clearly a reference to the N95 masks frequently worn during the pandemic.
Kendrick Lamar addresses the state of the nation in N95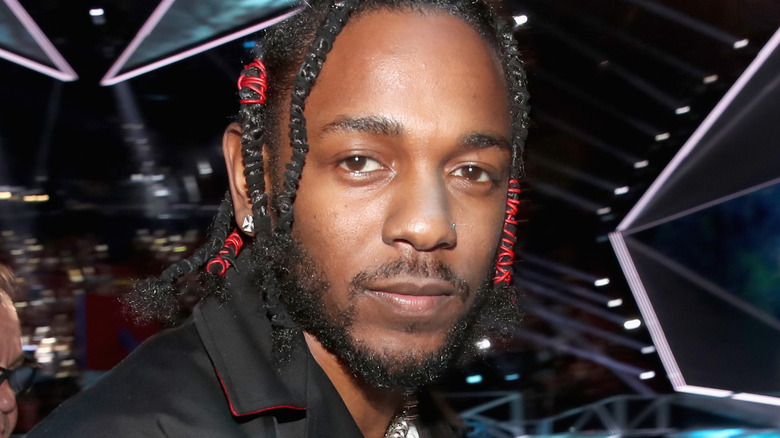 Christopher Polk/mtv1617/Getty Images
In the intro of Kendrick Lamar's song "N95," the rapper seemingly makes reference to how drastically the world changed since COVID-19. "Hello new world / all the boys and girls / I got some true stories to tell / You're back outside / but they still lied," he raps. Lamar also sheds light on the state of the nation with his line "the world in a panic." During the height of the pandemic, according to Forbes, the stock market crashing played a major role in causing a sense of panic in the world, which Lamar also references in his song. 
"The law take advantage / the market is crashin' / the industry wants / N****s and b*****s to sleep in a box while they makin' a mockery followin' us / This ain't Monopoly," he raps. The year 2020 was not only one where millions of people across the nation were dealing with COVID-19, but it was also a year where the social injustices affecting this country were brought to light. We all saw that firsthand with the devastating murder of George Floyd, which eventually sparked protests around the nation, per History. Lamar seemingly addresses it in "N95," but also shares his frustration with all of it. 
"Done with the black and the white / the wrong and the right / You hopin' for change and clericals / I know the feelings that came with burial's cries," he added.
Kendrick Lamar also addresses politics in N95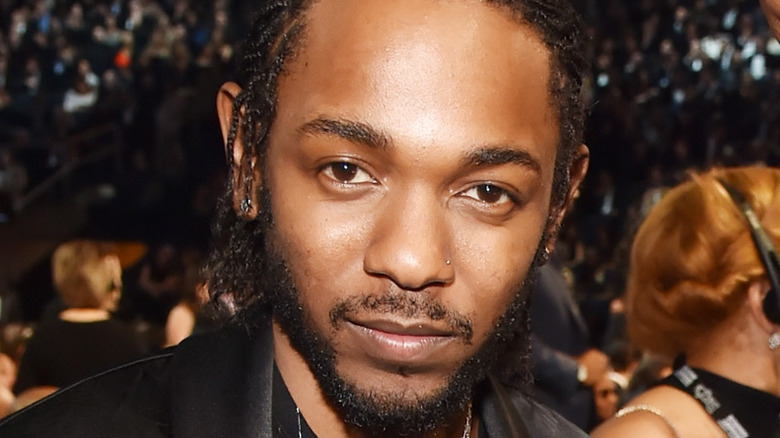 Kevin Mazur/Getty Images
In the last verse of "N95," die-hard Kendrick Lamar fans caught his subtle reference to his 2013 song "Swimming Pool (Drank)." "I got nothing to lose / I got problems and pools / I can swim on my faith," he raps. Still, he did proceed to touch on more examples of such "problems" in the country.
As everyone knows, 2020 was former President Donald Trump's last year in office, and according to Vox, managed to stack up a 54.2% disapproval rating. While it didn't come as a shock to many people, Lamar made it clear about his stance on the way the president was handling things during his term. "Murder is stackin' / the president actin' / the government taxin' my funds in the bank," he added.
It's no surprise Lamar's album "Mr. Morale & the Big Steppers" is packed with such a heavy load of topics, considering the rapper is known to use his platform and projects to address such issues. "I think that the depth is needed," he said during a 2015 interview with NPR. "As long as I'm doing it right now, I'ma continue to say just a little bit more that pertains to what's going on."