Why You Won't See Madison LeCroy's Fiancé On Southern Charm Anytime Soon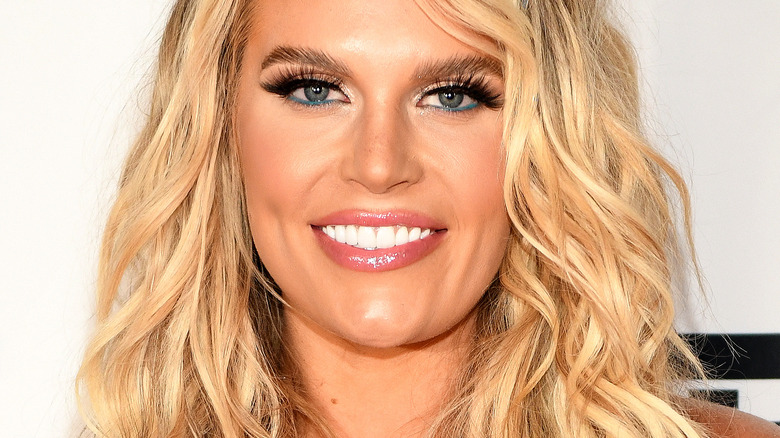 Derek White/Getty Images
We may receive a commission on purchases made from links.
"Southern Charm" star Madison LeCroy and her fiancé Brett Randle are couple goals to their fans. The hair salon owner found love with her beau after her on-and-off relationship with Austen Kroll and is happily planning a future with him. Per Us Weekly, the reality television personality hinted that she had a new man in her life, and in June 2021, she showed him off via Instagram. LeCroy and Randle's whirlwind romance leveled up when he proposed to her in October 2021. The Bravo star broke the news on Amazon Live, saying, "I'm announcing that I am engaged!" She continued, "I'm so excited because I honestly had no clue at the time. It was a very special moment for my family and I." Of course, LeCroy also showed off her engagement ring.
The entrepreneur told People that, unbeknown to her, Randle had bought the ring a few months before the proposal. He also went the extra mile and asked her parents and son before proposing. She said that initially "I'm thinking it's just a birthday dinner, and my son's over here jumping around." However, things soon became intense when "I turn around and my fiancé is down on one knee and proposed to me in my living room. It was so intimate. I've been crying like crazy from joy." However, "Southern Charm" fans should not expect to see a lot of Randle going forward. LeCroy has clarified why her man may not feature prominently on the show.
Madison LeCroy is protecting her relationship
Madison LeCroy is feeling protective of her man, according to OK! Magazine. She told the outlet that Randle was not interested in starring in "Southern Charm" as "that's just not his thing." She added, "He doesn't even do social media or anything like that so I was kind of protecting him." The reality star also took to Instagram, per Cheat Sheet, and revealed that she wanted this relationship to work. LeCroy continued, "I think that keeping that private was the best decision that I made. She also alluded to how some fans interact with stars on social media, saying, "And I love him so much, and I hate that if people were mean to him, I would go bats*** crazy." LeCroy then concluded, "So we're just going to avoid that and keep our love to ourselves. And not have the input of all the haters on there. Telling me what to do in my relationship."
Interestingly, LeCroy's ex-husband Josh Hughes also stays out of the limelight, per Us Weekly. The former couple co-parents their son, Hudson, and seem to be on good terms. In fact, the outlet reported that LeCroy shared a video, which has since been removed, of her styling her ex's hair. Now, LeCroy's dating history has seen her dating Austin Kroll, and she has even been linked to Jay Cutler and Alex Rodriguez. But, it appears that when LeCroy keeps her relationships quiet, things seem to go much better. 
Madison LeCroy and Brett Randle are making a new home together
Madison LeCroy and Brett Randle are setting up a home together, even though they live on opposite coasts. According to Us Weekly, Randle is from a city in the Sacramento area called Roseville, while LeCroy hails from Charleston. The reality star confirmed that her fiancé would still commute for work but "pretty much he [will] be here [in Charleston] full time," per Bravo.
The "Southern Charm" star took to Instagram in May to share some pics of the new house that she bought with Randle. She also took to her Instagram Stories to share some feelings about her new abode. Via People, she said, "I'm so excited for our new home & all of our memories to come." LeCroy continued, "I can't believe our prayers have been answered in all the ways!" And while Randle may not feature on the Bravo show, at least LeCroy may hopefully be able to show off their home in episodes to come. 
With that being said, there may be a chance that fans could see Randle in upcoming seasons. In June, she told OK! Magazine, "I think that after seeing the whole season pan out and everything, I think that he realizes not as bad as it could be." But even if Randle never shows his face on "Southern Charm," the effect he has on a glowing LeCroy is obvious.