What's The Age Difference Between Taylor Swift And John Mayer?
Kathy Hutchins/Shutterstock
Taylor Swift is no stranger to breakups, and everyone knows that she often looks to songwriting as an outlet to share her experiences. When a Taylor Swift song is released, the fans try to figure out which ex-boyfriend of hers she's secretly talking about. For example, "Wildest Dreams" was rumored to be about her relationship with Harry Styles, and, of course, fans spurred up the drama between Swift actor Jake Gyllenhaal after the 12-minute version of "All Too Well" dropped. 
For his part, Gyllenhaal seemed less than thrilled with the attention. "My question is: Is this our future?" Gyllenhaal told Esquire in February when he was asked about the recent uproar of Swift's fans. "Is anger and divisiveness our future? Or can we be empowered and empower others while simultaneously putting empathy and civility into the dominant conversation? That's the discussion we should be having."
Beyond that, when Swift capitalized the first letter of specific words in her "Speak Now" album booklet, fans found them and deciphered a hidden code. For example, fans thought "Enchanted" was about Owl City singer Adam Young, as the capitalized letters spelled out "A-D-A-M." Young responded to the song with a version of his own as well. One of the songs in Swift's "Speak Now" album could also have a direct link to her relationship with singer-songwriter John Mayer — and their age gap.
John Mayer says he's Innocent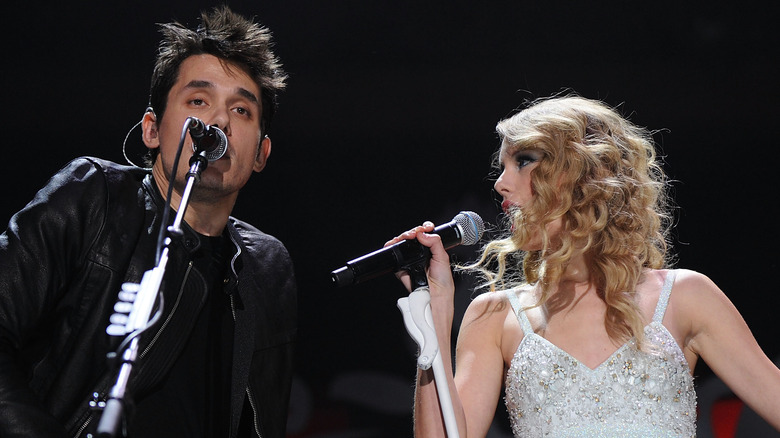 Bryan Bedder/Getty Images
Taylor Swift was only 19 years old when John Mayer, then 32, hit her up on Twitter, saying that he wanted to sing a song with her that he had been working on. The pop-country singer, who was becoming more and more famous after the release of her "Fearless" album, told Elle in 2009, "I freaked out when I heard, because I've been such a big fan of John for such a long time." And soon enough, the pair shared the stage — and more. 
However, as soon as it began, their relationship ended. When he and Swift broke up, the "Love Story" singer apparently didn't think twice about writing some songs about him. Swift's song "Dear John" is highly speculated to be about John Mayer. Swift's lyrics in the song, "Don't you think I was too young to be messed with? / The girl in the dress cried the whole way home / I should've known" (via Genius Lyrics) seems to be directly aiming at the fact that Swift and Mayer were 13 years apart in age.
Mayer thought it was a rather petty move on her end. "It made me feel terrible," Mayer told Rolling Stone in 2012. "Because I didn't deserve it. I'm pretty good at taking accountability now, and I never did anything to deserve that. It was a really lousy thing for her to do. ... I think it's abusing your talent to rub your hands together and go, 'Wait till he gets a load of this!'"
John Mayer didn't seem to love Speak Now (Taylor's Version)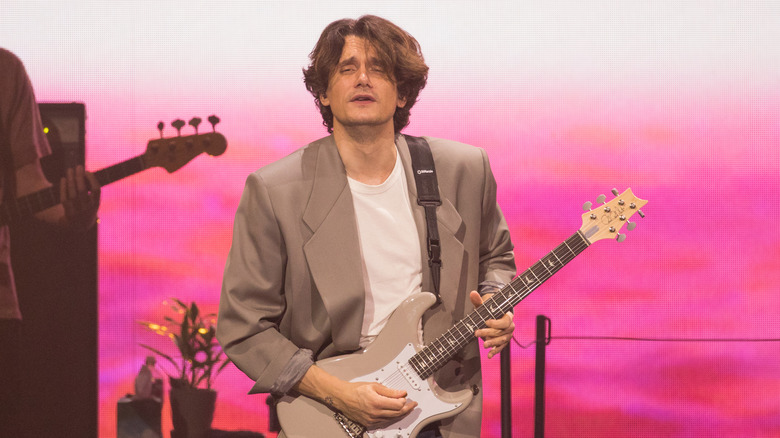 Rick Kern/Getty Images
While the relationship between Taylor Swift and John Mayer may feel like ancient history by now, it was dredged back up in 2021 when Swift released "Speak Now (Taylor's Version)." Mayer reported on social media that he had been receiving some jarring and hateful comments from Swifties, per E! News. And after the backlash Gyllenhaal had been getting from Swift's fans, Mayer felt like the relationship he had with Swift and the release of "Dear John" was "coming back to haunt him," as an insider told Us Weekly.  Another source complained to Life & Style, "Even though [John is] a pretty open minded guy, he disagrees with the way Taylor goes about targeting exes in her music, especially with all the online trolling and bullying that goes on these days."
Of course, Mayer is no stranger to high-profile relationships himself. After breaking it off with Swift, the "Slow Dancing in a Burning Room" went on to date Katy Perry for about three years, on and off. While the "California Gurls" singer can seemingly joke about her relationship with Mayer, as she became the center of a comedic moment during an "American Idol" audition, Swift took her breakup with the singer a little more seriously.