Inside Karol G's Friendship With Becky G
Emma Mcintyre/Getty Images
Karol G and Becky G teamed up for their smash hit "MAMIII" earlier this year, providing them with massive success and a new friend as well. The singers had been wanting to collaborate on music for some time, but their busy schedules ultimately aligned at the perfect moment when Becky G was presented with "MAMIII" by Ovy On The Drums. During an interview with Zane Lowe for Apple Music, Becky explained she had asked Karol to be a part of several songs before "MAMIII," but the singer is very "particular" about which tracks she hops on. When it came to "MAMIII," Karol recorded the intro and felt that things were right. She even FaceTimed Becky seven times to play her a demo of the track she recorded.
"I had been wanting to have a moment where the G's came together ... At the time when we were all coming out, there was very few women in Latin music that were this next generation — we had been at it for so long," Becky G said. She also acknowledged Karol worked hard and wasn't just some "overnight success." As for their collaboration, she shared it was a long time coming and "it just felt right," acknowledging "the serendipity of it all."
"MAMII" is the first female Latin music collaboration to enter the Top 10 of the Global Spotify Chart, according to Remezcla.
Becky G and Karol G want to lift up women in music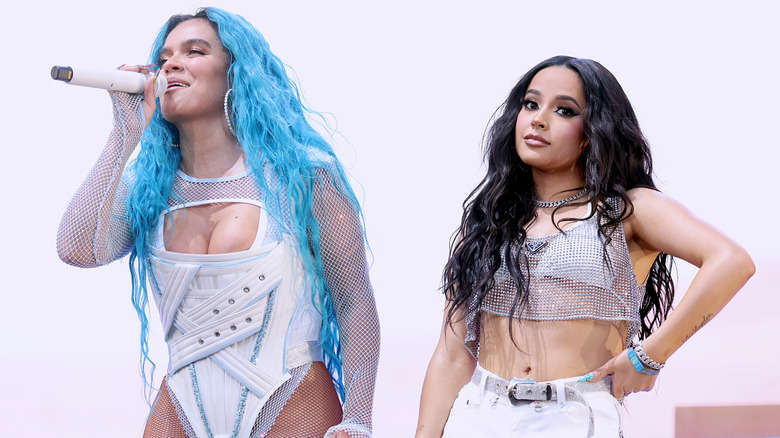 Amy Sussman/Getty Images
While the industry tends to create fake drama and even pin artists against each other, as Becky G once explained to Zane Lowe, Becky and Karol G are all about supporting other female artists in the music industry. In fact, their support for each other came long before their hit "MAMIII" was released in February. In a 2018 interview with Billboard, Karol G opened up about supporting other women in the Latin space and avoiding fake drama created by the press.
"This isn't about just me, or just Becky, or just Natti. We have to generate a movement. It's not about a fight to see who stays — there's space for all of us," Karol G continued, "They always want to sow discord where there isn't any. Honestly — and she knows this — I have a natural connection with Becky." Both artists had a mutual respect for each other prior to collaborating. Becky G explained to Billboard that they have "so much love and unity and compassion for each other."
In an interview with Interview Magazine, Becky G explained that the industry is lonely, but that connecting with other artists who can relate to her is comforting. Speaking of her collaboration with Karol G, she explained that it's more than just a song and instead "a moment in history that can never be repeated." She called the collaboration, amongst a few others she's recorded, a "pivotal moment" in her life.
An undeniable friendship was formed after MAMIII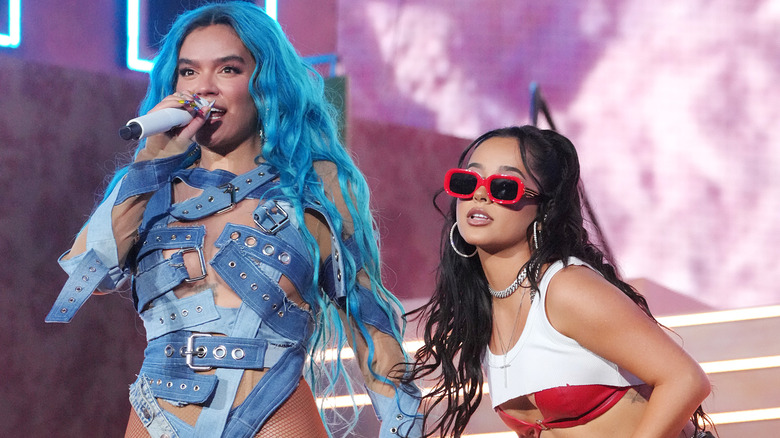 Kevin Mazur/Getty Images
While Becky G and Karol G may be indirectly competing with each other for a higher spot on the charts, they recognize there's room for everyone in the music industry, specifically within the Latin space. Besides working together in a professional setting, Karol and Becky hangout behind the scenes as two friends who genuinely have a lot in common. In February, the artists spent time together in Miami with Natti Natasha. Right afterward, Becky G posted a message on her Instagram Story (via Entertainment Tonight) about female empowerment. Under a photo of the trio, she wrote that she respects Karol and Natasha and that it's beautiful to share "moments, opportunities, [and] success" with her fellow Latina artists and friends.
The friendship between Karol G and Becky G only continues to blossom as time goes on. During an interview at the 2022 Billboard Music Awards in May, Becky G spoke highly of Karol G and their friendship. "We need more G's in the house! I love her. I adore her. I think she's incredible," she said. "I think that everything she's accomplished in her career thus far is so inspiring and I know that the future is bright for all of us Latina artists."
With such a strong friendship and admiration for each other, fans may be hearing more collaborations between Karol G and Becky G in the future.