Britney Spears Reflects On Her Recent Major Life Changes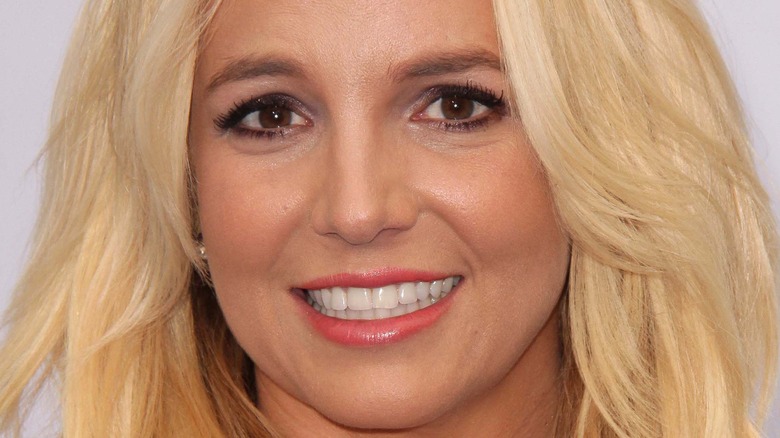 s_bukley/Shutterstock
Britney Spears certainly had a busy June! Spears and her now-husband, Sam Asghari, tied the knot on June 9 after a 9-month-long engagement, per Vogue. The bride and groom wore a respective wedding dress and tuxedo designed by Versace (with Donatella Versace herself in attendance) and even included a horse-drawn carriage in the lavish ceremony. Attended by A+-list celebrities like Madonna, Selena Gomez and Drew Barrymore, the wedding preceded a festive reception in which guests danced the night away.
However, even Spears' fairytale ceremony couldn't escape the specter of her ongoing familial drama. Spears opted to not invite her father, mother, or two siblings to the affair per BuzzFeed News (her sons Sean and Jayden Federline did not attend either). However, her brother Bryan's girlfriend, Amber Lynn Conklin, alleged differently in a now-deleted Instagram post, claiming he "felt terrible having to choose" between Spears' wedding and his daughter's 5th grade graduation. The singer vehemently disputed ever inviting her brother on Instagram, before — for the second time in one year — deactivating her account.
Thankfully, only a week later, Spears returned to her favorite social media platform ... with a cheery attitude to boot!
Britney Spears is back ... with a new home and waterslide
Britney Spears gave Instagram followers a rundown of life's recent positive developments in late June. In her first post since deactivating her account earlier this month, Spears shared that since she wed now-husband Sam Asghari, she hasn't "been on my honeymoon yet ... got married and moved into a new house around the same time." She also gushed about her new home's nifty perks, posting a bikini-clad photo next to her new pool.
"I took a nice dip," Spears revealed. "It's so bright and it has a nice chill spot ... and a slide ... I went down it 4 times already." The "Toxic" singer ended the comeback post with cheerful optimism, writing, "I cut all my hair short and my husband just made me a steak ... life is good." Spears' new Calabasas, Calif. mansion is situated near her sons Sean and Jayden Federline, per TMZ, and cost $11.8 million. Spanning 11,650 square feet, it boasts 1.6 acres of land, a home theater, and a room apparently designed just for gift-wrapping (what would that even look like?).
Fans were happy to see Spears back on her throne as the Queen of Insta-land. "BRITNEY IS BACK," one fan exclaimed, echoing many of her post's comments. Others were delighted to see Spears enter this next chapter with such positivity. As another fan wrote to the singer, "Enjoy your new home and the new positive energy it will bring. I'm happy for you."