Anna Duggar's Birthday Plans Are Sure To Raise Some Eyebrows
Anna Duggar has chosen to stick beside her husband, despite everything that has transpired over the years. According to People, Josh Duggar was sentenced in May to 12 years in federal prison on child pornography charges. Once the "19 Kids and Counting" star serves his prison sentence, he will then be required to see a parole officer for the next 20 years, per The U.S. Sun. 
Prior to Josh being found guilty, Anna was seen visibly supporting her husband during his arrest and pre-trial hearing, according to Us Weekly. And, sources close to the family told the outlet she has no plans on going anywhere. "She's going to stand by her husband and she's going to continue raising their kids to the best of her ability," they said.
Josh was originally looking at up to 20 years for his crimes and could have potentially been fined $250,000. Even though the former reality star got off with a much lighter sentence, U.S. Attorney David Clay Fowlkes was satisfied with the outcome. "While this is not the sentence we asked for, this is a lengthy sentence," Fowlkes said, per USA Today. Although Josh will spend more than a decade in prison, Anna is seemingly still including her husband in all of her milestones. 
Anna Duggar is sticking by her husband Josh Duggar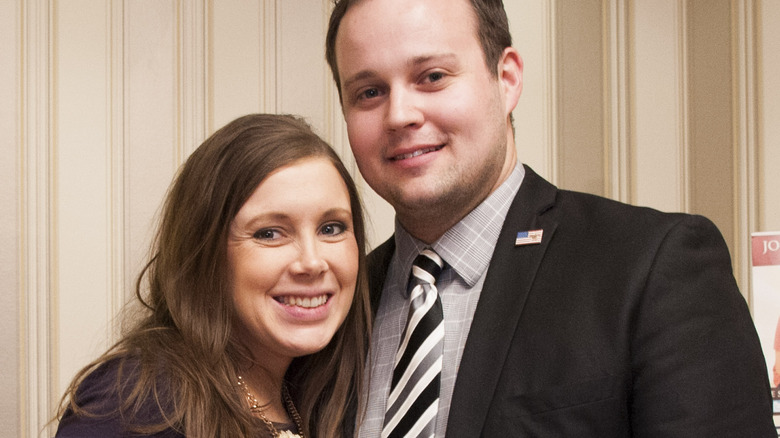 Kris Connor/Getty Images
Anna Duggar celebrated her birthday on June 23 and decided to share a cryptic Instagram Story regarding her plans now that she's "officially 34." She wrote, "Fourteen years since I said 'YES!' Road-tripping to visit my bestie." While Anna didn't outrightly put that she was referring to her husband Josh Duggar, the father-of-seven proposed to his wife on her 20th birthday in 2008 — making this their 14th anniversary. Anna also named her supposed road trip music, saying she was listening to "Even If" by the band MercyMe. The song is about relying on faith in tough times.
It's unclear where Josh is currently serving his prison sentence, but In Touch Weekly reported he is possibly at FCI Seagoville or FCI Texarkana, which are both located in Texas. Whichever facility he was placed in would still be over 358 miles away from his hometown of Tontitown, Arkansas, which would make sense why Anna might be on a road trip. 
A source previously told the outlet in a separate In Touch Weekly article that the former reality star remains focused, saying, "Anna is relying on her faith to face the challenges ahead." While it would make sense for Anna to move on, considering recent events, the insider explained, "She's not the type to look for or even consider starting a new life with another man, but there are plenty of upstanding, religious men in the church who would appreciate and take care of a woman like Anna."