Bre Tiesi Completely Brushes Off The Haters Amid Nick Cannon's Baby Drama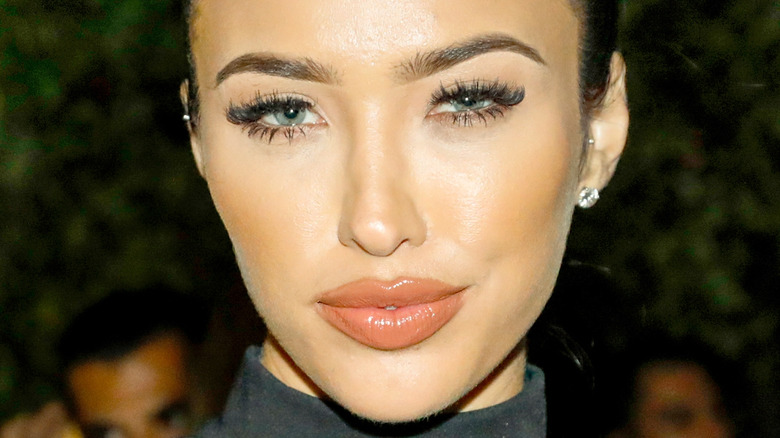 Samantha Trauben/Getty Images
Bre Tiesi found herself in the spotlight in late January when it was revealed she was pregnant with her first child, Nick Cannon's eighth. The "Wild 'N Out" star confirmed the news on Instagram after rumors started spreading about her bun in the oven when TMZ published snaps from her and Cannon's beach baby shower. "I purposefully kept my pregnancy private for various reasons, and am horrified that this precious moment was exploited and plastered all over TMZ. This was not how I'd hope to share this news especially given that I've been able to protect this news for almost my entire pregnancy," Tiesi wrote via her Instagram Story in February (via E! News). "With that said, thank you to those surrounding me with love during this beautiful time in my life. I cannot wait to meet my son."
The star has given plenty of updates on her pregnancy via Instagram ever since, including sharing gorgeous photos and videos of her growing baby bump. But her pregnancy hasn't been without plenty of gossip, as fans have questioned her seemingly pretty unconventional relationship with Cannon and his involvement with his multiple baby's mothers. But it sounds like Tiesi doesn't have time for the haters after sharing sweet snaps to Instagram from her and Cannon's baby moon in May.
Bre Tiesi defends her unconventional relationship with Nick Cannon
Bre Tiesi got candid about all the speculation about her and Nick Cannon's relationship during a June interview with Entertainment Tonight. "When it first started happening I was just like, 'I don't understand why everyone is so concerned. Like, why are you upset about what happens in my household?'" she hit back when asked what she thought about being plastered across gossip columns. "For me, it doesn't actually genuinely affect me. I understand people's side and they're used to their conventional relationships. That's what's instilled in us. Whatever you want to call this has been going on for years," she added.
Of course, this isn't the first time Cannon has welcomed a child and speculation has been rife about if he's in a monogamous relationship with Tiesi or any the other mothers of his children. Cannon shares twins with Mariah Carey, a son and daughter with Brittany Bell, twins with Abby De La Rosa, and welcomed a son with Alyssa Scott, who passed away in December.
As he awaits the birth of his and Tiesi's baby, rumors have swirled that Cannon may actually have more than one child getting ready to be born. Speaking to Angela Yee on "Lip Service" in June, Cannon teased, "Let's just put it this way... the stork is on the way." TMZ then claimed De La Rosa was expecting her and Cannon's second child together, but neither have confirmed the report.