How Emilia Clarke Really Feels About Sophie Turner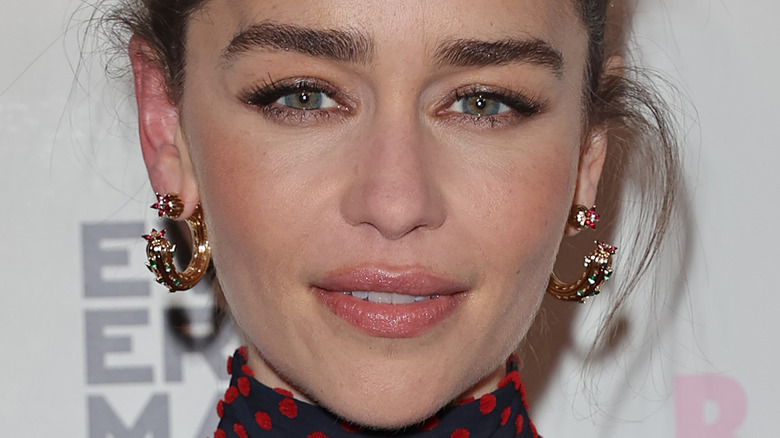 David M. Benett/Getty Images
"Game of Thrones" fans know that the Lady of Winterfell didn't exactly vibe with the Mother of Dragons during her time on the show. Sophie Turner's Sansa Stark, aka the Lady of Winterfell, felt that Emilia Clarke's Daenerys Targaryen wanted to rule her northern homeland, despite the fact that the Northerners didn't want her as their ruler. Sansa felt strongly that her people should be free to choose their own fates. Meanwhile, during her bid for the Iron Throne, Daenerys made it clear that she wasn't about to let the biggest territory in the Seven Kingdoms retain its independence.
The palpable tension between the female characters made for some of the best scenes in Season 8. Who could forget Daenerys' arrival at Winterfell, when she warmly greeted Sansa? In response, Sansa's chilly response — "Winterfell is yours, Your Grace" — proved that no one knows how to play passive aggressive like the Queen in the North. On a separate occasion with the Northerners and Daenerys, Sansa focused on the heart of what her people truly feared: starvation. Of course, she also threw shade at Daenerys by asking what her dragons ate, leading to Daenerys' immortal quip, "Whatever they want." Thanks to — SPOILER — Daenerys' dramatic death, Sansa eventually got her way and the North separated from the rest of the Seven Kingdoms. 
But as for the chilly relations between Turner and Clarke? That was totally fiction. It turns out that both leading ladies have a lot of love for each other IRL.
Emilia Clarke loved working with Sophie Turner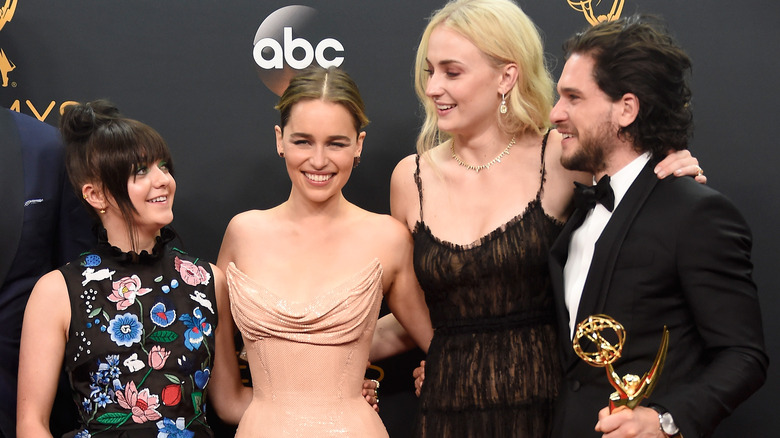 Frazer Harrison/Getty Images
As a fantasy world epic, the characters in "Game of Thrones" were scattered across multiple different kingdoms and territories, meaning that some of them never even interacted. Though they knew of each other, Sansa Stark and Daenerys Targaryen didn't officially meet until the show's last season, when Daenerys, along with her dragons and Dothraki horde, openly challenged Cersei Lannister for the throne. For Emilia Clarke, the prospect of finally working alongside her longtime friend Sophie Turner was "lovely," as she told Harper's Bazaar in 2019. "Sophie is a really good friend of mine, so it was very fun, it was very silly, it was very then like, 'Oh! We're doing this now, we're having like an actor discussion,' as opposed to just me and Sophie," Clarke explained.
But while Clarke had nothing but glowing things to say about her co-star, Turner hasn't hesitated to shade her friend — all in good humor of course! When eagle-eyed fans noticed that a Starbucks cup had accidentally made its way on set in 2019 (per TODAY), Turner pointed the finger at Clarke. "We all have the same cups for all of our water and tea and everything, so ... I mean look who it's placed in front of ... Emilia Clarke. She's the culprit," Turner said on an episode of "The Tonight Show starring Jimmy Fallon." HBO also poked fun at the gaffe, with the "GOT" account tweeting, "News from Winterfell ... #Daenerys had ordered an herbal tea."
How does Sophie Turner feel about Emilia Clarke?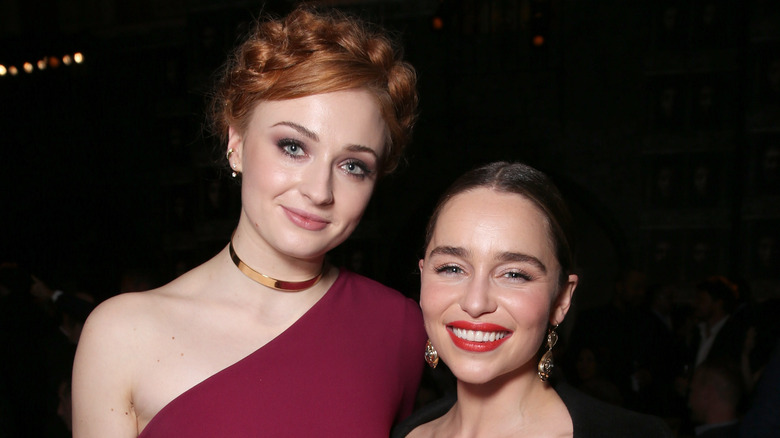 Todd Williamson/Getty Images
Sophie Turner might blame coffee-gate on Emilia Clarke, but it's clear she considers the actor to be a role model. Turner shared as much at the 2018 Britannia Awards, where she explained why she looks up to Clarke. "I mean, every role that she plays is so different, from 'Stars Wars' to 'Me Before You' to 'Game of Thrones' to 'Terminator,'" Turner said. "She has such versatility as an actress. And also, you can fall in love with her on screen. I mean, I fall in love with her every time I look at that smile and her eyes. It's very easy to fall in love with her in any character [that] she plays, and she plays every role so authentically that it's impossible for people to not be endeared by that." She went on to add that Clarke taught her valuable lessons about the working actor and professional on set. "Throughout this whole, bizarre journey of being in the public eye, she's stayed so grounded," Turner concluded.
Joe Jonas' wife is also proud of Clarke, and she's spoken candidly in support of her friend. In 2019, penning an op-ed for The New Yorker, Clarke wrote of her experience suffering two brain aneurysms during filming. "I know that I am hardly unique, hardly alone," Clarke, who has since founded brain injury charity SameYou, wrote. Appearing with co-star Maisie Williams, Turner praised Clarke's bravery on Extra TV, saying, "Talk about a fighter."