How Isla Fisher Played A Role In Courteney Cox's Relationship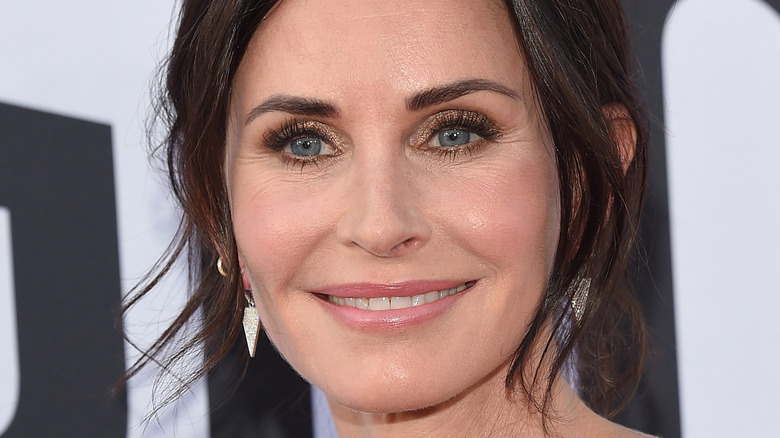 DFree/Shutterstock
Courteney Cox and Johnny McDaid have been together for nearly a decade now. After meeting in late 2013, the "Friends" alum and Snow Patrol musician jumped into a relationship right away, the Mirror reported. And things moved quickly, too. By June 2014, just about six months into it, Cox and McDaid were engaged, she announced on Twitter with an accompanying photo of the pair. But their relationship must have hit a bump in the road shortly, as they broke off their engagement and went their separate ways in late 2015, E! News reported. According to Cosmopolitan, Cox and her British fiance wanted to live in their respective countries, which proved to be a big issue.
But Cox and McDaid still had love for each other, despite their geographical non-negotiable. They were hanging out publicly again by March 2016, seemingly proving they rekindled their romance just a few months after breaking up, People reported. They never looked back. "He moved to England, then we got back together, and it's actually better than it was before," Cox said on "The Ellen DeGeneres Show" in January 2019. They have maintained that arrangement ever since.
While it's clearly working for them, walking down the aisle ranks rather low on Cox's list of priorities. "Marriage is a beautiful thing but it's not in my brain," she told The Times in February. They are happy just the way they are. But the romance almost didn't happen. Thankfully, Isla Fisher was there to ensure that it did.
Isla Fisher played cupid when Courteney Cox met Johnny McDaid
Courteney Cox and Isla Fisher go way back, so the Australian actor knows when her friend needs a little push. Cox was struck by Johnny McDaid the minute her good friend Ed Sheeran brought him to her house, she said on "The Howard Stern Show" in March. "I remember seeing Johnny and going, 'Oh, wow. He's really intense.' He's got the eyes, and he's playing the piano," she detailed. But she had zero intentions of acting on it — and she didn't.
Cox and McDaid ran into each other at a film screening shortly after, and she overheard Fisher encouraging another mutual friend to talk to McDaid. Cox immediately stopped Fisher from continuing her match-making. Fisher didn't — she simply switched subjects. Instead, Fisher turned to her husband, Sacha Baron Cohen, and told him that Cox was into McDaid. Cohen wasted no time. "Sasha walks up to Gary [Lightbody] and Johnny ... and says, 'Hey! Courteney wants to f**k one of you from Snow Patrol. And it's not you, Gary,'" Cox detailed. A week later, they went on their first date.
Sheeran, who is often credited with making the Cox-McDaid relationship happen, thinks the "Borat" star was the real cupid. "I think I did the 'Courteney [sic] meet Johnny, Johnny meet Courteney [sic]' thing, but Sacha Baron Cohen did the matchmaking," Sheeran told the Daily Mail in 2014. "It's just two people who fell in love and I hope they're really happy."
Ed Sheeran continues to play a role in the relationship
Ed Sheeran might not feel he was responsible for making Courteney Cox and Johnny McDaid fall in love, but the "Shape of You" singer has very much been a part of their journey. Because Sheeran and McDaid are writing partners and best friends – and Sheeran and Cox are also close – the pop star seemed bound to become a fixture in the couple's shared life. In fact, when Cox and McDaid were in the honeymoon phase of their relationship between 2013 and 2014, Sheeran was actually living at Cox's home in Malibu, he told The Sun in 2014 (via the Daily Mail). "There was no rent but I made the bed and cups of tea and things like that," Sheeran said.
Together, Sheeran and McDaid have introduced the world of music-making not only to Cox, but to Coco Arquette. Cox and David Arquette's daughter often sings as her mother plays the piano, interactions Cox shares on Instagram. "I love my Coconut's voice," she captioned a clip in which Coco interprets Adele's "Chasing Pavements" in August 2021. Coco also often signs while McDaid plays the piano and Sheeran strings away at the guitar, as seen in another Instagram post.
It sure looks like Sheeran's brought a lot of fun to the Cox household. And Cox and McDaid both know how important he is in their relationship. "We are certainly grateful to Ed for introducing us," she told The Sun in 2015.