Todd Chrisley Has One Request For Fans Ahead Of His Potential 30-Year Sentence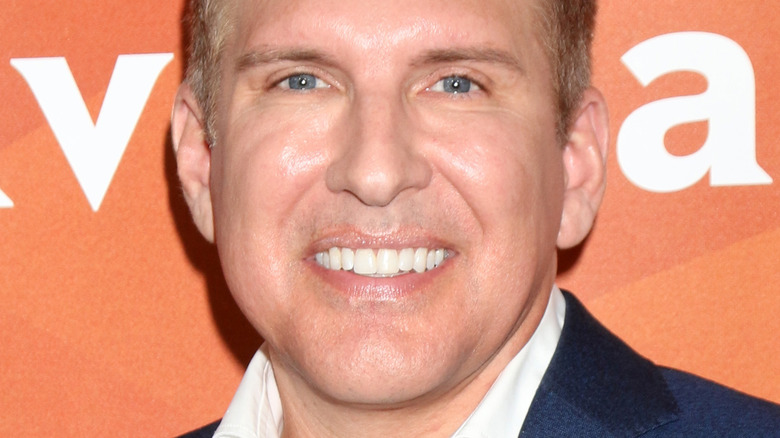 Kathy Hutchins/Shutterstock
"Chrisley Knows Best" stars Todd Chrisley and Savannah Chrisley are back in the news, and not for good reasons. Their latest controversy comes about three years after the Chrisleys were slammed with an indictment on multiple charges of state tax evasion. They were, however, eventually cleared of all charges and for a while, it did seem like all was well with the reality stars. "Julie and I knew all along that we had done nothing wrong and that when the facts all came out, we would be fine," Todd told E! at the time. Well, they sure were fine — just not for long.
In May, AP reported that Todd and Julie were back to their legal woes and were set to go on trial on charges of bank fraud and federal tax evasion. Per the outlet, not only did the reality couple falsify financial records to get loans and rent properties, they also willingly hid income records to avoid paying taxes. Now, after a jury found the Chrisleys guilty of these financial crimes, Todd and Julie are expected to be sentenced in October and could face up to 30 years in prison, per Radar. While they wait, they have just one wish from fans.
Todd Chrisley remains spiritual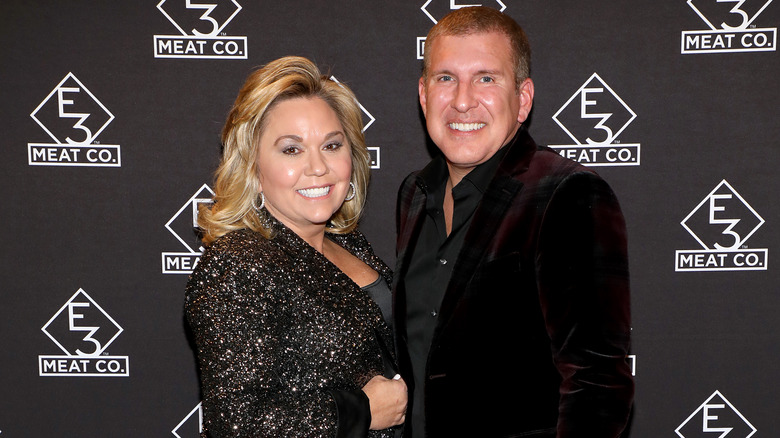 Danielle Del Valle/Getty Images
Todd Chrisley might be going through what is arguably one of the toughest times of his life, but the reality star's faith in God apparently remains unwavering and he is seemingly asking fans to join him on his spiritual journey.
Speaking on the June 22 episode of his podcast "Chrisley Confessions," Todd thanked fans for the outpour of love and support they have showered on his family since appearing in trial with his wife Julie Chrisley. "I want you all to know that the messages that we're receiving, the mail ... the gifts that people are leaving at our doors, the flower arrangements ... all of this stuff is just overwhelming and very much appreciated," the reality star said before adding that he would rather they don't spend their money, per Us Weekly. "So, really, the best gift you could give us is prayer," Todd concluded.
The couple's request comes in the wake of their daughter Savannah Chrisley admitting that despite the challenges, she remains grateful to God. "Oddly enough...I am grateful in a weird way because I know that there is a God who out of nothing, does everything," she wrote in an Instagram post. "He can take what the enemy used to try and destroy you and use it to develop you." Well, if there is one thing the Chrisleys will always do, it is keep their heads up, even in the midst of the most turbulent storms!