Evan Rachel Wood's Madonna Impression Has Fans Floored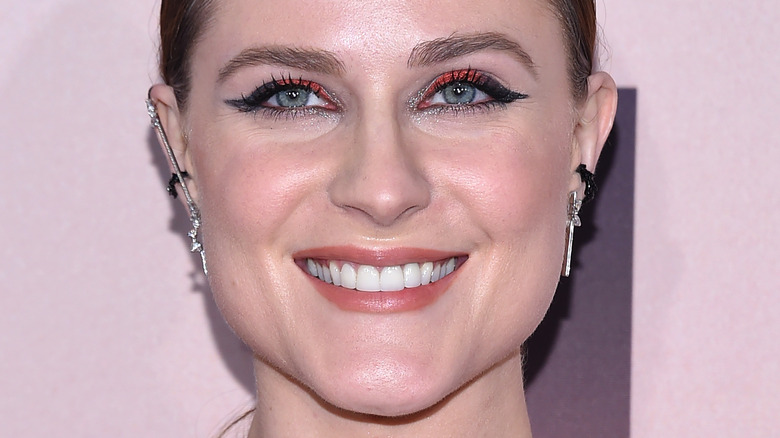 DFree/Shutterstock
Back in March, the news broke that "Westworld" star Evan Rachel Wood will be playing early '80s Madonna in the Weird Al Yankovic biopic, and we saw our first look at Wood rocking the "Like A Virgin's" iconic couture from that era, including bleach-dyed hair, a million bangles, crucifixes, the lacy tights. Wood literally morphed into the Queen of Pop. Yankovic famously satirized The Material Girl's number 1 hit "Like A Virgin," turning it into "Like A Surgeon," with her full consent, per Rolling Stone. And Wood herself was so pumped to share the photos of her in full Madge-regalia that she had to post about it on her official Instagram.
"The secret's out!" Wood captioned the on-set pic of herself as Madonna. "I am having WAY TOO MUCH FUN playing the iconic Madonna in @therokuchannel's WEIRD: The Al Yankovic Story with Daniel Radcliffe." So of course, many people thought Wood would be perfect to play the role again, this time in the "Vogue" singer's own biopic that she's writing herself with the help of Diablo Cody and Amy Pascal, per Entertainment Weekly. Alas, that wasn't meant to be, as Madonna apparently offered the role to someone else. "Inventing Anna's" Julia Garner is apparently mulling over the offer, per Variety.
But Wood's not through with Madonna yet. She's made it through the wilderness (ahem) and tackled another aspect of the Material Girl, leaving many people to say her version has made them feel, er ... shiny and new.
Evan Rachel Wood's rendition of Material Girl has Twitter shook
On June 23, "Across The Universe" star Evan Rachel Wood stopped by "The Tonight Show Starring Jimmy Fallon," and chatted about her surprise at being offered the role of Madonna alongside Daniel Radcliffe in the Weird Al Yankovic biopic, "Weird: The Al Yankovic Story." Calling it "a lot of responsibility," she admitted that she's actually glad she's not playing the iconic "Get Into The Groove" superstar in Madonna's upcoming self-authored biopic because that would "be way too much pressure."
After giving her speaking impression of '80s-era Madge, Fallon naturally had to hand her the mic so she could drop some bars, and her singing impersonation of Madonna has Twitter impressed. Wood chose to cover "Material Girl," and fam, her impression was uncanny. "Spot on!" one user gushed. "Flawless!" another tweeted. Other fans called her performance "incredible" and "impressive," while others couldn't muster any words, just mega-floored GIFs. 
That's not the only impression Wood has mastered! She also treated Fallon and audience to a cover of Alanis Morissette's  "You Oughta Know" and Janis Joplin's "Piece of My Heart." Seeing as how she won't be in the Madonna biopic, one stan had the perfect pitch Plan B: "Cast her for that long awaited Joplin biopic!!"