One Of Will Smith's Most Famous Roles Almost Went To David Schwimmer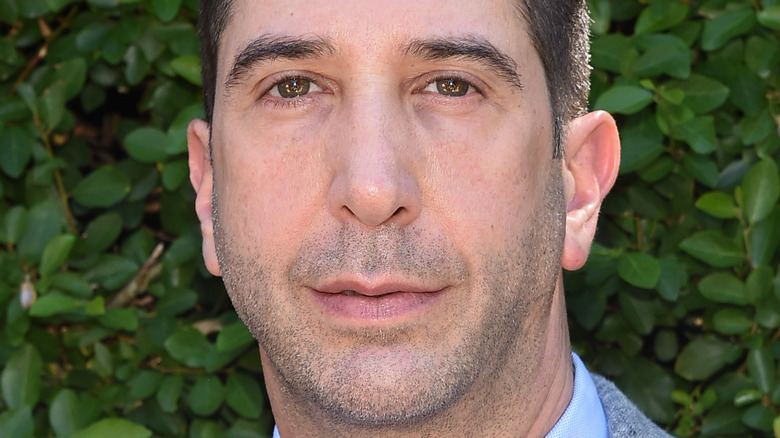 DFree/Shutterstock
Actor David Schwimmer could have taken on the movie role that made Will Smith's Hollywood fame skyrocket. 
Before this offer, Schwimmer's breakthrough part was Ross Geller in the classic '90s series, "Friends." However, as People wrote in 2019, this was an opportunity that nearly passed Schwimmer by. In the Saul Austerlitz book, "Generation Friends: An Inside Look at the Show That Defined a Television Era," the author explained that "Friends" creators Marta Kauffman and David Crane knew Schwimmer from a previous audition and approached him to play Gellar without requiring he read for the character. "There was only one problem: Schwimmer did not want to do the show," Austerlitz wrote. "More than that, he did not want to do any more television at all." When the actor learned that "Friends" had the potential to be a show "that worked a bit more like a theatrical troupe," and Gellar was written specifically for him, Schwimmer decided to say yes to the series.
After the sitcom aired and quickly scored success with an audience of 22 million people watching (per NBC News), Schwimmer and his "Friends" costars achieved popularity and respect in Hollywood. As a result, movie opportunities came Schwimmer's way, including the chance to star in a project that has since become a memorable late '90s film and franchise. Due to another commitment, though, the actor was forced to pass on the role.
David Schwimmer turned down the role of Agent J in Men in Black
Before Will Smith played Agent J in the film "Men in Black," David Schwimmer said no to the role. 
"The People v. O.J. Simpson" actor explained this occurrence during a 2016 interview for The Hollywood Reporter's "Awards Chatter" podcast. Prior to being presented with this acting opportunity, Schwimmer had planned to direct a movie in which he cast people he knew from the Chicago theatre group he co-founded, Lookingglass Theatre Company. "I told everyone in the theatre company, 'You're all cast, here are your roles, don't take any other jobs for this six-week period,'" Schwimmer said. "So everyone turned down all these other opportunities ... everyone was banking on doing this first film with me."
When a lead role in "Men in Black" was then presented to Schwimmer a month before pre-production of the aforementioned film, he said "it wasn't even like a choice," and he had to decline the offer. "I just said, 'I can't. These are my closest friends in the world, this is their first shot at a movie, my first shot at directing,'" Schwimmer added. Smith was later offered the part, and although he nearly also said no to the project, "Men in Black" remains one of Smith's most well-known films to date.
Men in Black was a big success for Will Smith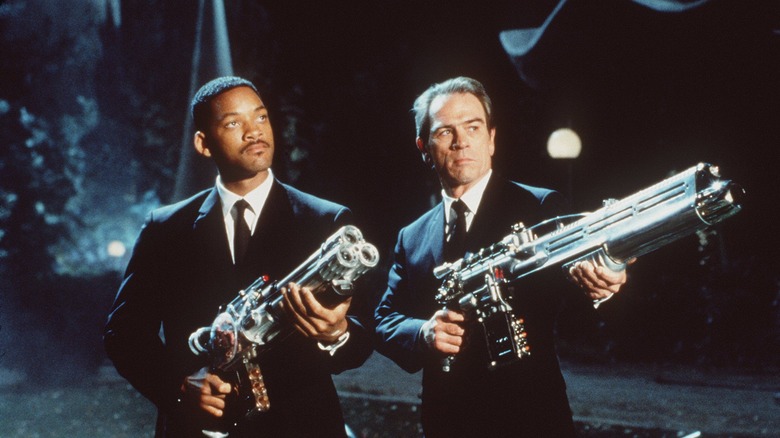 Getty Images/Getty Images
Despite David Schwimmer first being approached for the part, Agent J in "Men in Black" was a role that Will Smith was ultimately meant to play. In a 2019 YouTube video, however, Smith shared that he initially declined the chance to be in "MIB." Ahead of being offered the part of Agent J, Smith had done "Independence Day," which also included battling aliens. As a result, Smith said, "I don't want to be the alien movie guy," and he rejected the opportunity. Steven Spielberg, who produced the film, then called Smith and said, "Do me a favor, don't use your brain for this one. Use my brain." This convinced Smith to take on the role.
Following its 1997 release, "Men in Black" earned a total worldwide gross of nearly $589.4 million, per IMDb. Smith recorded a song for the film which was also titled "Men in Black."  Billboard wrote Smith had "return[ed] to music in excellent form" with the track while noting that his music "has never been anything less than clever, charming, and shrewdly aware of what the masses will dig." The popularity of "Men in Black" then led to two follow-up films in this franchise. 
Meanwhile, Schwimmer continued with the successful ten-season run of "Friends" and made his directorial debut in 1998 with the film he rejected "Men in Black" for, "Since You've Been Gone." All's well that ends well for both of these stars!