The Truth About Stassi Schroeder's Engagement Ring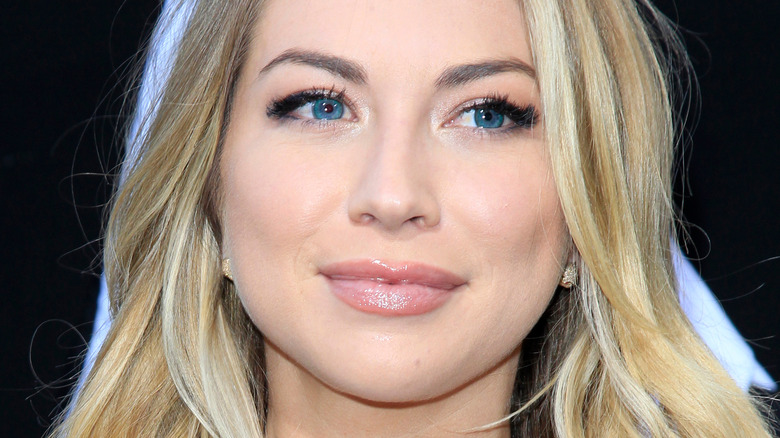 Kathy Hutchins/Shutterstock
Stassi Schroeder is no longer a cast member on "Vanderpump Rules," but she was a main star on the Bravo reality show for eight seasons. During what would be Schroeder's final season on the show, her July 2019 engagement was a main storyline. 
On the "Vanderpump Rules" episode, "Til Death Do Us Not Part," Schroeder's boyfriend of two years, Beau Clark, got down on one knee in an unconventional setting. The quirky casting agent gave Schroeder a dream proposal at one of her favorite haunts: The Hollywood Forever Cemetery. Longtime viewers know that Schroeder is a fan of the macabre — and mausoleums — so the creepy proposal was right up her alley. After she was presented with a vintage engagement ring that was hidden in a small urn, the newly engaged former SURver flashed it for the camera — "I'm f**king engaged, motherf***ers! Look at that," she said, via E! News — then celebrated with pals with a party at Lisa Vanderpump's estate, Villa Rosa.
But what about that ring? Turns out, the fact that it was housed in an urn isn't the only unique thing about it.
Stassi Schroeder's engagement ring is a family heirloom
Beau Clark pulled out all the stops for Stassi Schroeder's engagement surprise. After talking about ring preferences with his future bride, he actually caught her off-guard by proposing with a family heirloom: a vintage ring from the early 1900s that his grandfather left to his aunt, according to People.
The 3.5-carat ring includes a large round diamond surrounded by 24 smaller stones, and it was the perfect piece to present to Schroeder, who loves antique jewelry. "It's like, straight out of 'Downton Abbey,'" she told People. Schroeder also admitted that she was turning into "an a**hole the more it's on my finger" because she couldn't stop staring at the "big" rock she'd received. "I wake up and just stare at it. I really can't believe it," she told Refinery29 in August 2019. And yes, she also gushed about her ring to Bravo's The LookBook. "Look how vintage and amazing it is," Schroeder said in 2019. "I feel like Meghan Markle or like someone out of 'Downton Abbey.' Like I am royalty right now. I can't believe that this is actually real. I get to wear this all the time."
Beau Clark was jealous of Stassi Schroeder's ring
While Stassi Schroeder was thrilled about her engagement ring, her fiancé was having a bit of FOMO. On the August 13, 2019 episode of the "Straight Up With Stassi" podcast, the bride-to-be announced that she felt "different" because she had an engagement ring on her finger — and Clark admitted he was jealous. "I feel like I want a ring," he said at the time. "I've been wearing some like rubber band on my finger just to, because I feel like I'm left out. I don't want to wait." Clark suggested the two just go to the courthouse and get married right away so he could have a ring, too. "I just want to wear a ring, I'm jealous that you get to wear that and I get nothing to show for it," he said.
While Schroeder had originally eyed plans for a huge wedding in Rome for October 2020, COVID-19 (and a surprise pregnancy) put a wrench in the couple's plans. In September 2020, amid the pandemic quarantine, the two exchanged vows in a backyard ceremony, and Clark finally got his ring. In photos later shared to Instagram, the groom's black wedding band was fully visible as the couple posed at the Hollywood Forever Cemetery. "Took her back to where it started. Thank you Sweets for loving me!" he captioned a pic that showed off both of their rings.
In May 2022, more than a year after their daughter Hartford's birth, Schroeder and Clark renewed their wedding vows in a second ceremony in Italy, per Us Weekly.